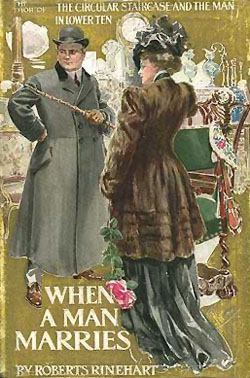 Since acquiring my Sony Reader, however temporary, I've found reading old books from Project Gutenberg has become a lot easier. I connect the USB cord to my laptop, download the book in ePUB or HTML form to the Reader, et voila! I have a novel or short story written by popular Edwardian writers at my fingertips. Many of the authors available on Project Gutenberg or other free ebook websites were extremely popular in their day and would be considered "pulp" novelists today–but just because their fiction hasn't been canonized as "Classic Literature" doesn't mean the books aren't enjoyable. In fact, I find myself downloading more of their fiction than the works of authors published today because most are a perfect blend of humor, romance, and often, mystery, that remind me of romantic comedies and romantic mysteries filmed in the 1930s and 1940s. To dredge the annals of fiction for you, I shall present reviews of some of the books our Edwardian counterparts gobbled up and what I've greatly enjoyed today.
According to wikipedia, Mary Roberts Rinehart was considered the American Agatha Christie and popularized the phrase "The butler did it." When A Man Marries is typical of both Rinehart's "Had I but known" shtick (one I find many gothic romances employ) and the "society" fiction narrated in first person by a charming female that was popular after Elinor Glyn burst onto the literary scene with The Visits of Elizabeth (to be reviewed soon).
The plot is slight but oh-so ingenious, as the heroine, Kit, is roped into pretending to be her friend Jim's wife, when his wealthy aunt, who is unaware that Jim has divorced the high-maintenance Bella, comes to supper. When Jim's butler is stricken with smallpox, the house is quarantined, inadvertently trapping Kit into being "Bella," a visiting policeman, the sneaky Bella, who came to the house to steal the butler she and Jim shared, and a handsome stranger with whom sparks fly . Toss into a jewel theft, and you have a wonderful, witty romantic mystery. Beware, there is a bit of offensive racial stereotyping in the beginning of the novel, with the Japanese butler as the butt of the joke, and the policeman's Irishness and his lower-class status is used as fodder for his characterization, but as this was published in 1910, it is unavoidable. Otherwise, though the mystery element takes a backseat to the romance and the humor, it is sufficiently suspenseful to keep you wondering who the culprit is!
Excerpt:
The minute I had consented I regretted it. After all, what were Jimmy's troubles to me? Why should I help him impose on an unsuspecting elderly woman? And it was only putting off discovery anyhow. Sooner or later, she would learn of the divorce, and—Just at that instant my eyes fell on Mr. Harbison—Tom Harbison, as Anne called him. He was looking on with an amused, half-puzzled smile, while people were rushing around hiding the roulette wheel and things of which Miss Caruthers might disapprove, and Betty Mercer was on her knees winding up a toy bear that Max had brought her. What would he think? It was evident that he thought badly of us already—that he was contemptuously amused, and then to have to ask him to lend himself to the deception!
When A Man Marries – Project Gutenberg
When A Man Marries – Many Books
Review – The Mystery File
Comments