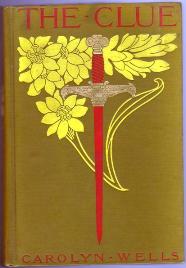 The Clue is Carolyn Wells' first mystery novel — it's from 1909 — and possibly her best. Much as I love Carolyn Wells, I'm completely willing to admit that there's a certain sameness to her mystery novels — the beautiful young woman freed from some kind of oppression, the implausible solution to the mystery, the stupidity of the main characters. And I'm happy to deal with all of those things, because it's still Carolyn Wells, but it's also really refreshing to read a mystery novel of hers that has only one of those three elements.
The beautiful young woman, for starters, isn't oppressed at all. Madeleine Van Norman is not only fabulously wealthy and the sole owner of a snazzy estate, she's also just about to marry Schuyler Carleton, with whom she's very much in love. She'd be happier if she thought he loved her back, but she still plans to go through with the wedding. And she would, too, if she wasn't found stabbed to death in the library the night before it's supposed to happen.
The main characters, once the investigation kicks into gear, are kind of delightful. Kitty French, who was to be one of Madeleine's bridesmaids, somewhat resembles Patty Fairfield: blonde, adorable, clever, funny and vivacious. And Patty Fairfield is an excellent person to resemble. Rob Fessenden is in town to act as Carleton's best man. He's unacquainted with the neighborhood, but he's smart, level-headed, and loyal, and he's got a talent for investigating things (less of an example of the Carolyn Wells "tell, don't show," method than you might expect). They meet, flirt, exchange opinions on Madeleine's death (Kitty: Maddie didn't kill herself; Rob: Schuyler didn't murder her), and investigate together.
When it comes to mystery novels, there's not a lot that's more fun than couples investigating together, and while Rob and Kitty aren't Lord Peter and Harriet, or even Tommy and Tuppence, they're pretty fun — and significantly earlier than any other mystery-solving couple I can think of. And they're not terrible at investigating, either. If they aren't capable of discovering who killed Madeleine themselves, that's no one's fault but Wells'.
This is the one Carolyn Wells mystery novel where I really resented the intrusion of her detective Fleming Stone. Most of the time, the characters who are investigating the mystery before he arrives are so stupid that it's really a relief to have Stone step in and present a solution. But I really would have like to see Rob and Kitty solve this mystery; aside from my desire to see the girl Carleton's in love with turn out to be evil, that's my one wish for this book.
The thing is, I see why Wells didn't do that. There's a reason she needs Fleming Stone, nine times out of ten: her mysteries are too ridiculous for an amateur investigator to solve. Frequently I can figure out, in a Wells mystery, who the murderer must be, but I rarely, if ever, know how they did it, because most of the time they did it with the aid of a secret passage or some kind of ridiculously specialized skill. I knew pretty early on in The Clue who must have killed Maddie, but I did not know that they were able to rearrange their bones in order to fit into small spaces, nor do I know how I could possibly have figured that out. It's not something you would expect Rob and Kitty to know either. It's even a stretch for Fleming Stone, but he's the only character — and the only type of character — that one could expect to come up with that kind of information, and so Fleming Stone is necessary. I would argue that the crazy, nonsensical solutions to most of Wells' mystery novels are not necessary, but what's done is done. And The Clue, in the end, is really an enjoyable book.
The Clue at Google Books
Visit Melody's blog, Redeeming Qualities for more vintage reviews and commentary!
Comments