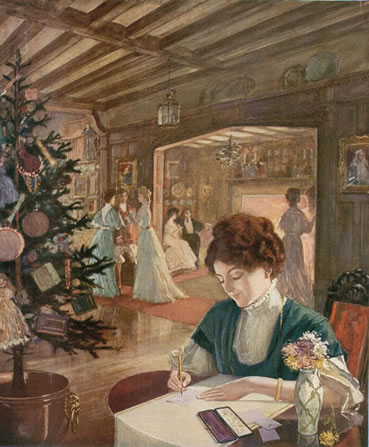 This month, rather than my pithy ponderings on the Edwardian era, you shall hear nothing but the scribble and scratch of my ink pen over reams of paper as I work towards 50,000 words by the end of the month. No, I'm not drafting a constitution, but I am crafting my magnum opus (err…not really) for National Novel Writing Month. I am going to complete my Mills & Boon New Voices entry, A Mayfair Seduction, which I categorize as a bit of Downton Abbey with a dash of Sabrina, and a generous dallop of Edwardian cookery. Follow my progress on Twitter @evangelineh or over at the NaNoWriMo forums.
Also, please read and vote for my entry in The Season For Romance's 'Tis the Season Writing Contest. The winner receives a 25 page critique from an agent or editor, and a $100 gift card! I know my wonderful and loyal readers will help me in this endeavor. *g* Read The Rules of Desire here and please leave comments!.
And last, but not least, I am so proud and thankful for not only hitting over 300,000 unique views at Edwardian Promenade, but for the enthusiastic response to my mini-magazine, GILDED. Sure I provide the information, but this site wouldn't be where it is today without all of you, my visitors!
Happy November!
Comments