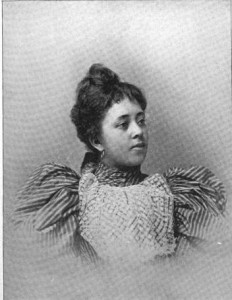 Though Lutie A. Lytle (1871/5-1950) was not the first black woman lawyer in America (the second, in fact), she was the first black woman to practice law in the South, when in 1897, she passed the bar in Tennessee. She then moved to Topeka, Kansas, where she then became the first black woman lawyer in that state. Her path to becoming a lawyer was extraordinary and interesting in and of itself. The child of "Exodusters" (a term applied to black Americans who migrated to Kansas after the end of Reconstruction), Lutie's interest in politics and the law were fostered by her father John R. Lytle's involvement in the Populist Party. Though her father's campaign to become Topeka's city jailer failed, Lutie entered into Populist politics and was appointed an assistant enrolling clerk for the Kansas legislature.
She moved to Chattanooga, Tennessee when 21, where she became a school teacher and saved her earnings to fund her ambition to study law at Central Tennessee College in Nashville. At twenty-three, Lutie, 'with all the aplomb of an old practitioner,' was admitted to the Criminal Court in Memphis, Tennessee in the fall of 1897 after passing her oral examination. This was an exciting feat, but it was her entrance into the law in Topeka which aroused much comment in both the African-American and the mainstream press. In an interview conducted for the 1897 book, Occupations for Women, Lutie expressed her intentions to "practice [law] and make it my life work. I may open an office in Topeka, but my ambition prompts me to begin practice either in New York or in Washington. Those who have taken an interest in me recommend New York.
She further elaborated:
"My favorite is constitutional law, but I shall have no specialty. I like constitutional law because the anchor of my race is grounded on the Constitution, and whenever our privileges are taken away from us or curtailed, we must point to the Constitution as the Christian does to his Bible. It is the great source and Magna Carta of our rights, and we must know it in order to defend the boon that has been given to us by its amendments. It is the certificate of our liberty and our equality before the law. Our citizen hip is based on it, and hence I love it.

In connection with my law practice, I intend to give occasional lectures, but not in any sense for personal profit. I shall talk to my own people and make a sincere and earnest effort to improve their condition as citizens. I shall also talk to the white people and appeal to them for fair play to my race. I am not a radical in anything, nor do I intend to be. I believe in efficacy of reason to bring about the best results.

I conceived the idea of studying law in a printing office where I worked for years as a compositor. I read the newspaper exchanges a great deal and became impressed with the knowledge of the fact that my own people especially were the victims of legal ignorance. I resolved to fathom its depths and penetrate its mysteries and intricacies in hopes of being a benefit to my people. I very soon ascertained that it was more deep and intricate than I first supposed it to be. It requires hard work to master it, if such a thing is possible at all. It is a great study and I am infatuated with it. I have devoted some time to the study and cultivation of elocution and oratory, and I intend to improve myself in them."
Lutie's intentions apparently proved difficult to implement, as the following year saw her take a position at her alma mater, where she taught the law of domestic relations, evidence, and criminal procedure. Though her tenure lasted only a year, she was nonetheless touted as "the only woman law instructor in the world." She married a minister in the A.M.E. Church around this time, which took her to New Paltz, New York, and a second marriage was to a lawyer, Alfred C. Cowan, which pushed her back into the spotlight as a fine female lawyer when in 1913, she and her husband attended the annual convention of the National Negro Bar Association in Philadelphia. Her attendance was significant in that she was the first black female member of a national bar association and that she was placed at equal status with her husband.
Unfortunately, any trace of her law career has been lost to time, and Lutie's name rose only once more, when in 1925, she returned to Topeka and spoke at her childhood church, where she shared her experiences as a black female lawyer and spoke about contemporary issues (the Harlem Renaissance, Marcus Garvey and the UNIA, integrated schools, etc). Despite the difficulties Lutie faced as a woman and as an African-American woman in the field of law, her courage and determination not only inspired legions of African-American women lawyers, but shone a light on the hope African-Americans held onto when assessing their role in American society and their contributions to said society.
Comments