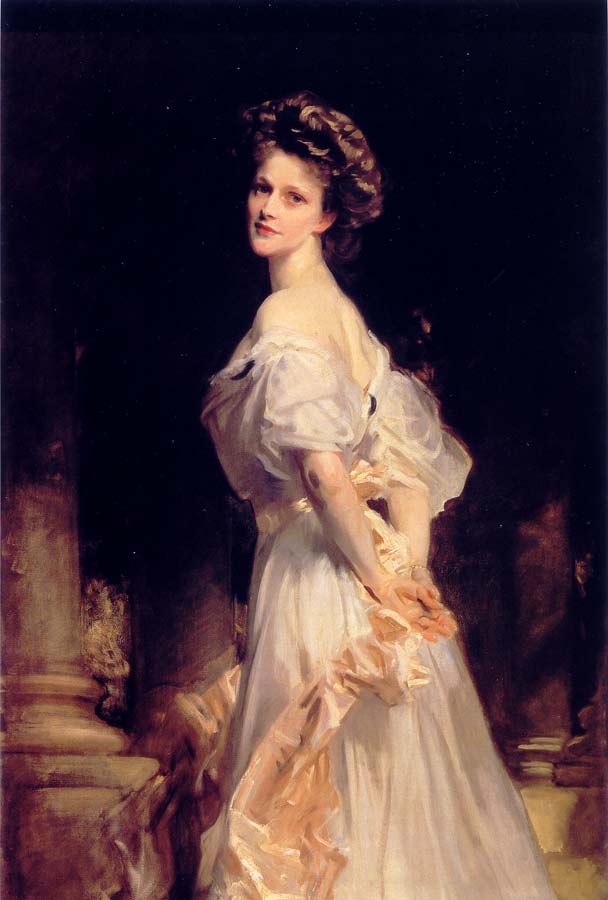 On paper it looked incongruous: how did a divorced Southern aristocrat charm not only English society but enough rural constituents to make history as the first woman to sit in Parliament? Born into the Langhorne family of Virginia, Nancy was one of the three beautiful Langhorne sisters, but did not want to be known strictly for her physical attributes. She married in haste (and was soon to repent) at eighteen, to Robert Gould Shaw II, who fathered her eldest son Robert, and after the divorce, her restlessness led her to take a trip to England. The country and its people were more amenable to Nancy than America and Americans, and on a voyage across the Atlantic in 1905, she met Waldorf Astor, son of the W.W. Astor who tussled with the Mrs. Astor for social supremacy in the 1880s. The two hit it off immediately, possessing not only similar temperaments but a birthday. Nancy and Waldorf married in 1906 and her father-in-law gifted them his Buckinghamshire estate, Cliveden, which was to be the setting in which Nancy sparkled.
Waldorf Astor was a popular Conservative politician and Nancy threw herself head first into the role of a politician's wife. During her previous journeys to England, she had garnered the reputation as a biting wit, and her racy conversation, coupled with her natural reticence and moral center, baffled, delighted, and fascinated the British. Of course her beauty and her wealth played a large part in her popularity, but Nancy was no shrinking violet and crossed words with the highest in the land (her most famous jabs were directed at Winston Churchill: "If you were my husband, I'd poison your tea," to which he responded, "Madam, if you were my wife, I'd drink it!"). Her no nonsense attitude and hard-nosed prejudices could be unbearable, yet, as in the case of her lady's maid Rosina Harrison, there was something beguiling about Nancy Astor which could draw injured parties back into her web.
Since renouncing his American citizenship to become a British subject, Nancy's father-in-law, W. W. Astor had long angled for a peerage, a move which his son Waldorf dreaded, since upon his father's death he would have to move up to the House of Lords. Despite his son's disapproval, W. W. pursued a title with alacrity, donating millions of dollars to British causes, particularly during WWI, and in 1916, he was awarded with a peerage (Baron Astor), and in 1917, he was raised to Viscount Astor. The first Viscount Astor died in 1919, and Waldorf reluctantly moved to Lords. He and Nancy then agreed that she would run for his seat, during which he would begin the proceedings to renounce his peerage. Unfortunately for Waldorf, renouncing his peerage was impossible at the time, but fortunately for Nancy, this was the beginning of a vigorous, challenging, and naturally scandalous career in British politics.
She was not the first woman elected to Parliament–that honor goes to Constance Markiewicz, who ran for the Sein Finn party in 1918. Since Markiewicz was imprisoned at the time and also refused to take her seat as an Irish nationalist, Nancy's entrance in the House of Commons caused an uproar. Women had only received the vote in 1918, and it was a shock to discover that not only would women exercise their right to vote, but their right to stand for election! However, Nancy's accomplishments in Parliament were few–her career coasted mainly on her forceful personality, but it in no way diminished her boldness in campaigning for her reelections–though her particular platforms were prohibition, nursery schools, and supporting women entering civil service fields.
Nancy's personal life made her infamous. Based on the memoirs written by her longtime lady's maid, Rosina Harrison, Nancy Astor was completely unlikeable. She was selfish, dogmatic, prejudiced, and arrogant. She could be intensely cold-hearted towards enemies, and her children lived in dread of disappointing her. Waldorf felt the brunt of her cruelty when, despite their warm, loving marriage of nearly forty years, she froze him out when he convinced her to step down from Parliament after WWII. Nancy regretted it ever since, though political winds blew a chill her way, and for the remainder of their marriage, he endured her contempt born from a lack of outlet for her remarkable energy. However, political minds were right–Nancy was incredibly out of touch with society of the 1950s and 1960s, most particularly with her views on race and Catholics. When she died in 1964 at the age of 84, Nancy had been estranged from nearly all her living peers and many of her children. Despite these immense character flaws, there was something magnetic and alluring about Nancy Astor, which kept everyone within her orbit fascinated and caught in her web.
Comments