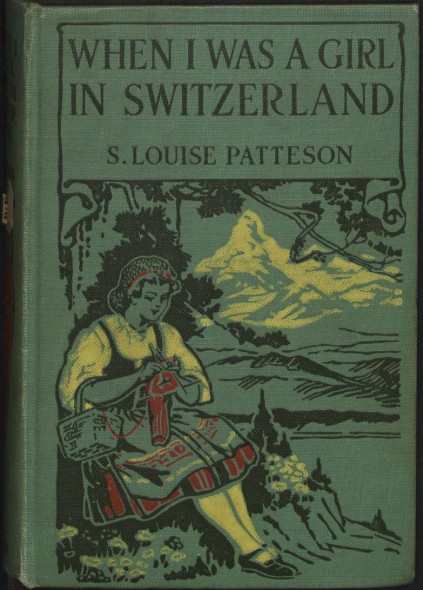 Yesterday, I happened upon a recent post by the small, but fascinating blog, the Victorian era, about a book called When I Was a Girl in Holland, which detailed life for a girl in 1880s Holland. I used my Googlefu and not only discovered this book, but other books in a series of books titled CHILDREN OF OTHER LANDS:
There are many books about the children of other countries, but no other group like this, with each volume written by one who has lived the foreign child life described, and learned from subsequent experience in this country how to tell it in a way attractive to American children — and in fact to Americans of any age.
Apparently, the series was published from the 1880s to well into the 1930s, which is fascinating to ponder: were these tools to facilitate the "melting pot" of American culture, or were they merely curiosity pieces for Anglo-Saxon American children? Most of the titles are in the public domain, and I've linked to them, but those that are not are probably available in secondhand bookshops, online, or in libraries.
WHEN I WAS A BOY IN CHINA By Yan Phou Lee
WHEN I WAS A GIRL IN ITALY By Marietta Ambrosi
WHEN I WAS A BOY IN JAPAN By Sakae Shioya
WHEN I WAS A BOY IN GREECE By George Demetrios
WHEN I WAS A BOY IN PALESTINE By Mousa J. Kaleel
WHEN I WAS A BOY IN BELGIUM By Robert Jonckheere
WHEN I WAS A BOY IN RUSSIA By Vladimir De Bogory Mokrievitch
WHEN I WAS A BOY IN ROUMANIA By Dr. J. S. Van Teslaar
WHEN I WAS A GIRL IN HOLLAND By Cornelia De Groot
WHEN I WAS A GIRL IN MEXICO By Mercedes Godoy
WHEN I WAS A BOY IN NORWAY By John Oscar Hall
WHEN I WAS A GIRL IN ICELAND By Hólmfríður Árnadóttir
WHEN I WAS A BOY IN PERSIA By Youel B. Mirza
WHEN I WAS A GIRL IN SWITZERLAND By S. Louise Patteson
WHEN I WAS A BOY IN DENMARK By H. Trolle-Steenstrup
WHEN I WAS A BOY IN INDIA By Satyananda Roy
WHEN I WAS A BOY IN TURKEY By Ahmed Sabri Bey
WHEN I WAS A GIRL IN FRANCE By Georgette Beuret
WHEN I WAS A BOY IN ARMENIA By Manoog Der Alezanian
WHEN I WAS A GIRL IN SWEDEN, By Anna-Mia Hertzman
WHEN I WAS A BOY IN KOREA, By Hhan New
WHEN I WAS A GIRL IN HUNGARY, By Elizabeth Pongracz-Jacobi
WHEN I WAS A BOY IN ENGLAND By Ivan Gerould Grimshaw
WHEN I WAS A GIRL IN WALES By Maude Morgan
Comments