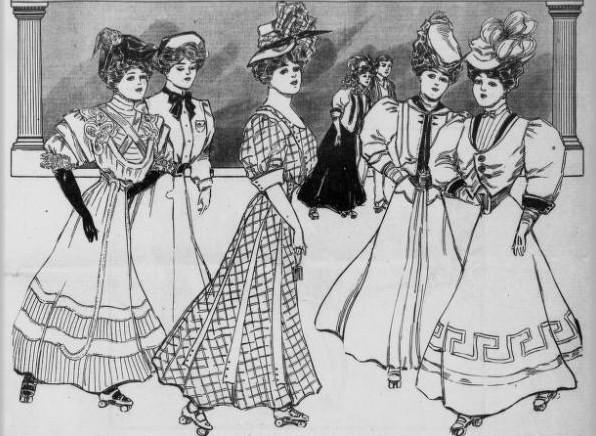 The bicycle had become commonplace and affordable, but the motorcar not yet ubiquitous, so it is a given that roller skating–essentially wheels on your feet–became an overnight sensation in 1905. Granted, there was a brief craze for roller skates when they were first massed produced in 1880s America, but the introduction of the bicycle no doubt stole its thunder. By the following year, roller skating had spread like wildfire across the country, and many newspapers reported its popularity was so great, young people neglected their other forms of amusement!
Roller skating soon reached Europe under the aegis of the American Roller Rink Company, whose managing director, C. P. Crawford, traveled as far as St. Petersburg to lease large plots of land on which to erect American-style roller skating rinks. Soon, in London, Paris, Vienna and Berlin, skating was "regarded quite as essential an amusement as theatres and music halls, and the rinks are never closed except in midsummer." The Parisians loved the fad, hosting fancy dress balls on roller skates, divising new skating tricks, and even adapting popular dances for roller skating. A new costume for roller skating was de riguer, and lady skaters were advised to wear tailored suit and matching shirtwaist for the morning, princess gowns for the afternoon and evening, and Dutch dress (princess style with low neck and shoulder straps) over a chiffon guimpe, or corduroy princess-style frock for the night–all in brilliant colors. Shockingly, young Parisian ladies went without corsets during their morning skating sessions, and Americans fashion writers cautiously championed this.
As with all fads, there were detractors: concerned parents and religious leaders denounced the absorbing craze, and owners of ice skating rinks (and avid ice skaters) sniffed at roller skating as a lesser sibling to ice skating. Hyperbole from newspapers whipped up agitators against the fad, proclaiming how dangerous the sport was and citing the alleged hundreds of people injured or sacrificed by roller skating every week. However, as with all fads, the madness for roller skating died a natural death by 1912, probably because young people realized you couldn't bunny hug or tango on skates!
Topics in Chronicling America – Roller Skating Craze
Comments