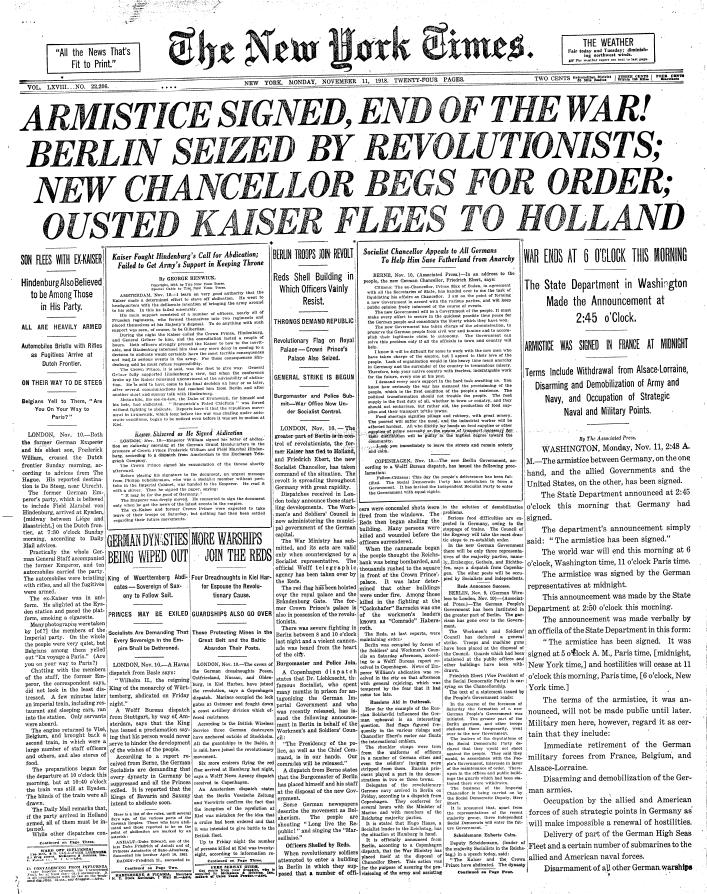 WAR ENDS AT SIX O'CLOCK THIS MORNING
The State Department in Washington Made the Announcement at :45 o'Clock
ARMISTICE WAS SIGNED IN FRANCE AT MIDNIGHT
WASHINGTON, Monday, Nov 11, 2:48 AM–The armistice between Germany, on the one hand, and the allied Governments and the United States, on the other, has been signed.
— New York Times
——–
NEWS OF ARMISTICE FLASHED TO CITY; Signing of Truce Tidings Wafted Afar by Searchlight on Times Building. CROWDS GATHER IN STREETSWhistles Throughout City Proclaim
Glad News, and Thousands Awake to Get the Tidings.
Nov 11, 1918, Monday
When the first bulletin of the signing of the armistice, with the acceptance of t
he terms of the Allies, came into the office of THE NEW YORK TIMES shortly before 3 o'clock this morning orders were given immediately for the lighting up of both The Times Building and The Times Annex, and they remained lighted throughout the rest of the hours of darkness.
— New York Times
In remembrance for troops of all nationalities and ethnicities who fought in the Great War ninety years ago.
Comments