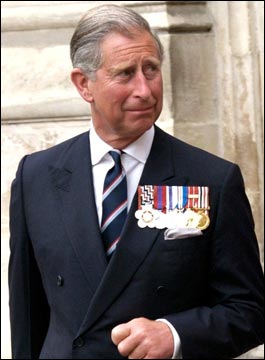 Today HRH Prince Charles, Prince of Wales turned sixty, thereby surpassing the term of his great-great grandfather Edward VII as heir to the British Crown by one year (incidentally, Charles is married to the great-granddaughter of Edward's last mistress, Alice Keppel–how's that for coming full circle). Like Bertie, Charles has weathered scandals regarding his personal life, and has spent his adult years in the shadow of his mother's long, long reign. However, unlike Bertie, Charles' stint as Prince of Wales has been less one of idle, frustrated indolence, but one of impact and action. To my knowledge, Queen Elizabeth II has not refused him any input into the daily workings of the palace.
"Poor Bertie! He vexes us so much!" wrote the Queen to Vicky, her first-born child and Crown Princess of Prussia. "…He is so idle and so weak." Needless to say, Bertie was a disappointment to his mother, and during his life, his strict father, and neither of them held their tongue voicing it. Victoria recognized Bertie's winning ways with people, sending him to represent the British Crown on a tour of Canada and the United States, but she lamented his lack of interest in any serious subject, and held his disinterest in formalized education against him his entire life. As such, Bertie was excluded from any and all affairs of state the Queen could handle herself, and any such attempt made by the Prince of Wales, or by sympathetic politicians such as Disraeli or Gladstone, were met with stony silence and contempt.
Left to his own devices, Bertie devoted himself to a lasting round of feasting, pleasure and leisure, surrounding himself with the wealthy and the aristocratic, who comprised the "Marlborough House Set." This, as well as his occasional scrapes, led the Queen to assume he was unfit to rule in spite of his popularity of with English people and his well-known adroitness in diplomacy.
Lest you believe Queen Victoria detested her son and heir, thereby continuing the Hanover legacy of the estrangement of heirs from their ruling sires, Victoria was steadfast in the face of the public scrutiny Bertie faced during the Mordaunt divorce trial, the Blandford-Aylesford scandal, and the Tranby Croft Scandal, and rushed to his bedside during a near-fatal bout of typhoid in the 1870s. Victoria simply detested his idleness and choice of friends, but also felt her reign to be a duty solely undertaken by herself.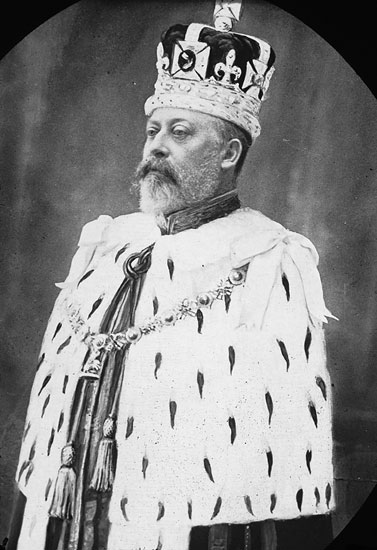 Bertie's long and tumulmtuous reign as Prince of Wales came to an end on the 22nd of January, 1901 when Victoria died at the age of 81. At fifty-nine, he had been heir apparent longer than anyone else in British history, and those unable to recall a time when Victoria was not on the throne, doubted his ability to reign. Though Wilfred Scawen Blunt scribbled in his diary: "The Prince of Wales has been proclaimed as Edward VII and begins his reign with the usual acclamations of the vulgar" he nonetheless felt "he will make an excellent king for twentieth century England." A far cry from the opinion of novelist Henry James: "The old Queen's death was a real emotion–quite big and fine; but we have dropped again to Edward…fat Edward–E. the Caresser…I mourn the safe and motherly old middle-class queen…the wild waters are upon us now."
Despite the lukewarm feelings his ascension evoked in a few, Bertie's popularity proved lasting well past his regrettably short, nine-year reign. His influence in dress, deportment and diplomacy continued to be admired and emulated long after his death. Though largely forgotten by the public, still remarkably overshadowed by his mother, Edward is just as important to her reign as he is to general British history. When Victoria retreated into the spectre of widowhood, it was his charm and affability which kept British subjects from overwhelming resentment of the Royal Family, and he definitely left a stamp of the international relations of the day. And so, as the present Prince of Wales enters his 60th year as heir apparent, one wonders what sort of mark he'll leave when he ascends the throne.
Comments