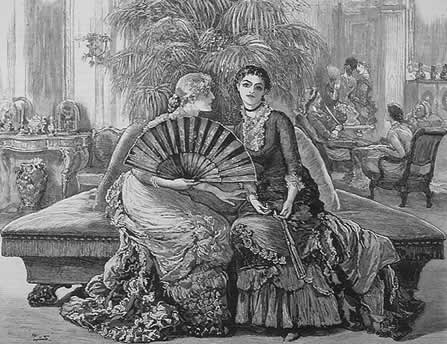 Our British brethren are great sticklers for ancient usage so far as spelling is concerned. Booksellers, publishing books for sale on both sides of the water, find it necessary to use the English orthography, if they wish to capture British trade. Yet the same people who insist that "honour" must be spelled with a "u," think it strange that we should prefer such Shakespearian words as "apothecary" and "lawyer," to "chemist" and "barrister," o illogical is human nature! It should be noted that "baggage" is also to be found in Shakespeare. Hence we Americans have good authority for its use, even though the English always say "luggage."
Among the Briticisms which Mr. White mentions are the following:
"As well" used, in the sense of "all the same." "Her aged lover made her presents, but just as well she hated him."
"Awful" for "very." I had always supposed that our countrymen were responsible for this misuse of the words "awful" and "awfully," but Mr. White says that we are not.
He "commenced" poetry, or he "commenced" school, for he "began to write" poetry, or "began" to study. This form of expression is certainly very slipshod.
"Directly" used in the sense of "when," "as soon as." "Directly Mr. Parnell rose to his feet, the cries of the opposition began."
"Stop" for "stay." As Mr. White says, to stop is to arrest motion, to stay is to remain where motion is arrested. Hence it is better to say, "I stayed at a hotel," than to adopt the English phrase, "I stopped at a hotel."
"Ill" for "sick" is another Briticism. The English confine the use of the latter to seasickness and its equivalents. Yet the Book of Common Prayer of the Episcopal Church speaks of the "visitation of the sick," and the Bible uses the word in the same general sense.
English people employ the word "nasty" much more commonly than Americans, who find it unpleasant.
With regard to the use of "bid" and "bidden" for invite and invited, it can at least be said that this is a return to the old use of the words. Bidden has a rather quaint and pretty sound, and is less offensive to our ears than some of the other words used by Anglophiles.
— A-B-C of Correct Speech and the Art of Conversation (1916)
Comments