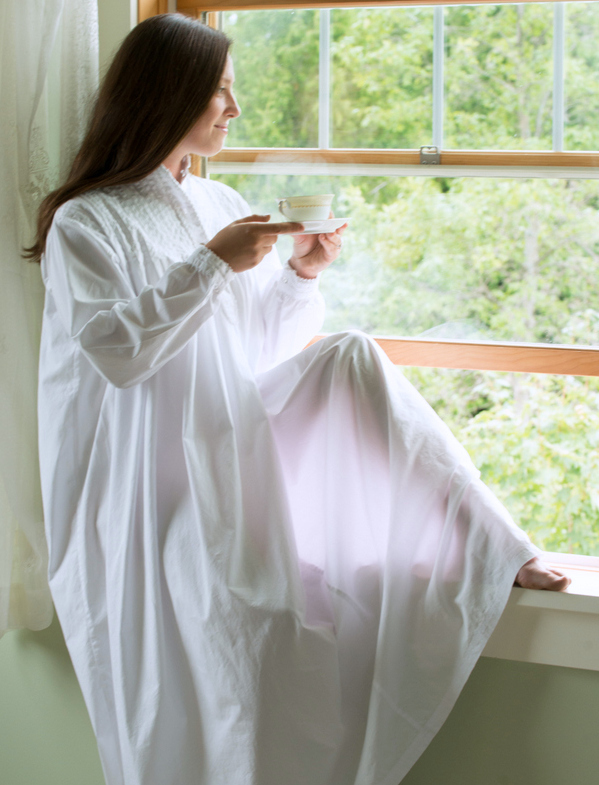 From HERO'S WELCOME, General Store in North Hero, Vermont:
We found this nightgown nearly 30 years ago in a London antique shop…a forgotten treasure from Edwardian England.
Fascinated by it, we created heirloom-quality reproductions for our "Westminster Lace" stores which many of your readers may remember. It was a huge success!
These classic nighties are still cherished. One woman slips hers on to watch Downton Abbey.
Recently, we decided to re-introduce the garment with the same dedication to authenticity, comfort and durability.
The Westminster Nightgown is made of 100% fine cotton poplin in India, a nation that earned its textile bona fides by supplying fine silk and cottons to the Greek and Roman Empires. It becomes softer and whiter as the seasons pass.
It can be machine washed, and dried, but also thrives on a sunny clothesline. You may iron it, or not, as suits your pleasure!
We offer the Westminster Nightgown in women's sizes XS-S-M-L-XL. It retails in our store and website at $97 $65.
Hero's Welcome is giving away one (1) nightgown in any size. Just follow the instructions for the Rafflecopter widget below!
Comments