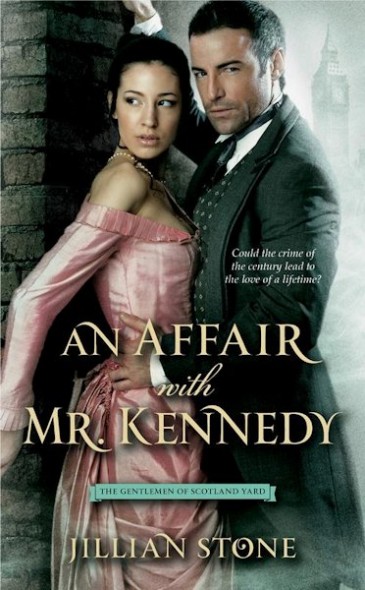 Don't you love the cover?
London, 1887. Part stoic gentleman, part fearless Yard man, Zeno "Zak" Kennedy is an enigma of the first order. For years, the memory of a deadly bombing at King's Cross has haunted the brilliant Scotland Yard detective. His investigation has zeroed in on a ring of aristocratic rebels whose bloody campaign for Irish revolution is terrorizing the city. When he discovers one of the treacherous lords is acquainted with his free-spirited new tenant, Cassandra St. Cloud, his inquiry pulls him unexpectedly close to the heart of the conspiracy—and into the arms of a most intriguing lady. Cassie is no Victorian prude. An impressionist painter with very modern ideas about life and love, she is eager for a romantic escapade that is daring and discreet. She sets her sights on her dour but handsome landlord, but after she learns their meeting was not purely accidental, she hardly has a chance to forgive her lover before their passionate affair catapults them both into a perilous adventure.
An Affair with Mr. Kennedy finaled in the 2010 Golden Heart award, and I've anticipated this book since then. My earliest reaction to An Affair with Mr. Kennedy was to characterize it as Guy Richie's "Sherlock Holmes" in book form as it is larger than life and over the top in a fun, sexy, and explosive way. The back cover blurb covers the entire premise of the book, which appears rather mundane as far as romance novels go, but Stone manages to toe the right blend of sharpness and Victorian lushness in her prose and shows much skill in writing scenes of intense action. I admit that I struggled a bit with this book since it doesn't adhere to 100% historical accuracy–particularly where Cassie is concerned–but Stone did have a good handling on 1880s London, and at times, the bending of accuracy worked quite well for the plot. My only disappointment is that the mystery unraveled much too easily, and because of this, villains came across as rather cartoonish and the ending relied upon convenient twists of the plot. However, Stone writes an excellent romance and the concept of her series is exciting and unique. I look forward to reading more from her and following the further exploits of her Gentlemen of Scotland Yard, and recommend this to readers (particularly readers of historical romance) who are eager for something fresh and different.
Visit Jillian at her website or "like" her Facebook page.
buy from: Powell's | Amazon | B & N | Indiebound | Borders
Comments