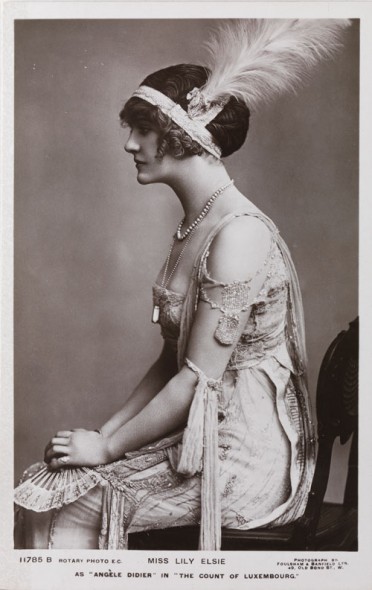 From the website:
From January 18 to April 8, 2012, the Bard Graduate Center: Decorative Arts, Design History, Material Culture (BGC) presents Staging Fashion, 1880–1920: Jane Hading, Lily Elsie, Billie Burke in the Focus Gallery. The exhibition is curated by Michele Majer, BGC assistant professor and research associate at Cora Ginsburg LLC, in collaboration with several BGC graduate students.
Through printed ephemera, clothing, and accessories, the exhibition and the accompanying catalogue explore the roles played by actresses as internationally known and influential fashion leaders at the turn of the twentieth century. This aspect of popular culture, which emerged more than a hundred years ago, has a long and fascinating historical trajectory, which resonates today in a society that has become infatuated with celebrities—actresses, actors, and artists whose images are used for promotional purposes in all kinds of media and advertising.
Beginning in the late nineteenth century, actresses became key figures in the international cult of celebrity that flourished in the context of a nascent mass media and mass consumerism. Formerly ostracized as women of dubious morals, actresses were presented—and presented themselves—as role models for women across the social spectrum. Cheaply manufactured postcards that circulated by the millions and thousands of magazine and newspaper articles, as well as print advertisements, featured actresses as exemplars of fashion, youthful beauty, elegance, and respectable femininity. Staging Fashion examines the relationship between actresses, fashion, and celebrity culture through the study of these ephemera, which both created and were a manifestation of this phenomenon.
This exhibition focuses on Jane Hading (1859–1941), Lily Elsie (1886–1962), and Billie Burke (1884 –1970) as case studies through which one may investigate the actress as trendsetter and examine the objects that were instrumental in the creation of her public image and persona. As with many other stage women at the time, the fame and appeal of these actresses were by no means based solely—or even primarily—on their thespian talents. Rather they exemplify the significant factors that contributed to widespread success: a leading couturier (or couturiers) who dressed actresses in gowns that were integral to the creation of a glamorous image; a type of physical beauty that conformed to elite notions of class and race; a distinctive "personality" that was often conveyed by stage roles and further enhanced in photographic images and in the media; and frequent appearances on postcards and in fashion and theater magazines, newspapers, and other periodicals. Each of these three women illustrates the phenomenon of the actress as a marketable commodity who promoted and depended on the widespread distribution of her own image to create and maintain her celebrity, which in turn was used to market an array of products that exploited her appearance and encouraged a connection between the actress and the consumer.
The exhibition features more than 160 objects, including three garments on loan from the Museum of the City of New York and three "Merry Widow" hats from the Philadelphia Museum of Art, along with an extensive number of postcards and other ephemera from the collections of private lenders and the New York Public Library.
Comments