I'm back with a few current and upcoming releases that will appeal to lovers of early 20th century history and historical fiction! The centenary of WWI has heralded a good-sized portion of books set during this period.
A Mad, Wicked Folly by Sharon Biggs Waller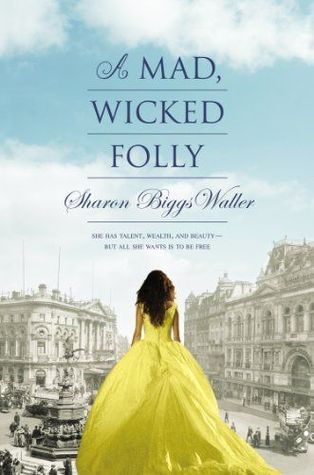 Welcome to the world of the fabulously wealthy in London, 1909, where dresses and houses are overwhelmingly opulent, social class means everything, and women are taught to be nothing more than wives and mothers. Into this world comes seventeen-year-old Victoria Darling, who wants only to be an artist—a nearly impossible dream for a girl.
After Vicky poses nude for her illicit art class, she is expelled from her French finishing school. Shamed and scandalized, her parents try to marry her off to the wealthy Edmund Carrick-Humphrey. But Vicky has other things on her mind: her clandestine application to the Royal College of Art; her participation in the suffragette movement; and her growing attraction to a working-class boy who may be her muse—or may be the love of her life. As the world of debutante balls, corsets, and high society obligations closes in around her, Vicky must figure out: just how much is she willing to sacrifice to pursue her dreams?
buy from: Indiebound | Powell's | B & N | Amazon
The Memory of Lost Senses by Judith Kinghorn
Within weeks letters would be burned, pages torn. Promises would be broken and hearts betrayed. But for now the countryside languished, golden and fading…
Cecily Chadwick is idling away the long, hot summer of 1911 when a mysterious countess moves into the large, deserted country house on the edge of her sleepy English village. Rumors abound about the countess's many husbands and lovers, her opulent wealth, and the tragedies that have marked her life. As Cecily gets to know her, she becomes fascinated by the remarkable woman—riveted by her tales of life on the Continent, and of the famous people she once knew. But the countess is clearly troubled by her memories, and by ruinous secrets that haunt her…
Staying with the countess is a successful novelist and dear friend who has been summoned to write the countess's memoirs. For aspiring writer Cecily, the novelist's presence only adds to the intrigue of the house. But it is the countess's grandson, Jack, who draws Cecily further into the tangled web of the countess's past, and sweeps her into an uncertain future…
buy from: B & N | Powell's | Amazon | Indiebound
The Midnight Witch by Paula Brackston
From Paula Brackston, the New York Times bestselling author of The Witch's Daughter and The Winter Witch, comes a magical tale that is as dark as it is enchanting. Set in high society Edwardian England, a young witch faces the choice between love and loyalty to her coven…
"The dead are seldom silent. All that is required for them to be heard is that someone be willing to listen. I have been listening to the dead all my life."
Lady Lilith Montgomery is the daughter of the sixth Duke of Radnor. She is one of the most beautiful young women in London and engaged to the city's most eligible bachelor. She is also a witch.
When her father dies, her hapless brother Freddie takes on his title. But it is Lilith, instructed in the art of necromancy, who inherits their father's role as Head Witch of the Lazarus Coven. And it is Lilith who must face the threat of the Sentinels, a powerful group of sorcerers intent on reclaiming the Elixir from the coven's guardianship for their own dark purposes. Lilith knows the Lazarus creed: secrecy and silence. To abandon either would put both the coven and all she holds dear in grave danger. She has spent her life honoring it, right down to her engagement to her childhood friend and fellow witch, Viscount Louis Harcourt.
Until the day she meets Bram, a talented artist who is neither a witch nor a member of her class. With him, she must not be secret and silent. Despite her loyalty to the coven and duty to her family, Lilith cannot keep her life as a witch hidden from the man she loves.
To tell him will risk everything.
buy from: Powell's | Indiebound | Amazon | B & N
Somewhere in France by Jennifer Robson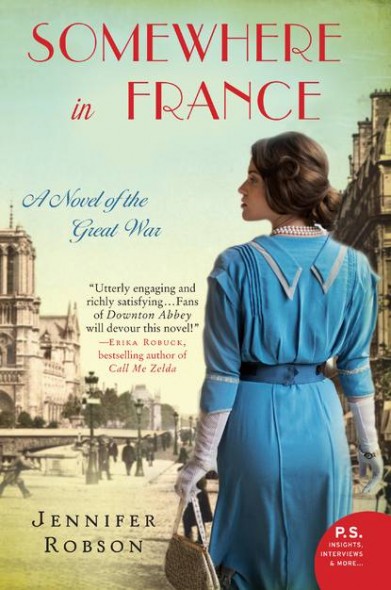 Lady Elizabeth Neville-Ashford wants to travel the world, pursue a career, and marry for love. But in 1914, the stifling restrictions of aristocratic British society and her mother's rigid expectations forbid Lily from following her heart. When war breaks out, the spirited young woman seizes her chance for independence. Defying her parents, she moves to London and eventually becomes an ambulance driver in the newly formed Women's Army Auxiliary Corps—an exciting and treacherous job that takes her close to the Western Front.
Assigned to a field hospital in France, Lily is reunited with Robert Fraser, her dear brother Edward's best friend. The handsome Scottish surgeon has always encouraged Lily's dreams. She doesn't care that Robbie grew up in poverty—she yearns for their friendly affection to become something more. Lily is the most beautiful—and forbidden—woman Robbie has ever known. Fearful for her life, he's determined to keep her safe, even if it means breaking her heart.
In a world divided by class, filled with uncertainty and death, can their hope for love survive. . . or will it become another casualty of this tragic war?
buy from: B & N | Amazon | Powell's | Indiebound
A Star for Mrs. Blake by April Smith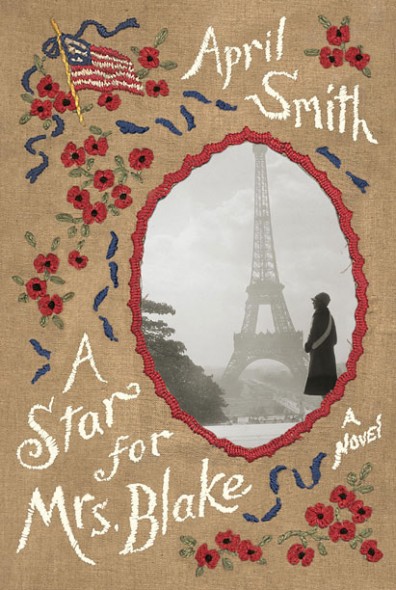 The United States Congress in 1929 passed legislation to fund travel for mothers of the fallen soldiers of World War I to visit their sons' graves in France. Over the next three years, 6,693 Gold Star Mothers made the trip. In this emotionally charged, brilliantly realized novel, April Smith breathes life into a unique moment in American history, imagining the experience of five of these women.
They are strangers at the start, but their lives will become inextricably intertwined, altered in indelible ways. These very different Gold Star Mothers travel to the Meuse-Argonne American Cemetery to say final good-byes to their sons and come together along the way to face the unexpected: a death, a scandal, and a secret revealed.
None of these pilgrims will be as affected as Cora Blake, who has lived almost her entire life in a small fishing village off the coast of Maine, caring for her late sister's three daughters, hoping to fill the void left by the death of her son, Sammy, who was killed on a scouting mission during the final days of the war. Cora believes she is managing as well as can be expected in the midst of the Depression, but nothing has prepared her for what lies ahead on this unpredictable journey, including an extraordinary encounter with an expatriate American journalist, Griffin Reed, who was wounded in the trenches and hides behind a metal mask, one of hundreds of "tin noses" who became symbols of the war.
With expert storytelling, memorable characters, and beautiful prose, April Smith gives us a timeless story, by turns heartwarming and heartbreaking, set against a footnote of history––little known, yet unforgettable.
buy from: Indiebound | B & N | Amazon | Powell's
The Secret Life of Violet Grant by Beatriz Williams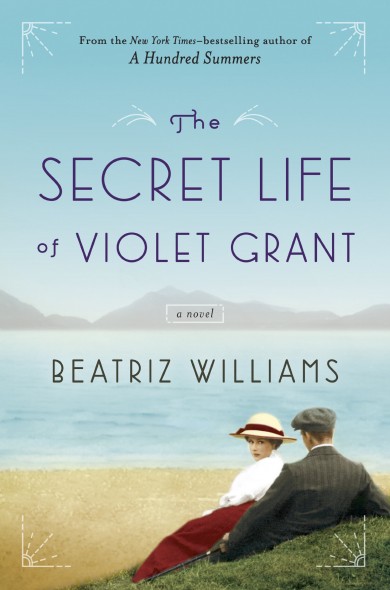 Passion, redemption, and a battered suitcase full of secrets: the New York Times-bestselling author of A Hundred Summers returns with another engrossing tale.
Manhattan, 1964. Vivian Schuyler, newly graduated from Bryn Mawr College, has recently defied the privilege of her storied old Fifth Avenue family to do the unthinkable for a budding Kennedy-era socialite: break into the Mad Men world of razor-stylish Metropolitan magazine. But when she receives a bulky overseas parcel in the mail, the unexpected contents draw her inexorably back into her family's past, and the hushed-over crime passionnel of an aunt she never knew, whose existence has been wiped from the record of history.
Berlin, 1914. Violet Schuyler Grant endures her marriage to the philandering and decades-older scientist Dr. Walter Grant for one reason: for all his faults, he provides the necessary support to her liminal position as a young American female physicist in prewar Germany. The arrival of Dr. Grant's magnetic former student at the beginning of Europe's fateful summer interrupts this delicate détente. Lionel Richardson, a captain in the British Army, challenges Violet to escape her husband's perverse hold, and as the world edges into war and Lionel's shocking true motives become evident, Violet is tempted to take the ultimate step to set herself free and seek a life of her own conviction with a man whose cause is as audacious as her own.
As the iridescent and fractured Vivian digs deeper into her aunt's past and the mystery of her ultimate fate, Violet's story of determination and desire unfolds, shedding light on the darkness of her years abroad . . . and teaching Vivian to reach forward with grace for the ambitious future––and the love––she wants most.
buy from: Powell's | Amazon | Indiebound | B & N
Fallen Beauty by Erika Robuck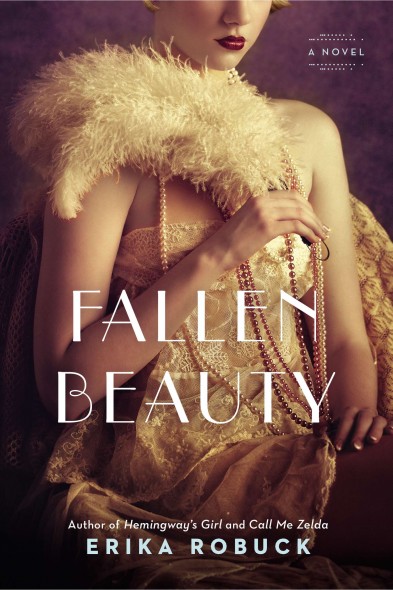 "Without sin, can we know beauty? Can we fully appreciate the summer without the winter? No, I am glad to suffer so I can feel the fullness of our time in the light."
Upstate New York, 1928. Laura Kelley and the man she loves sneak away from their judgmental town to attend a performance of the scandalous Ziegfeld Follies. But the dark consequences of their night of daring and delight reach far into the future.…
That same evening, Bohemian poet Edna St. Vincent Millay and her indulgent husband hold a wild party in their remote mountain estate, hoping to inspire her muse. Millay declares her wish for a new lover who will take her to unparalleled heights of passion and poetry, but for the first time, the man who responds will not bend completely to her will.…
Two years later, Laura, an unwed seamstress struggling to support her daughter, and Millay, a woman fighting the passage of time, work together secretly to create costumes for Millay's next grand tour. As their complex, often uneasy friendship develops amid growing local condemnation, each woman is forced to confront what it means to be a fallen woman…and to decide for herself what price she is willing to pay to live a full life.
Amazon | Powell's | B & N | Indiebound
Manor of Secrets by Katherine Longshore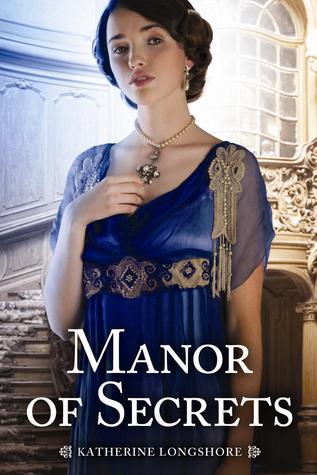 The year is 1911. And at The Manor, nothing is as it seems . . .
Lady Charlotte Edmonds: Beautiful, wealthy, and sheltered, Charlotte feels suffocated by the strictures of upper-crust society. She longs to see the world beyond The Manor, to seek out high adventure. And most of all, romance.
Janie Seward: Fiery, hardworking, and clever, Janie knows she can be more than just a kitchen maid. But she isn't sure she possesses the courage — or the means — to break free and follow her passions.
Both Charlotte and Janie are ready for change. As their paths overlap in the gilded hallways and dark corridors of The Manor, rules are broken and secrets are revealed. Secrets that will alter the course of their lives. . . forever.
buy from: Indiebound | B & N | Powell's | Amazon
Thornbrook Park by Sherri Browning
Fans of Downton Abbey will adore this brand-new Edwardian-period romance series set at the grand estate of Thornbrook Park, seat of the Earl of Averford.
Disowned for marrying beneath her, Eve Kendal returns to England destitute after her husband's death and the mysterious disappearance of their savings. Her childhood friend, the Countess of Averford, takes her in, and sparks fly between Eve and the Earl's brother. But Captain Marcus Thorne has his own demons to face, and as they begin a steamy affair, secrets from the past threaten the whole estate…
buy from: B & N | Indiebound | Amazon | Powell's
City of Jasmine by Deanna Raybourn
Set against the lush, exotic European colonial outposts of the 1920s, New York Times bestselling author Deanna Raybourn delivers the captivating tale of one woman who embarks upon a journey to see the world—and ends up finding intrigue, danger and a love beyond all reason.
Famed aviatrix Evangeline Starke never expected to see her husband, adventurer Gabriel Starke, ever again. They had been a golden couple, enjoying a whirlwind courtship amid the backdrop of a glittering social set in prewar London until his sudden death with the sinking of the Lusitania. Five years later, beginning to embrace life again, Evie embarks upon a flight around the world, collecting fame and admirers along the way. In the midst of her triumphant tour, she is shocked to receive a mysterious—and recent—photograph of Gabriel, which brings her ambitious stunt to a screeching halt.
With her eccentric aunt Dove in tow, Evie tracks the source of the photo to the ancient City of Jasmine, Damascus. There she discovers that nothing is as it seems. Danger lurks at every turn, and at stake is a priceless relic, an artifact once lost to time and so valuable that criminals will stop at nothing to acquire it—even murder. Leaving the jewelled city behind, Evie sets off across the punishing sands of the desert to unearth the truth of Gabriel's disappearance and retrieve a relic straight from the pages of history.
Along the way, Evie must come to terms with the deception that parted her from Gabriel and the passion that will change her destiny forever…
buy from: Amazon | Powell's | Indiebound | B & N
Paris at the End of the World The City of Light During the Great War, 1914-1918 By John Baxter
Through a lively blend of memoirs, reminiscences, and modern day adventure, John Baxter (author of The Perfect Meal and Immoveable Feast) takes us into the heart of Paris during The Great War. One of the most fascinating periods in the city's history, 1914-18 saw the citizens of France under constant threat of German invasion, leading them to live like there was no tomorrow. Tracing the experiences of his own grandfather-an Australian serviceman who found himself in Paris during that fateful year-Baxter explores firsthand the mythology of the period, researching the cafes these young men would have frequented, the romances they might have had, and the transformative mix of fear and freedom among the people that gave rise to the France of modern day.
Paris at the End of the World tells the story of this change from both sides—that of the young soldiers who came to France, and of the Parisians who awaited them. For the French, 1914 meant drinking the last of the wine of pleasure before facing the reality of the modern world. For the foreigners, who had never drank wine before, the experience left them transformed, and able to enter the post-war world transformed.
buy from: Powell's | Indiebound | Amazon | B & N
Edwardian Fashion 1900-14 by Daniel Milford-Cottam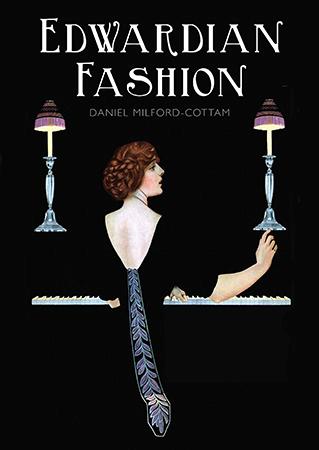 Renowned for its graciousness and elegance, the fashions of the 1910s would undergo some quite revolutionary changes. In the early years of Edward VII's reign fashionable ladies wore delicately colored, flower-and-lace-trimmed trailing gowns over tight corsets, accessorized by elaborate hairstyles. Women scoured the new fashion magazines to see the new designs from Parisian couturiers, such as Worth and Jeanne Paquin. From around 1906, these excessively luxurious fashions began to fade away, with a new designer, Paul Poiret, causing a stir with his richly colored column gowns and turbans. By 1914, women's wear was transformed with women wearing boldly colored, dramatically stylized Eastern-inspired kimono wraps, slender hobble skirts, ankle-skimming tunic dresses and turbans. Daniel Milford-Cottam explains these new developments in fashion, and how different fashions were worn by both the most fashionable ladies, and those on more limited budgets. The book will also look at the evolution of men's wear during this period, including the development of the more modern three-piece suit and more relaxed, less formal menswear.
buy from: B & N | Indiebound | Powell's | Amazon UK | Amazon
Back in Blighty : The British at Home in World War One Gerard DeGroot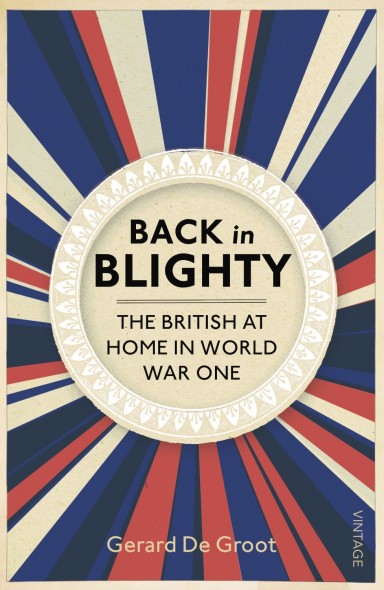 World War One had a devastating, cataclysmic impact on the world and the British people. As its reverberations were so long-lasting and significant, it is easy to assume that the social consequences were as profound. In this highly readable and moving survey of life back at home during the First World War, Gerard DeGroot challenges this assumption, finding pre-war social structures and ways of life were surprisingly resilient. Despite economic and technological changes, the British people found ways to cling onto their usual ways of life as much as possible in this new world.
Back in Blighty has been fully revised to take into account new scholarship and historical perspectives, and is full of fascinating glimpses into everyday life during the war. The lives of ordinary people are illuminated and given historical significance in this powerful portrait of the British people and their culture.
buy from: Indiebound | Amazon UK | Borders | Amazon | Powell's
buy links script courtesy of Courtney Milan
Comments