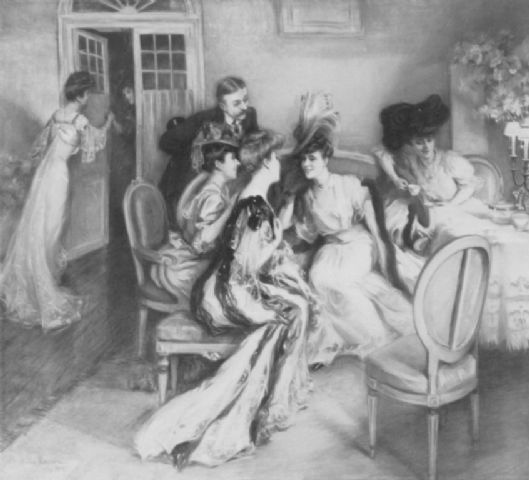 Though the Edwardians found much amusement in things we enjoy today–sports, dancing, dining, theater, et al–one of the primary entertainments of the day involved words. Not only were the Edwardians prodigious letter writers, but most Edwardian parlour games consisted of word puzzles, conversation games, recitations, amateur theatricals, and other linguistic delights were the most popular way to fill up time at house parties, during social gatherings, or after dinner. Many magazines and newspapers also fostered this love of words, and as I perused my April 1915 issue of The Ladies' Field, I discovered a neat game of double acrostics. If this were April 1915, you could win a few pounds for solving the puzzle, but since this is July 2012, all I can give you is a good cheer if you manage to solve the following double acrostics:
FYI: acrostics – A poem, word puzzle, or other composition in which certain letters in each line form a word or words. Double acrostic – A poem whose stanzas, except the first two, are clues for words. The initial letters of these words, in order, form a word clued by the first stanza; the final letters, the second stanza.
Pen–dagger–epigram–should all have me;
And here I find there's nothing you can see;
But put together, what I mean to say
Is that I speak quite frankly, come what may.
1. Ago–ah, no–remove it–tho'
Mineral and flower without it go.
2. In a Cymric castle seen,
Erstwhile graced by Spanish Queen.
3. Whose King returned unmarked by wife or friend–
His dog alone was faithful to the end.
4. Phonetically, food untouched, though we
In England journey to reality.
5. Animal and human have it–
Both the light will useful find–
With the beast it goes before him;
Mostly with the man behind.
Comments