After the close of the London social season, society packed its bags for either the Continent, or other country house parties, but most traveled up north for the Scottish season. Partly focused in Edinburgh and partly focused in Balmoral Castle, or other Scottish castles and/or hunting seats, this time was marked by August 12, otherwise known as the "Glorious Twelfth."
Apart from a brief visit by George IV in 1822, no British monarch had crossed the border since the reign of Charles I. This changed when twenty years later, Queen Victoria, on tour of her realm, went to Scotland and fell deeply in love (dare I say her love of Scotland and all things Scottish rivaled her love of Prince Albert?). She and Albert returned frequently, gladly entertained and protected by her noble Scottish hosts (Marquess of Breadelbane), but an idea percolated in her brain: a castle of her own.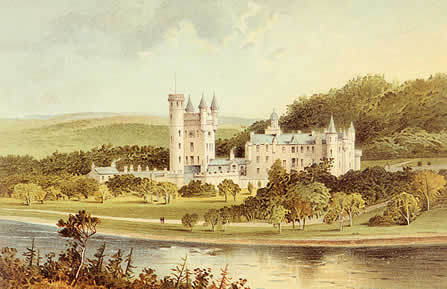 Balmoral was a small castle on Deeside. It was a simple, sturdy building so cramped, that when the gentlemen played billiards, the ladies had to get out of the way. That had to go. In its place, a magnificent castle testifying Victoria and Albert's love and appreciation for Scotland. However, no one could call the castle comfortable, and the wall-to-wall, ceiling-to-ceiling tartan decorations gave many guests a headache.
Early on, the gatherings at Balmoral were a family affair, but aristocrats followed the Queen up North and saw an opportunity for new sport. And as with all matters important to their male kith and kin–and eligible gentlemen–the general social season fit itself around the Scottish one. Deer-stalking occupied the men, and many cash-poor/land-rich Scottish aristocrats found themselves inundated with rich English peers willing to rent their outlying deer-forests for outrageous sums. Five thousand pounds for ten weeks' sport was not unusual. This influx revitalized the Scottish Highlands: glens that had lain barren save eagles and rutting stags since the Highland Clearances of the 1780s rang once again with human activity. Carpenters, timbermen, and other artisans found themselves with more work than ever as these English aristocrats needed impressive hunting lodges to go with the vast tracts of land they purchased.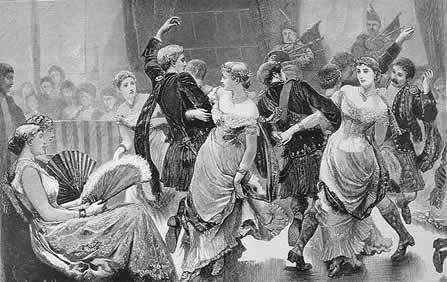 In later autumn, country house parties gathered for partridge shooting followed by hunting, an activity par excellence which brought together local people and those involved in London Society. The high point of the Scottish season was the Hunt Ball. It was a somewhat public function, where tickets were sold, though many were also sent to the best private householders in return for a subscription.
In Scotland, everyone seemed more relaxed, most likely due to the Highland practice of leaving ones doors open to all, and thus an informal and pleasant mode of intercourse sprang up between guests.
Further Reading:
The Best Circles by Leonore Davidoff
The English Country House Party by Phyllida Barstow
Comments