I'm feeling rather like Kate Winslet these days! Thank you Vic of Jane Austen's World for the Excessively Diverting Award, and thank you Elizabeth Keri Mahon of Scandalous Women for the Butterfly Award!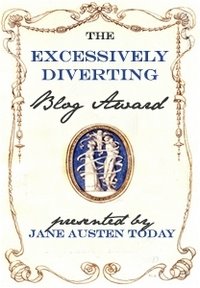 To pay it forward, I thereby christen the following blogs with both wonderful awards:
Unusual Historicals: I admit my bias as a former member of this blog.*g* The amount of information shared is staggering and runs the gamut from ancient Rome to WWII.
Regency Ramble: this blog is enough to tempt me to forsake the end of the 19th century for the beginning.
Nicola Cornick — A Passion for History: one of my favorite historical romance authors. I am really jealous that she works in a bonafide English country house for a living.
Zoe Winters: A very talented writer whose passion for all things indie is an inspiration
Romance Bandits: A group of dedicated, enthusiastic writers whose blog I find very helpful when you get discouraged about writing and the industry
Comments