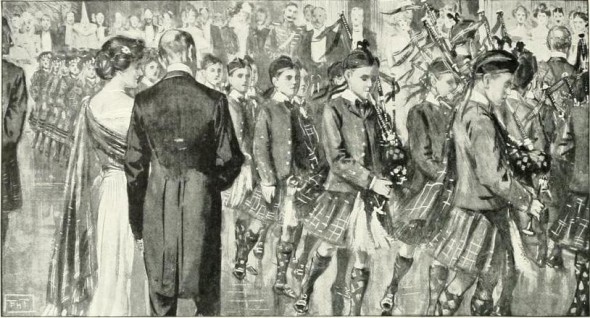 Though Scottish, Irish, and Welsh noblemen mingled within English society on rather equal terms, it must have been a desire for something of their own during the London season, which urged the Duke and Duchess of Atholl to host a private ball for their Scottish friends residing in London. By 1849 it had become a subscription ball for the purpose of collecting funds for various Highland charities and one of the preeminent events of the Season.
In The Badminton Library of Sports and Pastimes's volume on dancing, The Countess of Ancaster describes the ball:
One of the best public balls is the Royal Caledonian Ball, which takes place annually in London for the benefit of Scottish charities. The Duke of Atholl has been treasurer now for many years, and with the assistance of the Lady Patronesses, who get up parties for a reel and fancy quadrille, it has become most popular. It is well done in every way, and the tickets are moderate in price. Vouchers are issued for this ball, a circumstance which recalls the days of Almack's. The Lady Patronesses were so very exclusive when Almack's was the vogue that many stories are told of the methods employed to obtain the longed-for tickets, and of the heart-burnings that arose from the refusal to grant them to one and their bestowal on another. Nothing of this kind happens now. "Autres temps, autres mœurs" [other times, other customs]. It would be impossible in these days to go back to the small and select society of the past. Neither, happily, is it necessary to do so, as it would be an extraordinary thing now should any real breach of good manners or decorum occur.
This voucher cost one guinea, and revelers dressed in tartan of their families, the men in full Highland dress and the women in white dresses with tartan sashes. The President of the Royal Caledonian Ball was the Duke of Atholl, who "usually brought with him his own private army, The Atholl Highlanders, to play before the ball and to pipe onto the floor everyone taking part in the ceremonial set reel before performing an eightsome reel. This is a dance of Atholl origin and was introduced in 1890, before which it was the practice to arrange quadrilles." When the Prince of Wales ascended the throne as Edward VII, the ball was honored with his patronage, an arrangement which exists till this day!
The Royal Caledonian Ball – Scotland on Sunday
Official Website of the Royal Caledonian Ball
Illustrated Guide to the National Dances of Scotland (1910)
Comments