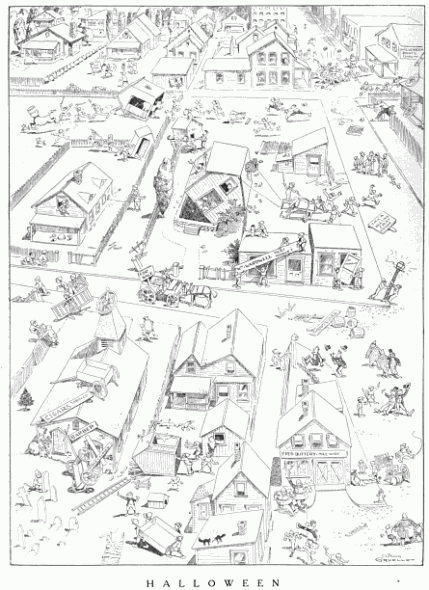 Halloween Paradoxes. – THE EVENING before All Saints' Day, formerly called All Hallows Eve, was originally given to religious observance. Modern usage now spells it Halloween, and it is now devoted mainly to mischief.
In the larger cities that enjoy adequate police protection the impulses of male youth on Halloween are held in check, although mischievous purpose is not wholly defeated.
In smaller towns the evening brings terror to staid citizens. If they are not routed out of doors by fires in their domiciles or by other fearsome haps, they awake in the morning of All Saints' Day to wonder why the saints had not during the night prevailed over deviltry.
Boys and young men who see fun in such things tip over small barns, dress up cows in unseemly costumes, put barrels over the heads of mild-mannered horses and turn them loose, remove buildings from foundations to unlikely spots of the landscape, change "signs" on buildings so that the public is confused, scare hens and other fowl from their roosts and make them wanderers, release pigs from cozy quarters, remove fences and obliterate property lines, and sometimes even decorate small village churches with articles that bear no relation to religion or even to common sense.
These are but a few of the pranks played on this evening. In fact, the worst has not been told of boys' "goings on." It sometimes happens that youth in this employment is punished by outraged owners of property carelessly handled, or apprehended by constables who on this one night are not permitted to rest. But precedent and the effervescent spirit of boyhood cannot be wholly overcome, and Halloween will continue to be a period of chaos in places where local self-government does not include the young in its beneficent scheme.
While Halloween affords boys an opportunity for fun that fits their inspiration to turn things topsy-turvy, it is an occasion to which girls look forward with superstitious awe and hope.
Love and matrimony are never absent, it would seem, from the minds of maids of a certain age, and this night affords them opportunity to test the various sorts of wizardry related to sentiment and Halloween.
Thus, if a girl peels an apple without breaking the peeling, throws it over her shoulder, and it takes as it falls the initial of some young man, she is reasonably assured by this means that he will marry her. Or if she holds a lighted candle while standing before a mirror in an otherwise dark room, and looking over her shoulder sees the image of the youth of her choice, she is made happy in expectation. Or if she and her girl companions place a thimble and a ring in a wad of dough, bake a cake of it, and cut it carefully when done, it is to them as true as gospel that the maiden who gets the ring will be married shortly, while she who gets the thimble will die an old maid. Or if one writes the names of her young men acquaintances on slips of paper, puts them under her pillow, and dreams of one of them, that one she is fated to wed. These are but a few of the love tests of Halloween. What a happy period is youth, after all!
Comments