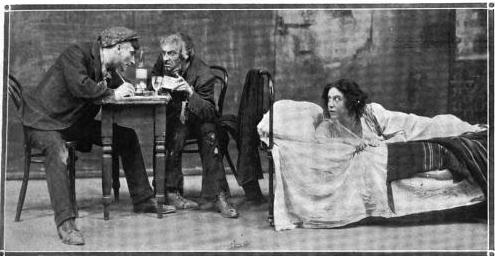 Far away from the bawdy turns of the music hall, the froth and bubble of the musical comedy, and the serious drama, there was the Bad Girl melodrama. Produced by brothers Walter and Frederick Melville mostly at the Standard Theatre, these plays featured dangerous women, "often a social climber seeking power and money, or else an established wealthy siren using her powers to corrupt others, and tempting them to take a wrong turning", involved in wild and wicked plots that encouraged audiences to clap, cheer, and boo and hiss at the machinations of this femme fatale.
The Bad Girl melodrama no doubt had its roots in the early 1890s, when Henrik Ibsen's Ghosts, Hedda Gabler, and A Doll's House, and Arthur Wing Pinero's The Notorious Mrs. Ebbsmith and The Second Mrs Tanqueray, shocked and thrilled audiences with their tales of women with pasts and their navigation of late Victorian society. The Meville oeuvre relied upon shocking titles to express the luridness of the heroine, such as Walter's productions of The Worst Woman in London (1899), That Wretch of a Woman (1901), A Disgrace to Her Sex (1904), The Girl Who Wrecked His Home (1907), and The Shop-Soiled Girl (1910), and Frederick's productions of In a Woman's Grip (1901), The Ugliest Woman on Earth (1903), and The Bad Girl of the Family (1909).
Many scholars of Edwardian theatre come to the conclusion that these plays, or even those of Pinero, Ibsen, Shaw, et al, characterize the fears and anxieties of the New Woman, which could very well be true, but they probably also provided a way for audiences to live vicariously through the sort of wicked women society ostracized. After all, even today we love to watch the excesses of backstabbing Real Housewives, or the machinations of fictional socialites like Alexis Carrington or Victoria Grayson!
Further Reading:
The Cambridge Companion to Victorian and Edwardian Theatre by Kerry Powell
The Melville Story: Walter and Frederick Melville
Special Collection at University of Kent – Bad Girl Dramas
The Worst Woman in London, then & now
The Dangerous Woman of Mevillean Melodrama
Comments