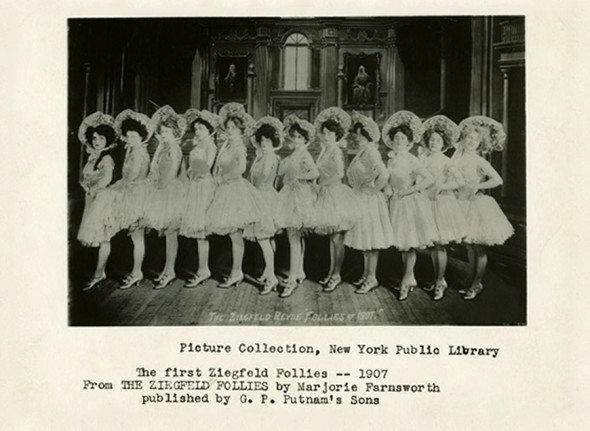 Spectacle was the key word in musical theatre of the Belle Epoque, and from the decadent Folies Bergères in Paris, to the Gaiety Girls of London, savvy impresarios gave audiences the glitz, the glamor, the extravagance–and the sin–they craved. The Florodora Girls (who counted the infamous Evelyn Nesbit as a member) gave American audiences one of their first tastes of the modern chorus line, with its emphasis on beauty, charm, and tiny waists. Named after the musical in which they starred, the Florodora Girls proved so popular, they were barely on stage for one performance before being snatched into marriage by wealthy stage-door johnnys, and more than seventy young women were able to boast being part of the famed chorus line during its first run on Broadway in 1900.
Florenz Ziegfeld, Jr. took this glorification of the American Girl to another level. Ziegfeld's father ran an unsuccessful nightclub in Chicago, and young Ziegfeld tapped into the idea of using spectacle and extravagance to attract visitors. He traveled to Europe, where he splurged on bringing seven military bands and an astonishing number of French and Russian performers to Chicago. Unfortunately, this was a big–and expensive–flop. Ironically, the key to Ziegfeld's success lay right under his nose: The Great Sandow, a Prussian bodybuilder under contract with Maurice Grau, the manager of a New York-based opera company.
Ziegfeld managed to lure Sandow away from Grau with the promise of 10% of the profits, and put the strongman on display, where his rippling muscles, dubbed "muscle display performances", and feats of strength, excited the oohs and ahhs of audiences. Ziegfeld also had the audacity to bring Sandow into the drawing rooms of Chicago's elite, and induced the grand dame of Chicago society, Mrs. Potter Palmer, to come backstage to feel The Great Sandow. Soon, you were "no one, really no one, my dear, unless you had felt Sandow's muscles". When Sandow's feats of strength began to pall, Ziegfeld took him to San Francisco where he raked in thousands of dollars in ticket sales for a wrestling match between Sandow and a ferocious, man-eating lion. The lion turned out to be mangy and bored, which ended Ziegfeld's exploitation of Eugen Sandow.
Ziegfeld suffered a few more setbacks and advances before he returned to Europe and met the woman who would change his fortunes forever: Anna Held. Held, a Polish-French performer, was known for her flirtatious manner, her risque songs, and her willingness to show her legs. She brought down the house in London with her suggestive song "I Just Can't Make My Eyes Behave":
For I just can't make my eyes behave
Two bad brown eyes I am their slave,
My lips may say run away from me
But my eyes say come and play with me.
And you won't blame poor little me, I'm sure,
Cuz I just can't make my eyes behave.
When she met Florenz Ziegfeld in 1896, they were instantly smitted, and Held agreed to come to New York with him. To smooth the path back to Broadway, Ziegfeld launched a campaign for Held the moment they reached America, setting her up in a rose-filled suite at the Ansonia Hotel, and circulating stories about her beauty and sex appeal–the most famous and enduring being that of her alleged practice of taking milk baths to maintain her complexion. By the time Anna reached the stage, audiences were insatiable for news and photographs. Critics were lukewarm about her performances, but theatergoers loved her naughtiness, her tiny waist, her elaborate costumes, and her Gallic insouciance. Ziegfeld used the new tabloid newspaper medium to keep audiences fascinated by them by sending photographs her Anna's new sables, her costly jewels, her lingerie, and writing articles about Anna's fast and glamorous life.
Eying Anna on stage in one of their many hits between 1896 and 1904, Ziegfeld hit upon the idea of framing her five-foot frame with a dozen tall, beautiful, stately girls. Audiences gasped as the girls moved through synchronized steps to unveil the diminutive Anna Held, and they gasped again when in A Parisian Model, the chorus girls appeared to be nude! The "sensational scene that lured men about town time and time again to the show depicted an artist's studio. Six girls in long cloaks stood before easels; that is, the easels were between them and the audience. Suddenly, the girls through off their cloaks and the audience saw gleaming bare shoulders and curving bare legs."
The show ran for a year, during which Ziegfeld began prepping for his theatrical dream: a revue full of flash and pizzazz, with "one hundred and twenty girls whose figures would be as provocative as their faces; tall, stately girls, radiant with youth and draped in priceless costumes of furs, gems, laces, ribbons and flowers, who would need only to walk with patrician grace before the footlights. . . . He would put a hundred musicians in the orchestra. He would retain the greatest artists to design as many as twenty changes of costume for every girl. Where one comedian would amuse an audience, six would convulse it. His music would be sparkling and gay or as beautiful as the stuff of dreams and would leave audiences humming or whistling softly as they left." Held helped him make this dream come true even as their romantic relationship drew to a bittersweet end.
Ziegfeld launched the first of his Follies in 1907 and cost him $13,000 to stage. The star he created that night was Nora Bayes, and instead of milk baths, Ziegfeld promoted that Nora ate lollipops before each meal to cut down on appetite and preserve her figure. Naturally, candy sales increased exponentially, thereby changing the sweet eating habits of many adult women (chocolate was the sweet of choice, with candies considered for children). Ziegfeld launched his Follies every year, changing his chorus line, his comedians, his music, and his staging to produce more and more spectacle and to glorify more and more American girls. The most famous Ziegfeld Girl was Lillian Lorraine, whom he discovered in 1909 and with whom he fell desperately in love. Ziegfeld and Anna's relationship had cooled, but this infatuation strained it indefinitely, and they divorced in 1913 (though, many sources dispute whether they'd actually ever married).
In the meantime, under the ministrations of Ziegfeld, Lillian Lorraine became an icon, and her feuds (most notably with Fanny Brice), love affairs, jewels and furs, and outrageous personality made her a staple in the newspapers of the day. In fact, everything to do with Ziegfeld and his Follies were tabloid fodder, and his influence spread far and wide. Every fame-hungry young ingenue wanted to become a Ziegfeld girl, every stage door johnny wanted to have one on his arm, and every reporter wanted to have an in on the latest doings of the show and its stars. During the 1910s, the Follies had moved far beyond its roots as a European-style revue to become a uniquely American institution. In the 1920s, Ziegfeld move into legitimate musical theatre, staging such hits as Show Boat, Rio Rita, and Whoopee!. He lost most of his fortune in the stock market crash, but the show went on until his death from pleurisy in 1932.
The allure of Ziegfeld and his girls lingered long after his death, kept alive by his widow, Billie Burke (yes, Glinda the Good Witch!). Time and time again Hollywood mined his story and his glamor for stories, from a biopic in 1936 starring William Powell and Myrna Loy, to a fictional story in 1941 starring Judy Garland, Lana Turner, James Stewart, and Hedy Lamarr, to a lavish movie revue in 1946, where stars Fred Astaire, Judy Garland, Lena Horne, William Powell, Gene Kelly, Fanny Brice, Red Skelton, Esther Williams, Cyd Charisse, Lucille Ball, Kathryn Grayson, etc recreated the spectacle of the Follies. The last link with this faraway glamorous world was Doris Eaton Travis, the last Ziegfeld Girl, who passed away in 2010 aged 106, thus proving that the show really did go on.
Further Reading:
Ziegfeld: The Man Who Invented Show Business by Ethan Mordden
Scandals and Follies: The Rise and Fall of the Great Broadway Revue by Lee Davis
Lillian Lorraine: The Life and Times of a Ziegfeld Diva by Nils Hanson
Century Girl: 100 Years in the Life of Doris Eaton Travis, Last Surviving Star of the Ziegfeld Follies by Lauren Redniss
The Ziegfeld Follies by Marjorie Farnsworth
"Are There Any More At Home Like You?" – Vitaphone Varieties
The Ziegfeld Club
Comments