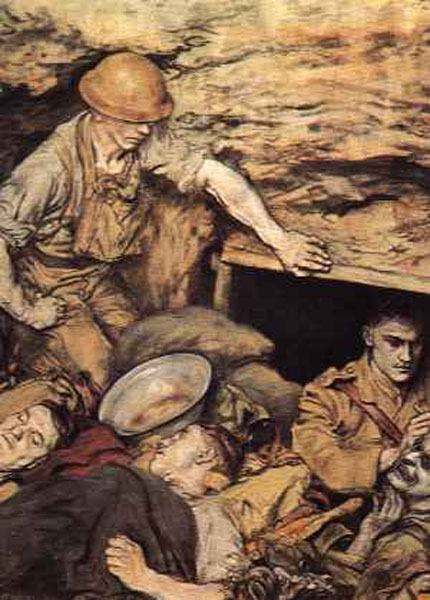 A weekly round-up of the most intriguing news about the First World War
From the North Devon Journal, a YouTube upload of an exciting video:
A TAPE providing a unique insight into the lives of the region's war horses and their trainers following the First World War has been unearthed in North Devon.

Cynthia Snowden discovered the recording while sorting through a host of her dad's old cassette tapes at her home in Northam. Recorded by her father Percy Reed in 1984, the tape is believed to reveal how Cynthia's grand father brought a former war horse to their then family home in Combe Martin. Reading in traditional Devon dialect, Cynthia has now transcribed the tale to share with others in North Devon. She said she wanted to share the tale because "little has been said about the horses that made it home after the First World War".

She added: "Percy Reed, came from Combe Martin but I don't know where. His father, Tom Reed kept horses for the bread delivery round."
From the Deseret News, an article about President Woodrow Wilson's Fourteen Points, drafted with the aim of creating peace and making certain a war of this magnitude would never happen again:
In April 1917, the United States entered the war alongside Britain, France and a tottering, quasi-democratic Russian regime. When Wilson asked for a declaration of war against Germany, the president stated firmly, "The world must be made safe for democracy." Having dispatched Gen. John J. "Black Jack" Pershing to France, the United States quickly began to build up a major military force in Europe.

Wilson desired to the see a speedy conclusion to the war. Many of the Allied states, however, had proclaimed that they intended territorial annexation, indemnities and other conditions. Wilson feared that the nationalist goals of America's allies would make peace difficult to conclude. Certainly Germany would not lay down its arms if it was expected to hand over sizable territories and pay huge sums of money.

Also, Wilson appreciated that despite the new level of technological barbarity, World War I was essentially being waged as a 19th century conflict — one in which "might made right," and where the winner made the loser pay heavily for the defeat. Wilson hoped, some believed naively, to introduce a new level of idealism into international relations and end World War I in such a manner as to radically alter the way nations conducted themselves. Critically, Wilson hoped, war itself could be abolished from the civilized world.
From the North Jersey News, a commemoration celebration and tales of WWI heroes:
Many stories of Rutherford soldiers closely parallel important events of World War I, particularly in that critical period of Sept. 26 through Oct. 18, 1918 when General John Pershing's AEF launched the Meuse-Argonne offensive. This was one of several attacks planned to drive the Germans from their defense of the Hindenburg Line, a strategy that would precipitate the German surrender.

Four Rutherford soldiers were killed during these strategic maneuvers. Lowell Wellsley Conrad, who lived on Carmita Avenue, was killed in action on Sept. 29, a date that Rutherford should never forget. Charles Hugo Schneider and Thomas Hewitt Everett were both killed on that day. Arthur Lamon Burroughs Leader, a Rutherford Trust clerk killed on Oct. 18, had just written his parents that he was one of eight of a 150-man company who survived the armed violence of Sept. 29. It was also during this bloody fracas that another Rutherford soldier – Sergeant John Cridland Latham – displayed "conspicuous gallantry" in saving the lives of two American soldiers.
From the Centenary News, Turkey's commemoration of their role in WWI and its impact on Turkish society:
The exhibition promises an insight into the cultural exchanges that took place during the First World War, including artistic activities, reciprocal visits, and the coordination and production of propaganda tools.

Among the highlights is a rare album of plates by the Austrian war artist, Wilhelm Viktor Krausz.

Dating from 1915-16, 'Paintings and Drawings from Turkey' contains the first known portrait of Mustafa Kemal Atatürk, defender of Gallipoli and founder of the post-war Republic of Turkey.

'Propaganda and War, The Allied Front during the First World War' draws on artefacts and memorabilia from the Ömer M. Koç Collection. It runs at Koç University Research Center for Anatolian Civilizations (RCAC), Istanbul, until March 22nd 2015.

An academic conference is being held at RCAC on January 10th 2015 to accompany the exhibition. 'Ideology, Propaganda, and War: The Ottomans in the Great War' features historians from Turkey and overseas. The event is open to the public.
From the Kansas City Public Media, a podcast discussion of music and modernism on the outbreak of WWI:
Kansas City Symphony music director Michael Stern calls the years leading up to World War I "a perfect storm." There was the shock of the new – a shift from horses to cars, from gas to electric light, from agriculture to industry.

"So by the time we get to 1914 and the world explodes, if people had been listening and watching, especially listening to music, you could have forseen this kind of incredible shift," he says.

This moment, especially before the war, was fascinating for Stern. The Symphony's classical season is organized around this theme with composers like Maurice Ravel, Jean Sibelius, Claude Debussy and Igor Stravinsky.

On Thursday, Stern led a morning rehearsal at Helzberg Hall, with the Symphony packed on stage and additional musicians in, to perform Stravinsky's The Rite of Spring.

"This piece is as elemental and hits you in the gut, just as it must have the first time it was played," he says.

It reportedly caused a riot when it premiered in Paris in 1913, the year before the war broke out.

"Of course, the savagery, which was also a reflection of what the world was about to turn into, was all there," says Stern. "But there's also this kind of lurking, searching, unfulfilled human expectation, which was the unrest at the time."
From the Indian Express, the presence of Indian soldiers on the Western Front:
In a tiny village on the border between Belgium and Lille, a town on the northern tip of France, residents are well acquainted by Khudadad Khan's name. The infantry soldier from the 129th Duke of Connaught's Baluchis regiment fought valiantly for British India during the First World War. He was rewarded with the first ever Victoria Cross, the highest military decoration given to a person of South Asian origin. A portrait of the man, wearing a turban and and one of his arms bandaged, occupies a part of the wall at the Twin Art Gallery in the Indira Gandhi National Centre for the Arts.
West Michigan pilot recreating authentic, flyable World War I-era biplane
Kozura, 48, who lives with wife Linda in Comstock Park, has been fascinated by the British-built Sopwith Camel for as long as he's been interested in flying, which is to say nearly his whole life, including 11 years in the Air Force followed by serving as a pilot for Northwest Airlines for four years.

He then founded his own flight school based out of the airport in Sparta, and currently is employed as a principal operations inspector for the Federal Aviation Administration.

His love affair with the Sopwith blossomed in a big way while surfing online, when he happened upon a dash clock for the fabled single-seat biplane fighter introduced on the Western Front in 1917. Kozura purchased it, and then figured it'd be nice to install that piece in a real instrument panel.
Comments