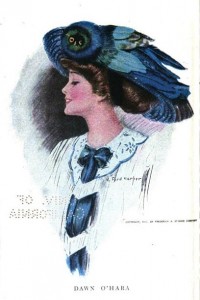 Dawn O' Hara, The Girl Who Laughed is supposed to be equal parts tragic and funny, but somehow I don't think Edna Ferber intended it to be both at the same time. Ferber is really good, in general, at making humor tragic, and that's great. Authors who can't make you take tragedy seriously are a lot easier to find, and a lot less worthy of respect.
I mean, I feel like probably giving the heroine a nervous breakdown/deathly illness and a lonely life as a reporter on a New York City newspapers is enough, you know? Does she really also need a tragic past involving a dashing, brilliant alcoholic who married her and then went insane? I say no. Edna Ferber says yes, but this is her first novel, so I guess we can give her a pass.
Dawn goes home to Wisconsin to recuperate. Her sister, Norah, and her brother-in-law, Max are happy to have her there, but she doesn't want to depend on them. It's not just about being as honorable and independent as every heroine must be — she has to earn money to keep her husband, Peter Orme, in the mental institution to which he's become accustomed.
Dr. Ernst Von Gerhard, Max's doctor friend and Dawn's inevitable love interest (very German, sometimes semi-ironically described as a blond god), says that if Dawn goes back to her life in New York she'll be dead within the year, so he finds her a job at a newspaper in Milwaukee.
Milwaukee is even more German than Von Gerhard. Dawn sees signs in the windows of stores that say, "English spoken here." In German. This is one of many openings to talk about the German-ness of Milwaukee that Ferber does not let pass her by. Milwaukee, guys: it is so, so German.
Actually, that's most of the middle of the book right there. That, and a lot about Dawn  and Von Gerhard heroically trying to supress their feelings for each other. And a sort of excellent bit about an Austrian woman pointing out to her husband that, since she has all the money in the marriage, not to mention all the class, he doesn't get to tell her what to do. It reads a lot like one of Ferber's short stories — in a good way, as opposed to a horrifically depressing way.
Things perk up a bit towards the end, when Von Gerhard starts trying to talk Dawn into divorcing the insane husband, which seems kind of low, especially coming from a blond god. She refuses, but probably kind of wishes she hadn't, especially after she recieves word that Peter has recovered. Soon he shows up, all hollow-eyed and incalculable, and it quickly becomes obvious that his release from the mental hospital was a little premature.
I like Dawn O'Hara. No, really, I do. It's just that Edna Ferber tends to be pretty unsentimental, and almost scornful of happy endings, and here she's neither. And in some ways that's a good thing. There's nothing wrong with a happy ending, and it's pretty enjoyable when a writer as good as Ferber wallows in sentiment, but only up to a point. I could only take so many pages of Dawn and Von Gerhard being stoic at each other before I began to hate them both. Dawn eventually won back my affection through the medium of her friendship with disreputable (and tragic) sports reporter Blackie. Von Gerhard…didn't.
Read Dawn O'Hara at Project Gutenberg.
Visit Melody's  blog, Redeeming Qualities.
Comments