AUTHOR NAME: Carrie Turansky
BOOK TITLE: The Governess of Highland Hall, Book One of the Edwardian Brides Series, published by WaterBrook Multnomah, a division of Random House, Releases October 15, 2013.
DESCRIPTION:
Two worlds . . . one calling. In 1911 Julia travels from the exotic land of India to Highland Hall, a magnificent English country estate. Will she follow her heart and stay on as governess for Sir William Ramsey, or will she return to her mission work and the life she left behind in India?
Missionary Julia Foster loves working alongside her parents, ministering and caring for young girls in India. But when the family must return to England due to illness, she readily accepts the burden for her parents' financial support. Taking on a job at Highland Hall as governess, she quickly finds that teaching her four privileged, ill-mannered charges at a grand estate is more challenging than expected, and she isn't sure what to make of the estate's preoccupied master, Sir William Ramsey.
Widowed and left to care for his two young children and his deceased cousin Randolph's two teenage girls, William is consumed with saving the estate from the financial ruin. The last thing he needs is any distraction coming from the kindhearted-yet-determined governess who seems to be quietly transforming his household with her persuasive personality, vibrant prayer life, and strong faith.
While both are tending past wounds and guarding fragile secrets, Julia and William are determined to do what it takes to save their families—common ground that proves fertile for unexpected feelings. But will William choose Julia's steadfast heart and faith over the wealth and power he needs to secure Highland Hall's future?
Endorsements for The Governess of Highland Hall:
There is much to like about Carrie Turansky's The Governess of Highland Hall: A sweet, noble heroine, a proud, yet vulnerable hero, and a Downton Abbey-inspired setting. Endearing supporting characters and two romances add to the pleasure. Fans of Christian fiction and Downton Abbey will enjoy this story!
~Julie Klassen, best-selling author of The Tutor's Daughter
"The Governess of Highland Hall is a delightful journey to Edwardian England with a cast of colorful characters and plot twists at every turn. With a nice mix of upstairs-downstairs drama and a spunky heroine, Carrie Turansky weaves a tale that will enchant "Downton Abbey" aficionados. Lovely and heartfelt."
~ Carla Stewart, award-winning author of Chasing Lilacs and Sweet Dreams.
VIEW THE BOOK TRAILER:
BACKGROUND OF BOOK/WRITING:
When I attended the American Library Association Convention in Philadelphia in 2012, I had a discussion with an editor about the success of Downton Abbey, and she encouraged me to create a story with a heroine who was a governess and set it in England on an estate similar to Downton. That got my mental wheels turning. I was hesitant to follow up on the idea at first because I knew it would take a lot of research to create a story that rang true for that period. But one of my author friends, Cathy Gohlke, had just published a wonderful book (Promise Me This) set in early 1900s that started in England, so she loaded me up with research books and helped me believe I could do it. I am very grateful for her help!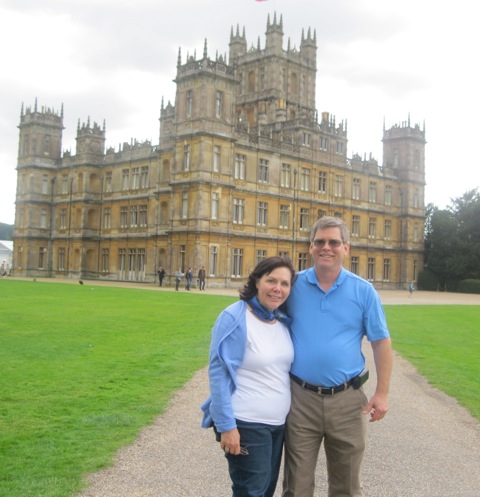 Then last summer my husband and I traveled to England. We rented a car and he drove over 400 miles on the wrong side of the road, seated in the wrong side of the car. He is an amazing man! We toured the Oxford area and visited Highclere Castle where Downton Abbey is filmed. That was a highlight of the trip for me. Then we toured the Cotswold area that has several lovely little villages that look very much like they did 100 years ago. We ended our time in England up in the Peak District and attended a country fair at Chatsworth which is an amazing estate with a very large and elaborate house and gardens. It was used as Mr. Darcy's home in the latest version of Pride and prejudice. All of these travels were great inspiration for The Edwardian Brides Series.

LINKS:

I love to connect with reading friends!
Visit Carrie online at Website, Facebook, Pinterest, Goodreads, and on Twitter @CarrieTuransky!

PURCHASE THE BOOK:
Indiebound | B & N | Powell's | Amazon | Christian Books

And wherever books are sold.
Comments