Remember this really fun serial novel I mentioned last week? Luckily for interested readers, today is its paperback release, and Allison Rushby has stopped by for a quick Q&A and is giving away a chic 1920s-inspired scarf.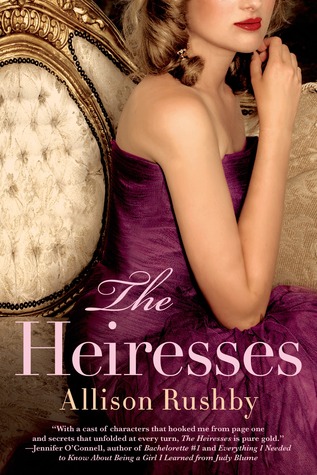 In Allison Rushby's Heiresses, three triplets—estranged since birth—are thrust together in glittering 1926 London to fight for their inheritance, only to learn they can't trust anyone—least of all each other.

When three teenage girls, Thalia, Erato and Clio, are summoned to the excitement of fast-paced London—a frivolous, heady city full of bright young things—by Hestia, an aunt they never knew they had, they are shocked to learn they are triplets and the rightful heiresses to their deceased mother's fortune. All they need to do is find a way to claim the fortune from their greedy half-brother, Charles. But with the odds stacked against them, coming together as sisters may be harder than they think.
Where did you get the inspiration for The Heiresses?
This is extremely embarrassing, but I think it was actually from watching a Dr Phil show, years ago. I can't say too much as it will spoil the plot completely, but I saw a segment that involved a family and their genetic makeup and asked my husband (a medical specialist) about it all that evening. This led me to wondering how this family's scenario might have
played out if genetic testing was not available to them, which is the case in The Heiresses, set in 1920s London.
How long did it take to you to complete The Heiresses?
The Heiresses was a little different for me because it was contracted from only a short writing sample and a series guide. I wrote it very quickly, in under nine months (altogether, it's roughly 120,000 words). Usually I wouldn't be
anywhere near this fast!
What was the hardest part about writing The Heiresses?
The most difficult part was the historical research. Although I love to read historical books and watch documentaries and historical dramas on TV, I hadn't actually written anything historical before. When I started writing, I found myself stopping after every second sentence or so to research this point and that point. After a while, I realised I had to write on and put little 'x' signs where I needed to research and go back later to do all my research in one session, or I'd never get anywhere!
Luckily, I wrote The Heiresses while living in Cambridgeshire in the UK (I usually live in Australia), so could pop on a fast train and be in London in under an hour to research anything I liked. Being so close to London was an enormous bonus – from the London Transport Museum, to simply walking around Belgrave Square, it really brought the story to life for me. I even managed to crash the village set of Downton Abbey, which was a hugely exciting day, despite the fact that it snowed (Australians don't do snow well…)!
Can you tell us more about writing historical New Adult?
As it happens, when I first had the idea for what would become The Heiresses (years ago), there was no such term as New Adult. The idea itself meant that the story required three 18-ish year-old heroines (they needed to be able to inherit money, be of marriageable age, live away from home and be generally young and fabulous in 1920s London etc.), so it simply happened to fall into the New Adult genre naturally. As for the world, I've always adored reading about London in the 1920s and it's a perfect fit for the New Adult genre — the years between WWI and WWII were a very heady, unstable time to be young in England, with death looming and a 'live for the moment' motto.
What are you writing now?
I've just finished a contemporary New Adult novel. While it's set in the present day, it's not college-based, but is about a charismatic modern artist and a young woman who becomes his muse. It's set in Paris, London and New York. My next New Adult novel will most likely be historical, though.
Read an excerpt of The Heiresses here. Visit Allison Rushby at her official website, follow her on Twitter, or Facebook. Her online diary, Keep Calm and Carry Vegemite, chronicles her amusing experiences as an Aussie transplant in England.
Giveaway of one (1) flapper printed scarf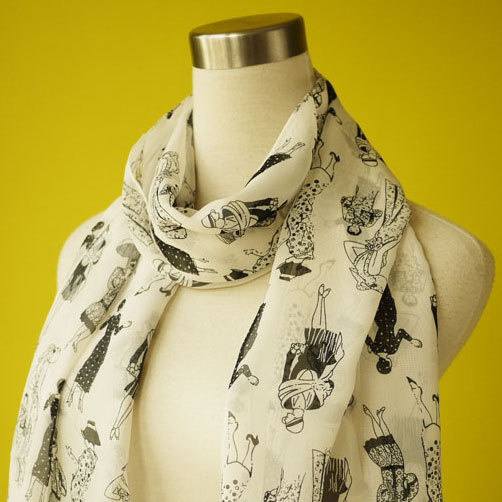 Use the Rafflecopter widget to enter the giveaway!
Comments