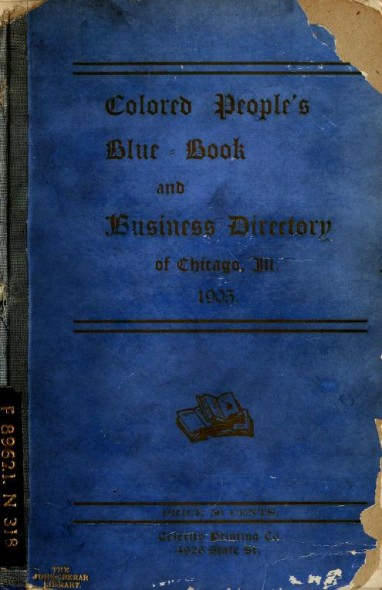 I could find little on the author of this business directory, which was published privately in 1905, but the directory itself is a goldmine of social history. To give a little context, Chicago was one of the destinations for African-Americans during the Great Migration; morever, the city was founded by a Haitian fur trader in the 18th century, and post-Civil War Illinois was progressive in its anti-discrimination and segregation laws. Nevetheless, in a big city such as Chicago, segregation was rife, and African-Americans settled in the "Black Belt," or the neighborhoods on Chicago's South Side. There, well-to-do, middle-class, lower-class, and poor African-Americans lived cheek-by-jowl, surviving and thriving in less than ideal circumstances. However, a quick glance through this directory reveals pages of industries in which Chicago's African-Americans were involved: from restaurants to dentistry, newspapers to millinery, and law to laundries. A lone entry that stokes my imagination is that of Madam Pearl Black, a Clairvoyant–one can only ponder what sort of fortunes she gave her clientele!
You can read the directory here:
Or download it for future perusal here.
Comments