Of all the fads in fashion of the Edwardian era, none was so provocative–or dangerous–as the hobble skirt. Fren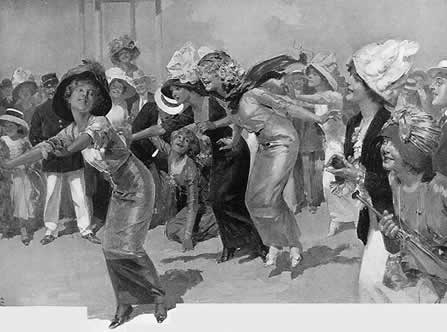 ch couturier Paul Poiret claimed to have created the hobble skirt, but the narrow, nearly skin-tight skirt had its roots in the early 1880s, when fashion placed emphasis on the posterior hidden beneath a neat, erotic bustle. However, it wasn't until skirts began to narrow once more circa 1908/09 when the true "hobble skirt" made its appearance.
Between 1910 and 1913, the hobble skirt reigned supreme in fashion, obtaining popularity from the Oriental- and Directoire-inspired crazes. These skirts were extremely slim to the point of forcing women who wore them to take tiny, mincing "geisha-like" steps, and nearly barring them from independent movement (it is rather curious that as the suffrage movement moved to militancy, fashions for women became restricting). Thoug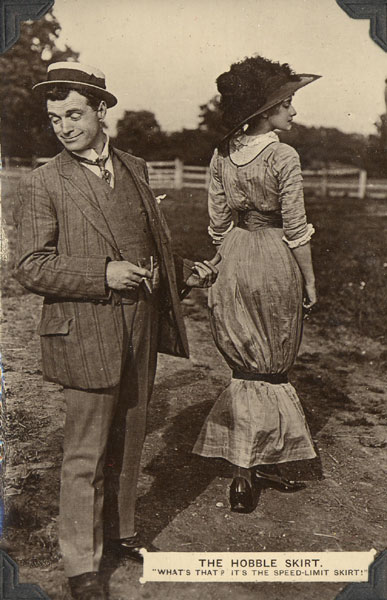 h the hobble skirt was denounced as unsafe, and some employers even barred their female workers from wearing them, a few factions approved of the trend: "Grandmothers think that the means justify the end, and that the hobble skirt will bring back to women the old grace. They will be compelled to shorten their strides, learn to place their feet in a straight line, and not throw them in or out in the slovenly modern way, and that the entire appearance of women will be thus benefited."
By 1912, the hobble skirt had become a tad more practical, with many concealing slits, hidden pleats, draping, and sometimes even Turkish trousers, beneath the narrow outer-skirt, which allowed greater movement than the hobbled walk initially characterizing the fad. Thank goodness, for the newspapers of the day reported countless accidents involving hobble skirts, with many women tripping, falling, and even breaking their legs while maneuvering in the skirt. To save face against the backlash, many Parisian couturiers began to characterize the trend as "American"!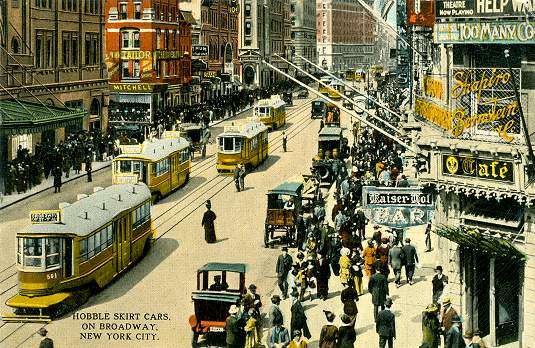 To the rescue did come an American firm who, with great ingenuity, designed "Hobble Skirt" cars for city tramways. The correct name for these trams was Low Level Center Entrance cars or Hedley-Doyle cars after their designers, Frank Hedley, who was Vice-President and General Manager of the New York Railways Company, and James S. Doyle, Superintendent of Car Equipment. In 1912 they produced three prototype cars for the company–the sills of the doors were only about 8 inches from street level and once inside the floor sloped up into each saloon to give space under the floor for the bogies–and by 1914, tramlines throughout the world were equipped with "Hobble Skirt" cars.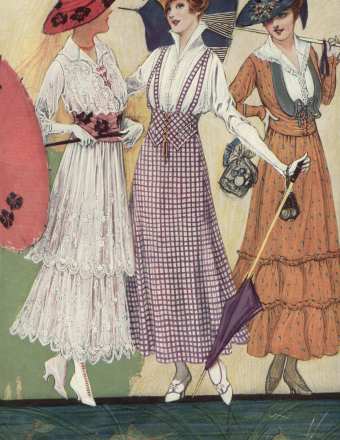 As with all fads, the hobble skirt passed from fad to fashion history by 1915. The odd thing is, with the fabric shortages of WWI, it should have remained in style rather than the fabric-hoarding "war crinoline" trend (left), but who can tell what drives fashion?
Further Reading:
Comments