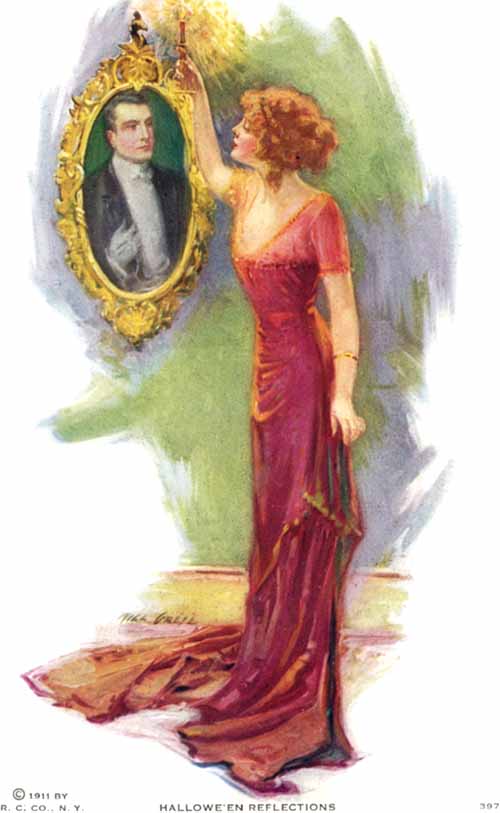 Despite its roots in European paganism, Halloween is a thoroughly American holiday. During the Gilded Age, Americans took Halloween quite seriously, even going so far as to celebrate it wherever they happened to be–as German society soon discovered when the expatriates residing in Berlin shook up the Kaiser's capital with "games, Jack-o-lanterns, mince pies, and other Hallowe'en hijinks." Americans of this time spread their Hallowe'en celebrations from the 31st of October until the morning of the 3rd of November, a period know as Allhallowtide.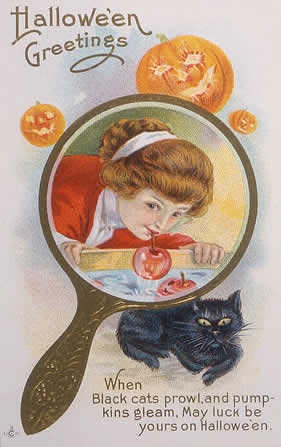 During the Colonial era, only those who kept the customs of England celebrated Hallowe'en, partaking of such amusements as apple-ducking and snapping, and girls trying the apple-paring charm to reveal their lovers' initials and the comb-and-mirror test to see their faces. Otherwise, ballads were sung and stories told–for the dead were thought to return on Hallowe'en. However, the customs did not take root in American culture until the late 1840s, when the widespread migration of the Irish to the United States, and the immigration of the Scottish after the 1870s, solidified the popularity of the holiday. Hallowe'en was initially a home celebration, where Irish- and Scottish-Americans hosted parties and balls, with perhaps a recitation of Robert Burns' poem "Halloween" or a telling of Irish legends.
By the turn-of-the century the holiday was thoroughly commercialized. Halloween postcards, and decorations were soldby Dennison Manufacturing Company (which published its first Halloween catalog in 1909) and the Beistle Company. It could also be thoroughly unsafe. Now vandalism and violence in the streets terrorized the holiday, and by the 1910s neighborhood organizations came together to encourage a safe Halloween. Rather than playing tricks on their neighbors, children went from door to door receiving treats. By the 1930s, "beggar's nights" had become very popular, and the concept of "trick-or-treating" rose in popularity and became the practice for Halloween celebrations after WWII.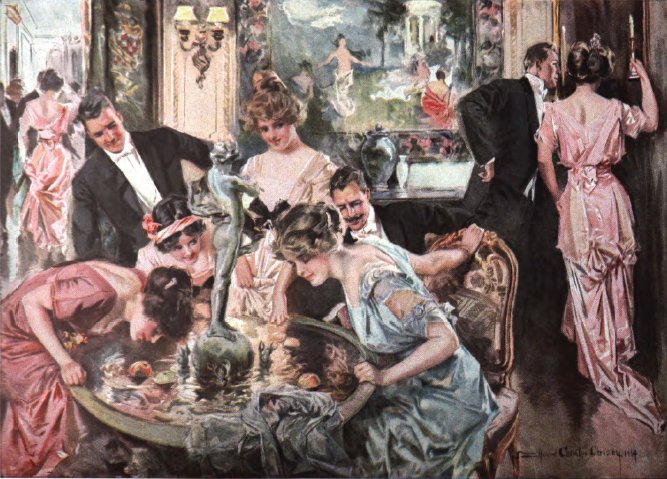 As for traditional celebrations: bobbing for apples, carved pumpkins, and candy corn (The Wunderle Candy Company of Philadelphia was the first to commercially produce candy corn in the 1880s) commemorated the harvest season. While it was not unusual for the children to be put to bed and the adults to depart for riotous Hallowe'en parties, the holiday became one of the few occasions where people of all ages could celebrate with one another.
Further Reading:
The book of Hallowe'en by Ruth Edna Kelley
Games for Hallow-e'en by Mary E. Blain
Food Timeline: Halloween foods: Traditions and Party Menus
Wikipedia: Halloween customs
Halloween: An American Holiday, An American History by Lesley Bannatyne
Death Makes A Holiday: A Cultural History of Halloween by David J. Skal
Comments