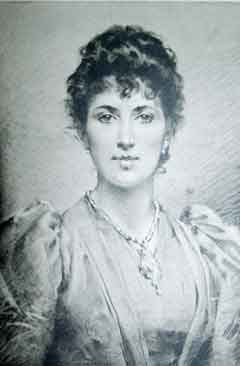 During the late Victorian era, the name of Mrs. A. B. Marshall could be found fixed over the door of her large cooking school and employment agency on Mortimer Street, in culinary magazines, on cooking utensils, cookbooks, food products, supplies, and cross-country lectures. By the time of her death in 1905, she had sunk into obscurity and the destruction of her papers and ephemera in a fire in the 1950s further buried the legacy of a woman who, at one time, was considered as indispensable to English housewives and cooks as Mrs. Beeton.
Born Agnes Bertha Smith on August 24, 1855, at Walthamstow, Essex, she learned "to cook from home experience and work under skilled Parisian and Viennese chefs." In 1883, she moved to London, where she purchased the National Training School of Cookery from its owners, and promptly set about building the school's clientele and reputation. The 1880s and 1890s witnessed the beginnings of the domestic science movement, and the charismatic and determined Mrs. Marshall fit into this female-oriented movement, boosting the school's pupils from forty within two years of purchasing the school to thousands for day-, month-, semester-, or year-long courses. Her pupils included cooks wanting to increase their skills (or, cooks dispatched hastily by their employers to learn how to prepare edible meals), middle class women desiring to run a tip-top household, and even aristocratic women picking up a unique hobby. The curriculum "offered specialty instruction in cooking, including lessons in curry from an English colonel who had served in India and classes in French haute cuisine taught by a Cordon Bleu graduate."
Over the following ten years, Mrs. Marshall expanded her empire adding an employment agency and registrar for cooks, a kitchen shop where food prepared by students was sold to the public, cookbooks, a weekly newspaper called The Table, and "specialty foods, utensils, cutlery, cast-iron equipment, and cooking supplies including baking powder, flavorings, vegetable food colorants, leaf gelatin, and in 1888, an edible cornet à la crème (ice cream cone) made with ground almonds." This last item, and her ice cream molds which ran up to a thousand shapes and varieties, earned Mrs. Marshall the moniker "Queen of Ices" in response to her passionate devotion to ices, ice creams, and frozen desserts.
With so many things to juggle, it was amazing that Mrs. Marshall had the time to lecture, but she did, scheduling six talks per week in Birmingham, Glasgow, Leeds, Manchester, and Newcastle, and a second tour went to twelve additional cities. Her live demonstrations, held on consecutive Saturdays in London, drew rave reviews and even more fame, though oddly enough, she found little success in the United States (her nearest rival there was Maria Parloa).
She began to wind her career down a notch by the mid-1890s, turning from lecturing, cooking, and writing, to charity, initiating Yule dinners for the poor and maintaining winter soup kitchens. After writing one more cookbook, Fancy Ices, Mrs. Marshall retired to Pinner, her estate on the River Pinn, where she lived until her death from a riding accident in 1905, just a month short of her fiftieth birthday. Mrs. Marshall and her empire faded from view and memory as the twentieth century wore on, "but her influence and opinions endured even longer. She denounced canned food and the substandard meals served in railway cars and depots. She campaigned for the availability of fresh produce and trained kitchen staff. Her prognostications foresaw the acceptance of dishwashers, the expansion of automobile travel, the advent of supermarkets, fad diets, chemical purification of water, refrigerated trucks, and the popularization of the ice cream freezer."
Further Reading:
Mrs Marshall, the Greatest Victorian Ice Cream Maker, with a facsimile of the Book of Ices 1885 by Robin Weir
BookRags biography
Wikipedia entry
Comments