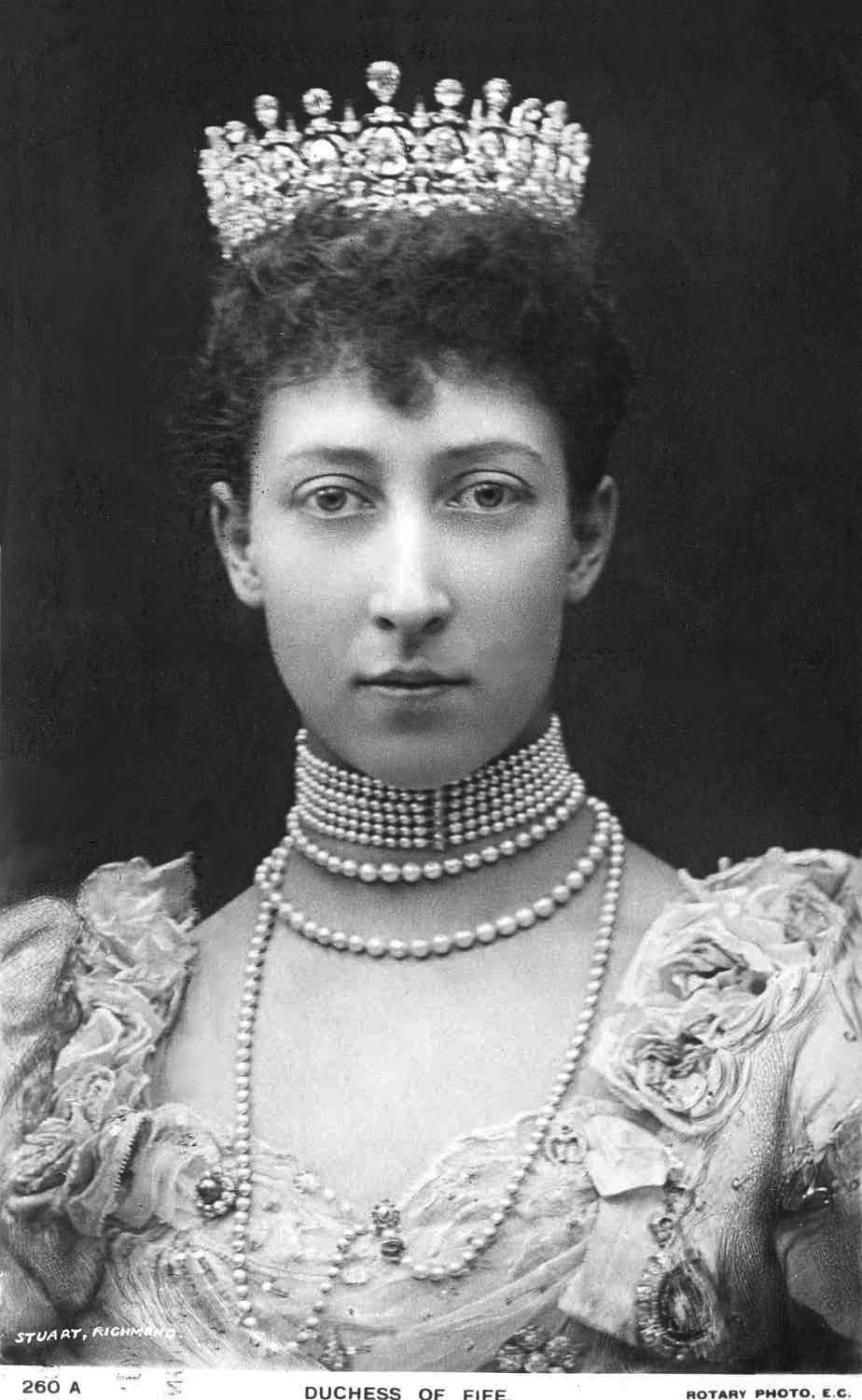 It is supposed that no English princess ever received such a quantity of jewellery as Princess Louise of Wales on her marriage with the Duke of Fife, for its value was estimated at over £150,000. Among the most interesting items was the ruby horseshoe brooch given by her brothers and sisters, enclosed in a case bearing the names of "Eddie, Torie, Harrie, and George." Then 112. of her girl friends gave her a diamond bracelet, and her masculine friends presented her with seven diamond stars. Diamonds came from all quarters, and other bijouterie galore; but it was said that the princess showed as much pleasure at Lady Hervey's present as at anything. It was a gold thimble set with diamonds, and showing a rose and thistle with the cipher of bride and bridegroom. – "Royal Wedding Presents" by E. Clarke, Cassell's Magazine v8 (1900)
According to Royal Magazin, these jewels included "a brooch in roses, thistles, and shamrocks in pearls and diamonds, set in gold" from the Duchess of Teck, "a large pearl with a small diamond fly perched upon it. Its head is a sapphire, and its eyes are diamonds" from Prince and Princess Christian (her aunt Helena), "a beautiful diamond spray (divisible into three brooches, in a design of forget-me-nots and leaves the blossoms being of the very largest size to which the flower ever grows)" from – Mr Farquhar (Lord Fife's best man), "a pendant, in which an uncut cabochon ruby is surrounded by brilliants cut in the old tabular fashion, a wonderful pink stone set with large diamonds. It may be a cabochon ruby, but it is possible that it is a much rarer stone, a pink sapphire" from the Duke and Duchess of Westminster, and "a bangle of pearls, with a border of diamonds" from the Marquess and Marchioness of Londonderry. Read a greater list of the Princess Royal's wedding jewels here.
The crown jewel of the collection was the magnificent tiara presented to Princess Louise, the Princess Royal, by her husband-to-be, the Earl of Fife (his title was raised to that of Duke by Queen Victoria).
According to The Graphic Royal Wedding Number, August 2, 1889, "The tiara is in a very uncommon and beautiful design, composed of hundreds of stones, ranging in weight from one carat to ten, the larger being what are technically known as briolettes–that is cut on both sides and turning on pivots so that they will flash with every movement of the head…of elegant design of alternating and graduating rays, varying from nearly two inches long in the centre to half an inch at the extreme ends as a gift from the Prince and Princess of Wales(later King Edward and Queen Alexandra). The tiara was supplied by the firm of Hancocks.. . . a superb tiara of lovely brilliants of chaste design, the rays of diamonds being nearly two inches long in the centre, and graduating downwards towards the ends, while each alternate ray has a pretty tapering effect, which materially adds to its beauty. The tiara is a very large one, and is so flexible that it can be bent upon the hair to suit any style of coiffure, and can also form a necklace. The design is Russian, consisting of straight lines, but the jewellers have secured considerable lightness of effect by the introduction of slender lines between the taller ones." [Source]
Speculation about Kate Middleton's dress is rampant, but some haven't forgotten to wonder which tiara she will wear, and according to the The Telegraph, there is a £72,000 bet placed on Kate wearing the Queen's tiara, which has been worn by Queen Victoria, Queen Mary, Queen Elizabeth, the Queen Mother, and Princess Anne, the Princess Royal. In the meantime, Hello! Magazine has created a slideshow of the many sumptuous and brilliant tiaras possibly at Kate's disposal.
Comments