Different types of households required different types of servants, and in smaller houses, the servants combined the duties taken on by multiple servants in much larger houses (compare 165 Eaton Place to the palatial Downton Abbey). Here we have the duties of a cook and parlourmaid in an upper or middle-class household (likely in London).
Cook's Duties
The cook is a very important personage in the house, and her duties vary considerably according to the number of servants kept and whether or not she has assistance given her from either a kitchenmaid, or "between-maid" (one who's time is divided between up and down stairs), or a charwoman, or a boot-boy.
If the help of a charwoman is given, she does the rough cleaning of the kitchen premises, leaving the cooking and the lighter cleaning for the cook. If a boot-boy is employed, he cleans the knives, boots, fills coal-scuttles, and sometimes cleans the windows as well. In the country this work is frequently done by the gardener or odd outdoor man.
In a family of average size, if this amount of help is given, there should be ample time for quite good cooking; but where cook has no extra assistance the cooking must necessarily be more simple.
Wages vary from 20 for a plain cook to about £40 per annum.
Beside the list of duties given below, the cook-general takes charge of the maid's bedroom, fills the coal-scuttles, washes up all the dining-room crockery, except glass and silver, answers the back door all day and the front door up to 12 o'clock.
With all this daily work and special cleaning it can be easily understood that she has only time to prepare, cook, and serve simple dishes. Anything specially elaborate is usually done by the mistress or daughters of the house.
Where only one other servant is kept it is wisest to advertise for a cook-general rather than a cook, as, when so styled, the latter at times goes on strike and refuses to assist in the housework.
Perquisites
It may be well to note here that perquisites and commissions from the tradespeople should be absolutely forbidden, but it is wise to make this clear when engaging the cook. There is a popular idea that she has the right to sell dripping, bones, empty tins, jars, etc.; also to claim and receive a commission on the various bills paid, the usual sum being 1s. in each pound. It is difficult to stop the latter system; but the mistress must make sure she is only paying fair prices, Write her own orders, and keep a careful watch to see there is no waste or undue amounts used.
It is also well now and then to ascertain that the quantity of milk ordered is actually left, and to weigh meat and bread.
Where you have a conscientious, careful woman there is no need for supervision; she will do it herself. But where young and in-experienced girls are in charge it is hardly fair to put temptation in their way by leaving them to their own devices.
Usual Dress for Cooks
Cooks should always wear washing dresses and white aprons, with coarse ones for cleaning purposes. Black dresses and fine aprons are usually worn in the afternoon.
Frequently cooks do not wear caps, except in houses where they are expected to answer the front door.
Cook's Time Table
Household where two maids kept, and a charwoman for half a day on Tuesdays and Fridays.
6.30 a.m.: Light kitchen fire; sweep hall, do doorstep, brasses, etc.; clean boots.
7.30: Prepare and have kitchen breakfast.
8.30: Prepare dining-room breakfast; tidy kitchen; wipe out larder.
10.0: Receive orders for the day from the mistress.
11.0: Prepare lunch and kitchen dinner.
12 noon: Have kitchen dinner (usually one hour allowed).
1 p.m.: Serve lunch; clear and wash up kitchen dinner things; tidy kitchen; do any light cooking or cleaning.
4.0: Change dress. (Housemaid usually prepares and clears away kitchen tea.) Prepare and–
7.30: Serve dinner.
8.30: Wash up and tidy in scullery; have supper; tidy kitchen.
10.0: Go to bed.
Special Duties
Monday: Clean larder and kitchen store-cupboard.
Tuesday: Charwoman cleans outside places and area (if there is one), and washes kitchen cloths. Cook cleans all tins and brasses.
Wednesday: Clean scullery.
Thursday: Turn out own bedroom.
Friday: Charwoman cleans kitchen stairs and passages, and special kitchen work.
Cook makes cakes and pastry for the week. Saturday: Weekly clean of kitchen stove and dresser.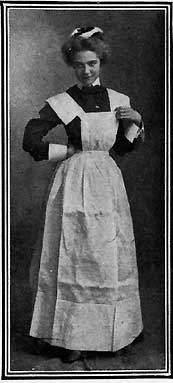 The Duties of a Parlourmaid
In many large establishments parlourmaids have taken the place of menservants, it being thought that they are less expensive to keep, do more work, and ask lower wages. In many houses there may be a head parlourmaid, with one or more undermaids, or she may be single-handed, or classed as a house-parlourmaid.
Wages vary from about £18 to £30.
The correct wear for a parlourmaid in the morning is a print dress, white cap and apron; and in the afternoon a black dress, turned-down white collar and cuffs, and muslin cap and bib-apron.
These are usually provided by the maid herself. Should, as so often is the case, a uniform be worn, it would be supplied by the mistress.
Quiet shoes are one of the most important items in the dress of a parlourmaid, as not only are heavy, creaky ones most disturbing, but also the maid, in her endeavour to walk quietly, usually becomes awkward and slow of movement.
Care Of Hands
A parlourmaid is expected to take care that her hands do not become roughened and stained with her manual work, and even if she has a considerable amount of it to do, there is no reason why her hands should appear neglected if only she invariably wears washleather gloves when doing grates, etc., and frequently rubs her nails and hands with lemon.
The appearance of a parlourmaid is of considerable importance, those possessing tall, trim figures being in far greater demand than short, stout individuals on account of their more graceful movements when wailing at table. Unless already acquired, some slight drilling is often necessary to teach an inexperienced parlourmaid how to announce visitors, etc., in a clear, distinct, yet not loud voice.
Parlourmaids, as well as valeting the gentlemen, are often expected to help pack, etc., and render any assistance needed when there is no ladies'-maid.
Extra Duties
If the family is large, or there is not a between-maid, the parlourmaid is often relieved of the care of flowers, writing materials, etc., in order that she may have more time for her pantry work, silver, etc.
She would also have to do the grates of the dining-room and library, unless a special arrangement has been made that all grates are done by the housemaid, who, in her turn, is relieved of some of the dusting, or receives help from the parlourmaid in making the beds.
Parlourmaid's Timetable
Household where Cook and housemaid and between-maid also kept.
6.30 a.m.: Sweep and dust dining-room; brush and take up gentlemen's clothes; lay dining-room breakfast; have morning papers ready; have own breakfast.
8.30: Wait at dining-room breakfast; finish library; see to ink, blotting-paper, etc.; clear dining-room break-fast, and wash up.
10.30: Dust drawing-room; see to flowers and plants; attend to silver, castors, lamps, etc.; be ready to answer sitting-room bells and front door; attend to fires; do any special duties for the day.
12.30 p.m.: Change dress; set and serve luncheon; make up fires and tidy sitting-rooms.
2.0: Have own dinner; take in coffee, if required; clear luncheon; wash up; do mending of table linen or gentlemen's clothes.
4.30: Prepare and take in afternoon tea.
5.0: Have own tea; light up house, time according to season; clear tea, and wash up tea things.
6.30: Put out gentlemen's evening clothes; ring dressing-gong; lay dinner-cloth; see to fires; tidy room.
7.30: Wait at dinner; serve coffee; clear dinner; wash up; take in aerated waters, etc., at 10 o'clock.
10.30: Lock up house; put out lights; bed.
–Every Woman's Encyclopaedia v1
Comments