According to Elizabeth Crawford in The Women's Suffrage Movement: A Reference Guide, 1866-1928, the Women's Social and Political Union (WSPU) translated the "mechanics of the women's suffrage campaign into board and card games," 1 and soon, toy manufacturers began producing toys and games with women's suffrage themes. Dr. Kenneth Florey, a collector of women's suffrage memorabilia, shared some of his collection online–items ranged from traditional playing cards to puzzles to board games getting suffragettes out of prison. The games and toys produced by the WSPU were popular fundraisers, and continued the success of their campaign through tapping into Edwardian pop culture. The following are some of the most popular suffragette games of the Edwardian period.
Suffragetto
The object of this game was to get the suffragettes (Player 1) from Albert Hall to the House of Commons without being arrested by the police (Player 2)!
Pank-a-Squith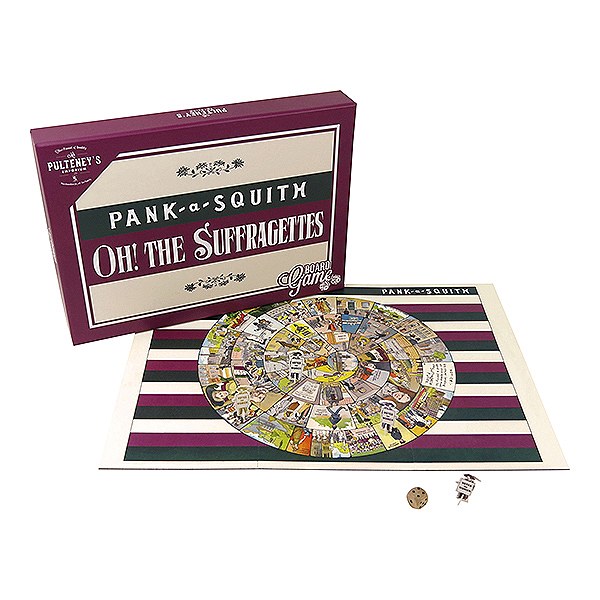 Named for Emmeline Pankhurst and Prime Minister H.H. Asquith, the game "depicts the suffragettes' struggle with Prime Minister Herbert Asquith and the Liberal government. By rolling the dice, players attempt to move a suffragette figure from her home to the Houses of Parliament, her course being hindered by a number of obstructions along the way." 2
Panko
According to the rules, "the game is not dissimilar to rummy, it is a race to collect 6 cards of the same suit (there are four suffragette and four anti-suffragette images.) The cards are dealt and soon you become totally submerged in collecting all 6 'Pank, Pank, Pank' cards, winning your team a point if you collect them first." 3
Fancy playing a suffragette game, The National Archives sells a facsimile version of Pank-a-Squith in it bookshop (or online, for international orders), and you can print your own copy of Suffragetto, courtesy of Georgia Tech, or play an online version!
Further Reading
Women's Suffrage Memorabilia: An Illustrated Historical Study by Kenneth Florey
Citations
Elizabeth Crawford, The Women's Suffrage Movement: A Reference Guide, 1866-1928 (London: Routledge, 2003), p235 ↩
National Archives http://bookshop.nationalarchives.gov.uk/5055453439155/Pank-a-Squith-Suffragette-Board-Game/ ↩
Christy Thomson. "Shall We Play Panko and Vote for Women?" GU Feminist History https://guhistfem.wordpress.com/2014/12/08/shall-we-play-panko-and-vote-for-women/ ↩
Comments