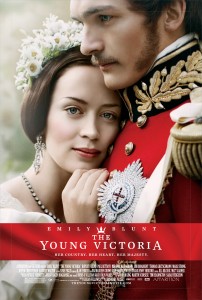 This film has been on my radar for quite some time, and believe me, if The Young Victoria failed to receive a U.S. release date, movie studios would have been on the receiving end of many tersely-worded emails! Thankfully, for my health's sake and the sake of Homeland Security, The Young Victoria arrives in U.S. theaters this Friday.
The gorgeous Emily Blunt portrays Victoria with a potent mix of grace and majesty, and her chemistry with Rupert Friend (best known as Mr Wickham from P&P '05) as Prince Albert is astounding. Rounding up the supporting cast are Paul Bettany as William Melbourne, Miranda Richardson as Victoria's mother, the Duchess of Kent, Jim Broadbent as Victoria's uncle, King William IV, Thomas Kretschmann as Victoria's cousin-in-law/uncle King Leopold of Belgium, and Mark Strong as the Duchess of Kent's rumored lover, Sir James Conroy.
The Young Victoria is written by Julian Fellowes (Gosford Park, Vanity Fair) and directed by Jean-Marc Vallée (C.R.A.Z.Y.). Producers on the film are Graham King, Martin Scorsese, Tim Headington and Sarah Ferguson.
OFFICIAL TRAILER

QUEEN'S CORONATION

Comments