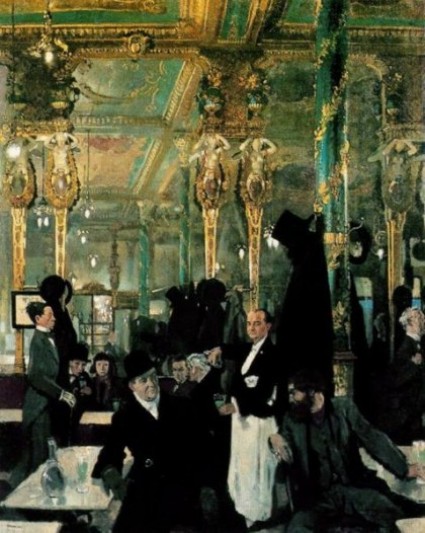 The London of the artistic, sporting, and theatrical sets, as well as those who hoped to recreate a little of the Continental elegance and rousing debates of Parisian brasseries or Viennese coffeehouses, convened in Soho. Here popped champagne–drunk from a Gaiety Girl's dainty slipper–; succulent oysters were tipped down throats; and in the later Edwardian era, the illicit pleasures of a nightclub could be found.
Alongside this were bookstalls that sold "naughty" French novels wrapped in yellow book covers, diverting markets where one could find a whole host of defective or secondhand goods, Bohemian clubs, and street corners filled with radical European exiles and socialist-minded British rousing the rabble against capitalism and the social order of the day. A true essence of Cosmopolitan London, a passing visitor to Soho could brush shoulders with people of various ethnic and religious groups from all corners of the world.
According to Count E. Armfelt's article in Living London, Berwick Street was the heart of Soho. It was populated by "foreign shops where all commodities generally required by foreigners can be bought or hired. There are emporiums where French and Viennese chefs and scullions, German, Austrian, Italian, and Swiss waiters, can, without crossing another threshold, choose kitchen utensils, boots, slippers, wooden shoes or sabots, vests, overalls, cigarette papers, caps, dress shirt-fronts, and where dress suits can be hired by the day or the week." Squeezed between these shops were employment agencies and registry offices, some of which featured reading rooms, where unemployed immigrants could "smoke, drink, and play at dominoes and cards for small stakes."
Soho was also the preferred hub for visiting theatrical artists, where one "may be met Andalusian dancers, Bohemian acrobats and fiddlers, Cossack horse whisperers and trainers, Bulgarian wire dancers and dagger jugglers, Austrian and German gymnasts, lion-tamers, and strong men, Moldavian gipsies who play on weird instruments, Hungarian equestrians lithe and elegant, Tyrolese whose peculiar songs are imitative of their mountain calls, Neapolitan ballerine who have been admired in San Carlo and at La Scala, and the nightingales of the North and the South whose voices may raise them to the positions of world-famed primadonnas."
The Café Royal, in Regent's Street, provided elegant French fare for a mixed audience of barristers, doctors, men-about-town (or knuts), actresses, revolutionaries, sportsmen, and officers–to name a few of its denizens. Lieutenant-Colonel Nathaniel Newnham-Davis, that connoisseur of sybarite Edwardian living, describes the restaurant thus:
"Sportsmen have always had a special affection for the Cafe Royal. The men who were prominent in the revival of road-coaching were all patrons of the restaurant, and any night you may see half-a-dozen well-known owners of race-horses dining there. The Stage, the Stock Exchange, and Literature also have a liking for the old house, and hunting men love it.
When I mentioned it as the ideal place for a dinner of bachelor gourmets, I did not mean that men do not bring their wives and sisters and sweethearts there. They do. But the Cafe Royal does not lay itself out to capture the ladies. I never heard of anyone having afternoon tea there, and when a lady tells me that she likes dining at the Cafe Royal I always mentally give her a good mark, for it shows that she places in her affections good things to drink and good things to eat before those "springes to catch woodcock," gipsy bands in crimson coats, and palm lounges.
In the great gilded cage of the restaurant and the big room the windows of which open on to Glasshouse Street, the custom is to eat the lunch of the day, or to select dishes from it, while dinner is an a la carte meal.
Down in the cafe a table d'hote meal is served, wonderful value for very few shillings, but I am not smoke-proof, and I like eating my meals without the taste and smell of tobacco added to them. The grill-room is always full, and perhaps more solid eating, of juicy fillets and grilled chops and cutlets, is done there than anywhere else in the house, except in the banqueting rooms."
Around the eve of WWI, the youth of London high society began to penetrate Soho and its cosmopolitan delights, with duke's daughters and Foreign Office clerks continuing the very Victorian trend of "slumming"–and they considered themselves daring and anti-establishment for even breathing the merest whiff of Bohemianism. Despite this, Soho was, at its heart, a homey mecca for many immigrants in London, where they could forge and cement connections between the New and the Old World.
Further Reading
Nights Out: Life in Cosmopolitan London by Judith Walkowitz
Comments