Today we have a special guest, Elizabeth Kerri Mahon, author of Scandalous Women. She is a professional actress and amateur history geek. Her blog, also named Scandalous Women, was named one of the 100 Best Blogs for History Junkies. A native New Yorker, she still calls Manhattan home.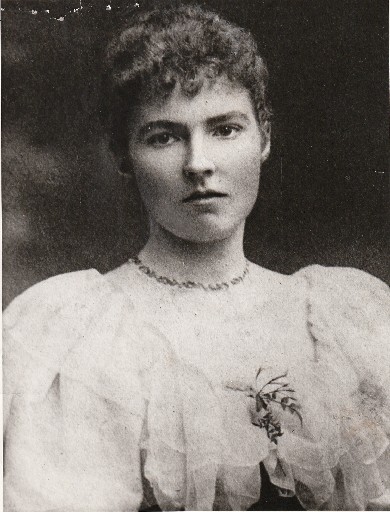 Gertrude Bell
(1868 – 1926)
She was called the "female Lawrence of Arabia,' but that title scarcely begins to describe the life of Gertrude Bell or her accomplishments. At one time, Gertrude was the most powerful woman in the British Empire. Along with T.E. Lawrence, she not only had a role in the Arab revolt against the Turks during World War I but also helped to create the Hashemite dynasty in Jordan and the creation of the modern state of Iraq. Today she is best remembered as one of the foremost chroniclers of British imperialism in the Middle East.
Gertrude was born into a world of privilege. Her grandfather Isaac Lowthian Bell was an industrialist, making his money from the manufacture of steel. Although the family was wealthy, they lived modestly. From childhood Gertrude was fearless, constantly leading her younger brother Maurice into scrapes, climbing trees and walking along the walls near the beach. Gertrude excelled at almost all sports, she could swim, fence, row, play tennis and hockey. At the age of seventeen, having convinced her parents of the wisdom of further education, she enrolled at Lady Margaret Hall, one of only two women's colleges at Oxford.
Gertrude thrived at Oxford although she chafed at the restrictions that required the women to be chaperoned when they left campus. She was supremely self-confident from the start and wasn't afraid to debate her professors. With her boundless energy, Gertrude graduated with a first class degree in Modern History in two years, the first woman to do so. Her achievement landed her in The Times of London. It would not be the last time that Gertrude's accomplishments made her newsworthy.
An attractive woman with abundant red hair she wore casually piled on top of her head, and direct green eyes, Gertrude was extremely popular with a vivacious personality. She was brilliant, opinionated, and good at small talk. However, she had an unfortunate tendency to compare most of the young men that she met to her father and grandfather and found them lacking. She could also be a little confrontational which could be off-putting to some men. When Gertrude was twenty-four, she fell in love with Persia and the Middle-East a love that would last longer than any love affair. She published her first two books, one a travelogue Persian Pictures, the other a translation of the poetry of the Sufi poet Hafiz. By her mid-thirties, Gertrude was fluent in Arabic, French, German, and Persian and had a working knowledge of Turkish and Italian.
In 1900, Gertrude made her first visit to Jerusalem to stay with friends. Before long, she was traveling alone with a guide, a cook and two muleteers. Gertrude was not afraid to venture into areas that few women, let alone men, had penetrated including the Druze, a closed Muslim sect, where she befriended their leader Yahya Bey. For the next fourteen years until World War I broke out, Gertrude criss-crossed the desert, covering most of present day Syria, Turkey, and Mesopotamia, covering more than ten thousand miles on the map, traveling either by horseback or camel. She published her findings in several books including Syria: The Desert and the Sown. Her books opened up the Arab deserts to the Western World. In 1913, she became only the second foreign woman to visit the city of Hayyil. The trip was dangerous, and she was detained in the city for eleven days.
Gertrude met the love of her life, Major Charles 'Dick' Montagu Doughty-Wylie in 1906, when they were both thirty-eight. Doughty-Wylie was a distinguished soldier with a chest full of medals, he was everything that she was looking for in a man, but thought she would never find. The only problem was that he was married. They corresponded over the years but it wasn't until the summer of 1912 that the friendship turned into something more. Despite her passionate love for Dick, Gertrude couldn't bring herself to become his mistress, and he wasn't prepared to leave his wife. They had a few brief days together after the war started before they parted. Once again, Gertrude was to be disappointed in love. In April of 1915, Doughty-Wylie was killed at Gallipoli.
Gertrude's life changed when the Admiralty Intelligence Service in Cairo needed help dealing with the Arabs. Her ability to speak the language, her knowledge of the desert tribes, made her unique. She became the first woman officer in the history of British Intelligence, although the title of Major was only a courtesy title. After the collapse of the Ottoman Empire, Gertrude was asked to conduct an analysis of the situation in Mesopotamia and the options for future leadership of Iraq. Gertrude worked tirelessly to promote the idea of creating the nation that we now know as Iraq to be headed by Faisal, the son of the Hassan bin Ali, Sharif of Mecca, one of the instigators in the Arab revolt against the Turks.
Until her death, Gertrude served on the Iraq British High Commission Advisory Group. She became a confidante of Faisal, helping him to achieve his election as King, by introducing him to the tribes in the region. Gertrude earned another nickname "The Uncrowned Queen of Iraq." Gertrude soon found that working with the new King was not always easy. He could be secretive, manipulative, and too easily influenced. "You may rely on one thing, I'll never engage in creating kings again; it's too great a strain."
On July 12, 1926, two days before her fifty-eighth birthday, she was found dead by her maid, a bottle of sleeping pills on her night-table. It is unclear if it was a suicide attempt or an accidental overdose. There is speculation that on her last trip to England, she may have been diagnosed with a terminal illness, perhaps lung cancer. It would be within Gertrude's character to end her life rather to spare her parents any suffering. She is buried in the British cemetery in Baghdad in the country that she loved and gave so much of her life for.
Comments