Interior design of the Edwardian period, proper—that is, 1900 to 1914—was the beginning of modern living. The technological advances of the previous decades (i.e. the telephone in the 1870s, electricity in the 1880s, and plumbing in the 1890s, et cetera) took root around the turn of the century, and the Art Nouveau and Arts & Crafts movements encouraged Edwardians to banish the clutter of the Victorians from their homes.
Lest you commend our Edwardians for their progressiveness, it must be admitted that the impetus for simplifying the home and increasing the adoption of vacuum cleaners, telephones, electric ranges, and so on, was due to the "Servant Problem." The number of domestic servants employed in Britain reached its peak at the start of the 20th century and went on a steady decline until the start of WWI as the working classes became less inclined to become servants. Another facet of the so-called "servant problem" was that of mobility: no longer did servants remain in one household for their entire working lives; if they found a better situation, they were apt to hand in their notice and move on, which made retaining good "help" quite difficult for many households. Nevertheless up until 1914, many wealthy and/or aristocratic Edwardian houses continued to employ a full staff of servants in a manner that had grown quite anachronistic.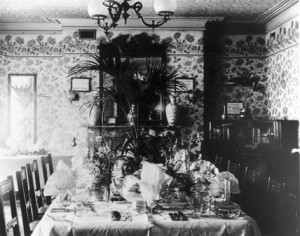 To return to the subject of interiors, fads and fancies were, as with all things of this period, entwined tightly with class. The taste for ostentation was fostered by a desire to create an aura of gentility. Clerks and assistants making £100 per annum poured over the catalogues and periodicals written to help these first generation professionals shake the grime of Manchester or Leeds off their heels and decorate their suburban cottages in a manner befitting a "gentleman." This generally meant "fussy decorations, thickly furnished rooms and surfaces crammed with knick-knacks," as well as the piece de resistance–a piano–which was also covered with potted palms, bric-a-brac, and other items. However, this taste was shared by people as high up as the royal family, particularly Queen Alexandra, who always traveled with her entire collection of knick-knacks, photographs, needlework, letters, and books.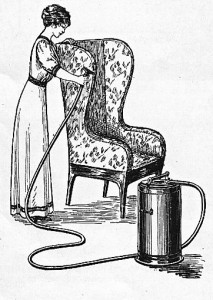 Others also using their homes and interiors to move up the social ladder were Britain's nouveaux riche and millionaire plutocrats. They could not compete in ancestry, but they could compete in luxury and they "knew their entree to Society lay in their money and in their entertainments…when the highest in the land accepted their hospitality and shot their pheasants, they knew their investments had paid off." This was also true of new millionaires in American society, and art dealers like the Duveen Brothers made their own fortunes helping social aspirants to the plunder of impoverished European aristocrats.
The homes of Society, or rather the homes decorated by fashionable interior designers, differed greatly from the homes of the middle classes. For one thing, they had rooms that existed solely for entertaining, and for another, they could afford genuine antiques, or at least excellent copies of Sheraton tables or Louis Quinze chaises. The self-conscious middle-class had to muddle along as best they could, and were usually at the mercy of furniture dealers most of whom were eager to cash in on ignorance and anxiety over what was and what wasn't fashionable. Ironically, as the era progressed and the tenets of the Arts-and-Crafts Movement became more prevalent, the homes of the upper and middle classes were virtually indistinguishable. Ultimately, the Edwardians lived in houses of varied styles and varied taste, and this week I will take you through various points of interior design and rooms!
Further Reading:
Edwardian Interiors by Alastair Service
The Opulent Eye: Late Victorian and Edwardian Taste in Interior Design by Nicholas Cooper
Comments