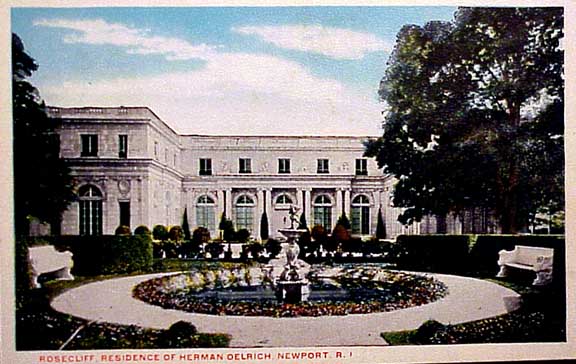 Any of my lucky readers who have a chance to visit Newport this spring must stop by Rosecliff (the home of Tessie Oelrichs) for The Preservation Society of Newport County's costume exhibit "Newport Undressed: Crafting the Gilded Age Wardrobe".
"We think of clothing as being cheap and disposable," said exhibit curator Jessica Urick, the society's textile preservationist. "In this time period, clothing was more of an art."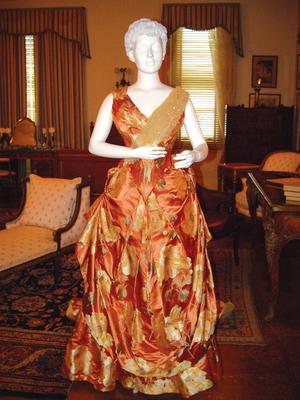 From the press release:
The exhibition explores all aspects of the dressmaking process. Among the highlights are gowns worn by Ella King of Kingscote and Ellen French, the first wife of Alfred Vanderbilt of The Breakers. A circa 1880 gown by Paris designer Charles Frederick Worth will be displayed completely inside-out, allowing visitors a rare opportunity to view its elaborate internal construction. The exhibition includes ten dresses plus various accessories.

The well-to-do Gilded Age woman had several options when purchasing clothing. She could commission garments from private seamstresses, or purchase read-to-wear items from department stores and boutiques. But the pinnacle of high-end shopping was the Parisian haute couture house, which created fashion that was as costly and expertly-crafted as fine art.
The Parisian houses of couture, which were supplied with expensive silk crafted predominately in nearby Lyon, France, rarely created entirely custom pieces. Instead, ladies met with the designer, though more often a "vendeuse" (salesperson) and selected from a group of designs that were then customized with fabrics and detailing and fitted to the customer's measurements.

Each fashion house was backed by a huge staff that filled hundreds of orders per week. Most important were the seamstresses, who spent hundreds or even thousands of hours hand-stitching each unique garment. These designer garments could range in cost from $100 to $500-the equivalent of approximately $3,000 to $13,000 in today's currency.
The exhibit is curated by Urick, and will be on display in the Lesley Bogert Crawford costume galleries on the 2nd floor of Rosecliff through November 19. Admission to the exhibit is included with any Rosecliff tour ticket.
Comments