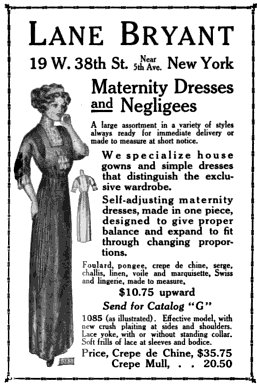 The late nineteenth century saw a revolution in the way pregnancy and expectant mothers were viewed by society. We were now far from the days when pregnant women were bundled away once they began to show, and when the actual concept of pregnancy was discussed in a hushed, euphemistic manner.
While women weren't exactly encouraged to display their rounding bellies and proudly proclaim the imminent birth of a child, they weren't put away and a small but steady number of books began to appear on the market about pregnancy, childbirth, and motherhood. As for the actual clothing women wore during their pregnancy? The market was flooded with maternity corsets and lingerie touting support and discretion. Advice columns and books stressed that loosely fitting garments–but not too loose–were key during these delicate months, and for the most part, women took their clothing to their seamstresses for adjusting as their bodies changed during those nine months.
The concept of maternity clothing was unheard of, precisely because discussing pregnancy–as mentioned above–was unheard. But a determined Lithuanian immigrant named Lena Himmelstein changed this. Lena immigrated to New York from Lithuania with her sister Anna in 1895, where both promptly found work in the city's numerous sweat shops. She experienced a brief moment of happiness when she wed Russian immigrant and jeweler, David Bryant, in 1899 and bore him a son named Raphael. Bryant died soon after she gave birth to their son, and Lena supported her family (her son and two sisters) by designing and sewing tea gowns and lingerie. In 1904, she set up shop on Fifth Avenue with the assistance of her sister's husband, and when she took his $300 loan to a bank, the bank officer making up her account misspelled her name as "Lane," and so the business opened under the name "Lane Bryant."
Lane Bryant quickly built a reputation on its stylish and comfortable maternity wear, which Lena created offhand when she attached an accordion pleated skirt to a bodice using an elastic band. This gown was wildly popular not only with her upper-class clients, but working-class women as well, and she was able to expand her shop exponentially. In 1909, she acquired a shrewd business partner and a husband in Albert Malsin, who implemented a series of cost-saving measures (cutting dozens of dresses at once and employing high speed sewing methods, and supplying design pattern materials and financing for contractors). By 1910, sales exceeded $50,000 a year. During this time the innovative Lena tapped into the absent "plus-size" market after measuring and interviewing over 200,000 women, and by the mid-1910s, sales for plus-size clothing exceeded her maternity wear.
Comments