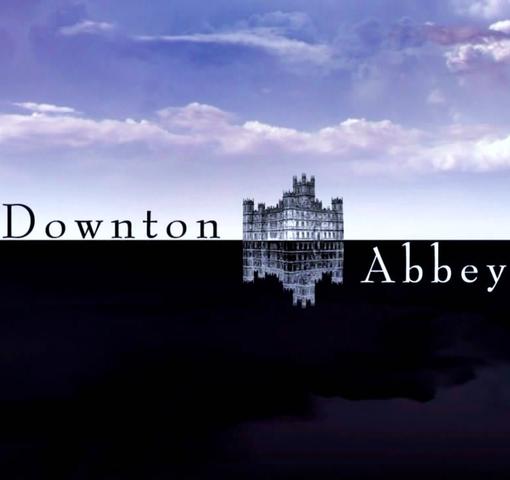 The sun is rising behind Downton Abbey, a great and splendid house in a great and splendid park. So secure does it appear, that it seems as if the way of life it represents will last for another thousand years. It won't.
Filmed at Highclere Castle in Hampshire (though Downton Abbey is placed firmly in Yorkshire), the series is the brainchild of Julian Fellowes (now Lord Fellowes), Academy Award winning screenwriter of Gosford Park and well-known chronicler of upper class foibles and fashions. When Gareth Neame, Managing Director of Carnival Films, asked Fellowes to develop a new drama series, Neame intended for Fellowes to adapt his best-selling novel Snobs. However, discussions quickly turned to a subject Neame had mulled over for some time, and surprisingly, Fellowes had been thinking along similar lines.
"It was while working on an adaptation of Snobs that I thought we should really work on an episodic series set in an Edwardian country house," says Neame. "First, because it is a setting that is uniquely English and we haven't had an original programme like this in many years and secondly, Julian and I both thought it was a good territory to revisit."
For Fellowes, country house families lived within "a curious universe alongside their servants who are, on the whole, living a different life but are just as strongly graded as their masters so that, within their world, the butler is King and the housekeeper is Queen, with all their hopes and dreams. It always intrigues me, how did people deal with it, did they retain a sense of self? I hope in Downton we have a very balanced set up as both Gareth and I wanted it to be something recognisable and feel identifiable to audiences."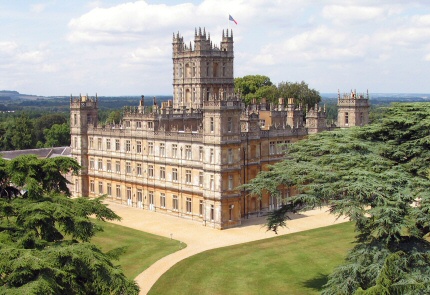 Casting the house was just as important as finding the right actors to portray the Crawleys and their servants, and despite visiting Highclere Castle first, the production team spent six months visiting many different houses before returning to the seat of the Earls of Carnarvon. The production team settled on Highclere when production designer Donal Woods mentioned that the show was set in the Edwardian period, but that period dramas filmed over the past few years were set in the Georgian houses. "Highclere's gothic look felt so different to other period dramas and we were keen to make a fresh statement so the show could stand out."
Highclere, the residence of the Carnavons since 1679, was renovated in the mid-19th century by Sir Charles Barry, architect of the Houses of Parliament in the then popular Italianate style. According to Thomas Hay Sweet, "during the second half of the nineteenth century, Highclere perpetuated the spirit of the hospitalities of Lord Falkland's house at Great Tew in Oxfordshire during the Civil War period" and by the late Victorian era, Highclere possessed one of the finest pheasant preserves in the kingdom (Baily's Magazine of Sports and Pastimes boasted that "when Lord Carnarvon succeeded his father, the annual bag was only about 2,000 pheasants and 500 partridges, but in the season 1895-6 Lord Carnarvon and his friends killed nearly 11,000 head in three days, while the total bag was 32,000.").
Besides the delights of the gun, the Castle stood on high ground in the midst of the "most noble park in the whole of the South of England." Spanning 13 miles in circumference, it included towering hills, clad with "lofty trees or thicket growths, rising to a height of 800 or 900 ft., whilst in the lower glades a heath-fringed lake shines through the forest openings. Here again virgin woods of gnarled oak or straight-limbed beech, or the later planted Scotch firs and pines, seem to follow their own wild courses unchecked by man ; whilst nearer to the Castle banks of rhododendrons and azaleas positively startle the visitor by the brilliancy and rich variety of their colouring, thrown into yet stronger relief by a dark background of cedars and other noble evergreens. Roaming, too, outside the garden limits, a variety of exotics and flowery trails of tropical luxuriance occasionally make their way in a flood of unexpected colour." Despite Highclere retaining its Edwardian elegance, time and modernity changed the bedrooms and kitchens dramatically, and the servants quarters, kitchen, and bedrooms were constructed at Ealing Studios, just outside of London.
Read Highclere Castle – The Sketch [Dec 7, 1904].
With the cast a mix of veterans of newcomers, with some–such as Hugh Bonneville, Maggie Smith, and Elizabeth McGovern–being quite familiar to American audiences, Downton Abbey is a definite treat.
Abovestairs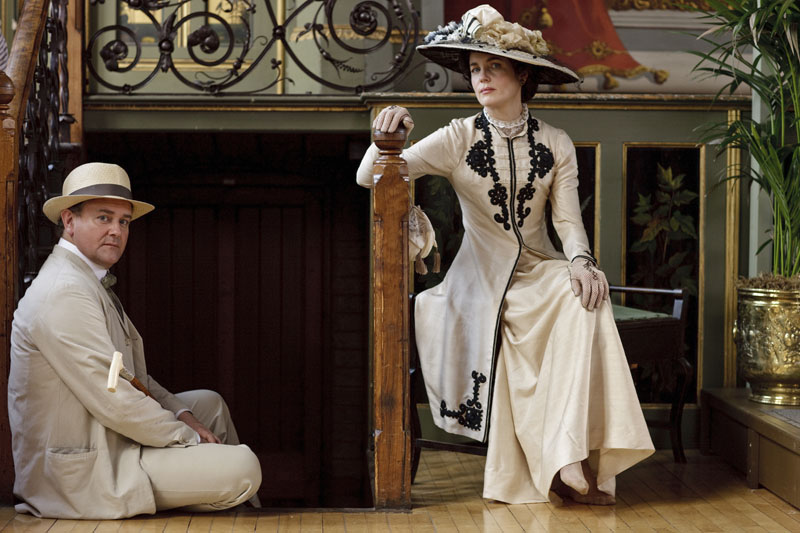 Hugh Bonneville is Robert Crawley, Earl of Grantham. He married Cora Levinson, an American heiress, in 1889 for her money, though he grew to love her deeply. As per his father's wishes, the marriage contract stipulated that Cora's fortune, once invested in the estate, was inseparable from it. Neither Robert nor his wife anticipated that this clause would cause problems, since they both expected to have a son and heir. The trouble is they didn't, instead being parents to three daughters, Mary, Edith, and Sybil. Until now, the heir was his cousin James Crawley, and his son, Patrick, but the news of their deaths aboard the Titanic throws everything into disarray.
Elizabeth McGovern is Cora, Countess of Grantham. A "Buccaneer," and the daughter of Isidore Levinson, a dry goods multi-millionaire from Cincinnati, she arrived in England with her mother in 1888 at the age of 20, and was engaged to Robert (then Viscount Downton) by the end of her first season. She accepted the clause at the insistence of her father-in-law, assuming she would have a boy. Now that her husband's heirs are dead, and the new heir a distant cousin, she does not believe he would have wished his granddaughters robbed of their mother's money, which will now go to a complete stranger! She conspires with her difficult mother-in-law, the Dowager Countess, to convince Robert to break the entail in favor of her eldest daughter, Lady Mary.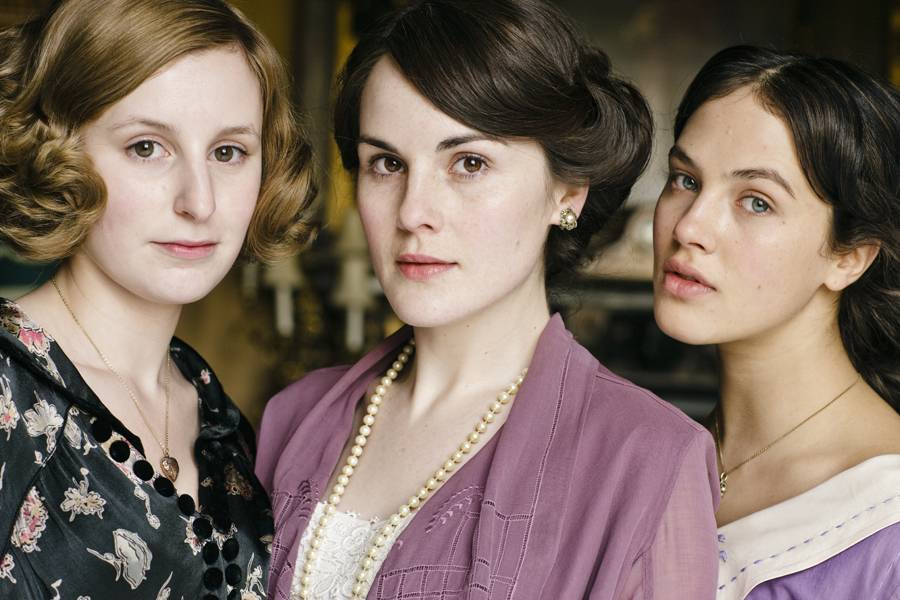 Michelle Dockery is Lady Mary Crawley (middle). Clever, good-looking, and wee bit hard, Lady Mary had just about accepted that she was not to be an heiress so long as her cousins James and Patrick lived. Though the family planned for her to wed Patrick to keep the money and the title in the family, the news of his death along with his father sparks hope that her father will break the entail to restore her to her rightful place.
Laura Carmichael is Lady Edith Crawley (left). The middle sister between the favored Mary and the beautiful Sybil, Edith is overlooked by both the family and the servants. Locked in a bitter feud with her elder sister, she is no less ambitious than Mary and is quite pleased that the entail will not be broken, since her sister will not be able to lord it over her. Secretly in love with the now deceased Patrick, she found his betrothal to Mary yet another instance of the family choosing Mary's future over her own.
Jessica Brown Findlay is Lady Sybil Crawley (right). Only sixteen when the world of the Crawley's turns upside-down in 1912, Sybil is initially untouched by the currents eddying through Downton Abbey. Petted and indulged by the family because of her youth and beauty, as she steps into adulthood, she quickly finds her own voice in issues such as women's rights, Liberal and Labour politics, and the desires of Downton's servants, particularly those of the family's radical Irish chauffeur.
Maggie Smith is Violet Dowager Countess of Grantham. Immensely proud, immensely loyal to her son, and immensely insufferable to her American daughter-in-law, whom she regards as an interloper, Violet continues to try to run Downton as she did when her husband was still alive. She bowed to her husband's wishes regarding Cora's dowry, but once the news of James and Patrick's deaths arrive, she favors the smashing of the entail. When the new heir arrives with his mother, she finds Isobel Crawley a new and greater irritant than Cora could ever be!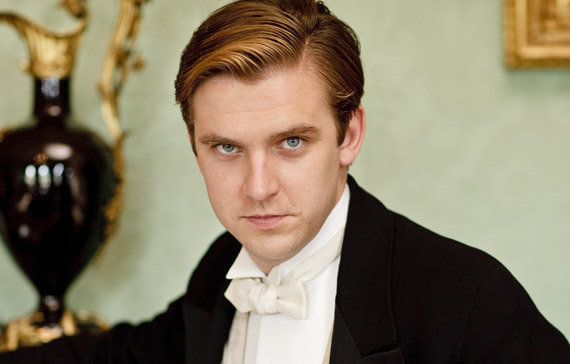 Dan Stevens is Matthew Crawley. He is a third cousin, once removed, of Lord Grantham, and the son of a doctor. To the family's surprise, Matthew is a middle-class solicitor practicing in Manchester, and he shockingly does not intend to give up his profession to putter around an estate. Despite his scorn for what the aristocracy stands for and his intentions to remain just as he is, he is nonetheless bowled over by his future role–and his cousin Mary.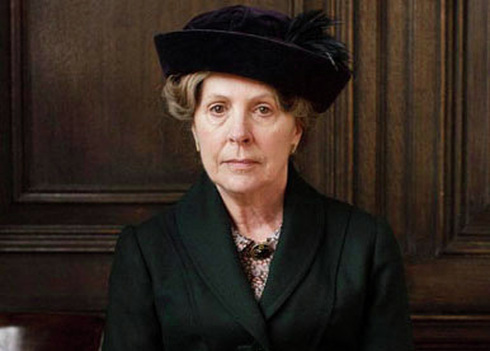 Penelope Wilton is Isobel Crawley. The daughter of a doctor, a doctor's widow, and possessing nursing training, Isobel's life has been one of usefulness, which is completely different than either Cora, Violet, or the Crawley daughters. She is skeptical of her son's new status as heir to the Earl of Grantham, but handles her role with more grace and aplomb than her stubborn son– though her participation in Downton's everyday life places her at loggerheads with the Dowager Countess, who considers Isobel's actions arrogant and presumptuous.
With the cast a mix of veterans of newcomers, with some–such as Hugh Bonneville, Maggie Smith, and Elizabeth McGovern–being quite familiar to American audiences, Downton Abbey is a definite treat. Visit Masterpiece's Downton Abbey page here, and don't forget to join us for an official Twitter chat Sunday, January 9th!
Comments