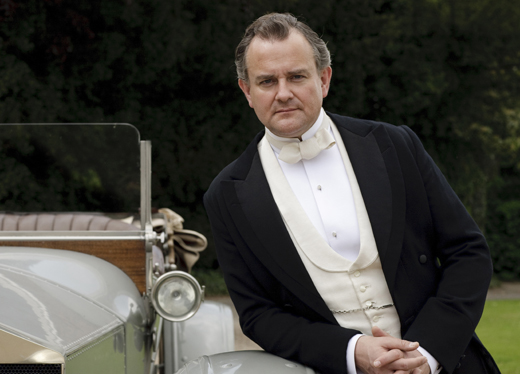 Lord Grantham is superior to all other men, and has the listing in Debrett's Peerage to prove it. Look at how debonair and handsome he looks in his evening wear, leaning against that Rolls with the right degree of "I'm king of this realm" but not too much arrogance. We can ding Robert for marrying Cora Levinson for her money, but unlike most fortune-hunting aristocrats, he fell in love with his American heiress bride and treats her as an equal!
Perhaps Robert may seem boring and settled, but why shouldn't he? After all, he has a sharp-tongued mother to deal with, three unruly daughters, a valet who disrupts the entire household with his troubled past, a new heir who did nothing to mask his disdain for his position, and now the war has thrown everything he holds dear at sixes and sevens! It's a wonder he didn't chuck it all and go to France whether the Army wanted him or not. There's much to commend a man who upholds responsibility and duty as necessary to the social order.
Compared to the other men of Downton, Robert is someone I'd trust with my life. I mean really–Branson, a controlling anarchist who, instead of arguing his political position, plots to dump muck on an English general's head? Bates, who continuously lets down Robert and Anna, as well as the household? And lastly, Matthew, who cannot make up his own mind about anything, whether it be treating his own valet with respect to deciding whether he wants to be with Mary or with Lavinia? There are no comparisons! Leave a comment in support of the upstanding, honorable Earl of Grantham.
Or you can hold back your snickers while reading the arguments in favor of the lesser inhabitants of Downton Abbey:
Katiebabs from Babbling About Books and More – Bates
Pam from Bookalicio.us – Matthew
Tasha from Truth, Beauty, Freedom, & Books – Branson
Comments