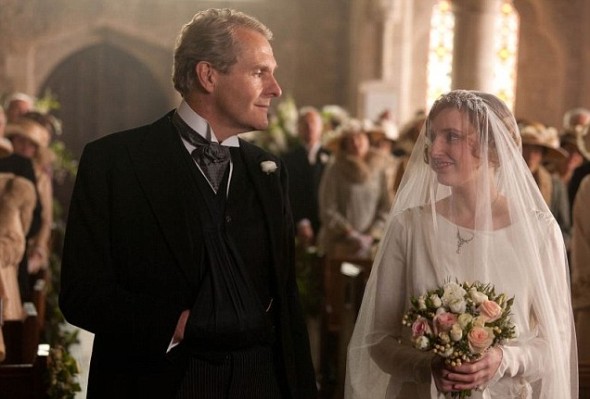 Laura Carmichael shone in the second episode (technically, episode 3!) of Downton's third season. Alas, she has been just as neglected and underestimated by the media as her character is at Downton, so I hope this episode will garner her a bit of the attention Michelle Dockery and Joanne Froggatt have garnered here in the States! When this season aired last autumn on ITV, the jilting of Edith at the altar by the unfairly bullied and brow-beaten Sir Anthony Strallan brought out pitchforks from the legions of fans who warmed to the pairing and the prospect of Edith finally getting her Happily-Ever-After. Unfortunately, for reasons as yet unknown, Julian Fellowes decided that was not to be. and the circumstances surrounding the jilting soured me on Violet and Robert a bit. Historically speaking, Anthony was a great catch not only due to the shortage of elgible men after the Great War, but because he was well-off, in possession of his own estate, and was obviously fit enough–injured arm notwithstanding–to father children.
Violet was hesitant about the match in the Christmas special, but no one in the family presented any alternatives for Edith's interest. Based on season 1, I can fully imagine that any of Edith's tentative suitors were given the cold-shoulder by the family simply because–subconsciously or not–they just don't value Edith. And if Mary so freely laughed at Edith's attempts to catch Matthew to Matthew's face (and he laughed too!), and wagered she could distract Sir Anthony away from Edith, I can also easily imagine her sabotaging the pursuit of any young man who ever showed interest in Edith during social events at Downton or in London. Ironically, Sir Anthony was one of the many suitors paraded through Downton for Mary's perusal, so perhaps his jilting was a given! But at the end of the day, I want Edith to be with a man who will fight for her hand in spite of the family's lifelong habit of dismissing, overlooking and undermining her.
Other thoughts:
Is Mrs. Hughes clear of breast cancer, or not? The ambiguity of her words and sending Mrs. Patmore to whisper the results of Dr. Clarkson's tests to Carson was confusing.
Edith's wedding gown was much, much, much more beautiful and flattering than Mary's.
Glad to see Sybil has some spark left in her character, and that she dared to joke about sex in front of Granny!
I wonder why Martha packed up and left after…what…a week or a fortnight at Downton. Was Shirley MacLaine only available or willing to do two episodes?
Daisy must have a thing for emotionally unavailable footmen!
Cora's speech to Edith post-jilting was supposed to be reassuring, but it came across as callous. What and why is she being tested? For being the "ugly duckling" middle sister whom nobody gave a fig about? And it was another blow that the family didn't even have the same kind of conversation about the situation as the servants (go Alfred!)!! The next cut is to Robert moaning about losing Downton and Matthew offering Reggie Swire's money to him–how rude!
It would have been as interesting if Mary had written that letter (just as interesting as the possibility that Bates killed Vera). She was willing to fleece her maternal grandmother of her fortune, and would do anything to save Downton…
Poor Molesley. He's already ignored by Matthew and most the servants, and now he's been pulled into the Thomas/O'Brien War!
Downton is saved by Daisy ex machina! How many miracles and coincidences can this show collect?
If Robert was hard up for cash, why couldn't he sell their second country estate? No need to downsize when you can sell up.
I'm still an Anna/Bates fan, but putting Bates in gaol was a mistake, especially in light of the contrived plot Anna must unravel to prove his innocence.
Leave your ruminations and reactions in the comments below!
Comments