Obviously Ritchie strives to update Sherlock Holmes and imbue this iconic character with a bit of his trademark grittiness, but I must say I am left aghast by the trailer. My disappointment has filled numerous Tweets since I saw the trailer last night, and though I will probably see this, I can't say I'm excited about the changes made.
For one, Robert Downey Jr's Holmes is quite irreverent. Holmes may have used cocaine, but he didn't stumble around London looking disheveled and befuddled. A major, major change (and one the trailer hints at) is the use of the marvelous Irene Adler (Rachel McAdams) as Sherlock Holmes' love interest. Sure, Watson always described Irene as "The Woman," but Holmes was not interested in romance. I also find Irene waltzing around in a red satin corset absurd–the color and fabric is correct [brief moment in late 1890s when colored corsets were in fashion], but she's not a show girl. It's the 1890s; surely the costumer could have found something period and socially correct that was attractive.
However, there are a few incidents within the trailer which I did approve of, such as the inclusion of bartitsu (baritsu to Conan Doyle), an Anglicized form of martial arts created in the late 19th century. I also like the beefing up of Watson (Jude Law) since he was not a bumbling fool. Despite my disappointment, in the end, anything that makes people find the late Victorian/Edwardian era cool is fine with me. What do you think? Like the direction Ritchie has taken the canon? Have you read any Sherlock Holmes? What about the spin-offs (such as Carole Nelson Douglas's Irene Adler series, or the Mary Russell series written by Laurie R. King)?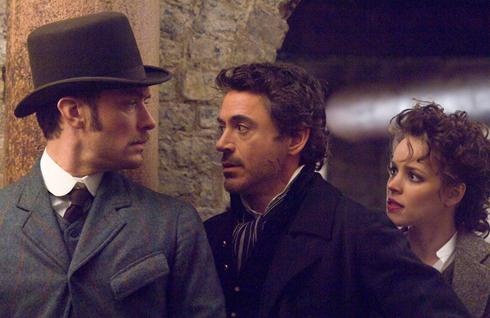 Sherlock Holmes arrives in theatres December 25, 2009.
Comments