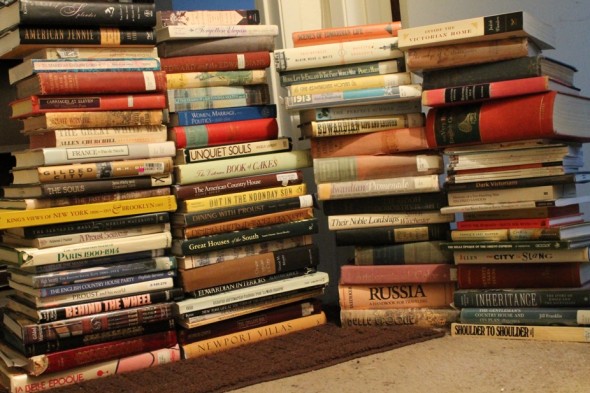 Taking a cue from the owner of the Julian Fellowes' Titanic fanpage, as well as the number of lists recommending Downton Abbey/Edwardian/WWI-themed books (and stay tuned for the list Melody and I are curating), I decided it was a great time to brag about display my research library. This, my readers, is the result of nearly eight years of my Edwardian obsession that began when I was in my very early twenties–and I haven't even taken pictures of my stash of Baedeker and Murray travel guides from the early 1900s (or…*gulp* the number of e-books on my hard drive)! Granted, this is nothing compared to some of the various collections I've seen–and drooled over–belonging to historians or costumers or hobbyists, so I'm always finding excuses to buy more books.
To give a general overview of this massive stack of books:
Most have been purchased secondhand from Amazon, Abebooks, eBay, or library book sales
The leading topics are (in order of quantity): Edwardian England, Gilded Age New York, Belle Epoque France, African-American/Progressive Era topics, Costumes, and Architecture/Interiors
The most expensive book purchased has been my 1914 edition of Baedeker's Egypt ~$80; the least expensive was my copy of Lord Grey of Fallodon's memoirs $1.00
Earliest purchase: The Reminscences of Lady Randolph Churchill by Mrs. Cornwallis West in 2005; Most recent purchase: Twenty Shillings in the Pound by W. J. MacQueen-Pope
Oldest book: 1890 edition of Badeker's Great Britain; Newest book: Inheritance: The Story of Knole and the Sackvilles, By Robert Sackville-West (2010)
My advice for anyone wanting to build their own research library–on any topic–is to search for general overviews first (and these tend to be less expensive than specialized titles), look through the bibliographies of those books you find most useful, and then shop around for the best price (and check to see if some of those titles are in the public domain). I've let some highly coveted books go because I didn't feel they were worth the high prices, and then months or even a year or two down the road, I find a much cheaper copy! And remember, this is years worth of collecting–don't feel pressured to buy everything at once (I did that the first year and my wallet howled).
Comments