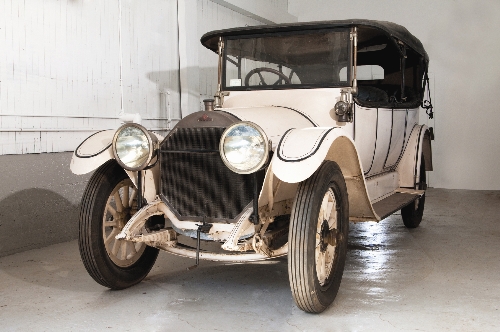 From the Biltmore Estate:
ASHEVILLE, N.C. – A rare 1913 Stevens-Duryea Model "C-Six" seven-passenger touring car will be placed on display for the first time beginning May 20 at Antler Hill Village on the Biltmore Estate. The car is one of 10 motor vehicles on the estate that was registered in North Carolina in June 1916, and the only one purchased by George Vanderbilt that remains in The Biltmore Company's collection. This particular model is believed to be one of only 10 known existing in the world today.

Conservation work will take place over the next several months, and then the car will be on exhibit in a closed, climate-controlled space just outside Biltmore Winery in the new Antler Hill Village Like many objects in historic collections, guests will not be able to touch the vehicle, but they will be able to see it up close and get a sense of the Vanderbilts as a family who enjoyed one of the most exciting new inventions of the 20th century – the automobile.

While Biltmore conservators enjoy the daily work of caring for objects, furniture and art in the Biltmore House collection, using their skills to conserve an automobile is especially interesting. The team will begin work on the vehicle's interior and exterior this month, using a wide variety of techniques to prepare the car for its debut to Biltmore guests. The undercarriage and mechanical components of the car will be conserved by B.R. Howard & Associates, a team that specializes in historic transportation objects based in Carlisle, Pa.
About the company and the car:
In 1901 J. Frank Duryea, after breaking up with his brother Charles E., built the Hampden automobile which proved to be a pilot model for the first Stevens-Duryea automobile, built as part of the J. Stevens Arms & Tool Company in Chicopee Falls, Massachusetts. This five-passenger car has Westinghouse air shock absorbers, and a spring-loaded front bumper, and when introduced was the only car with a one-piece windshield.

Specifications: Model C-six; engine six-cylinder in-line, water-cooled; bore 4 9/16 in., stroke 5-1/2 in., displacement 495 cu. in., 48 hp. Price new $4,500.
Further Reading:
A restored 1913 Stevens-Duryea
A look at Biltmore
Comments