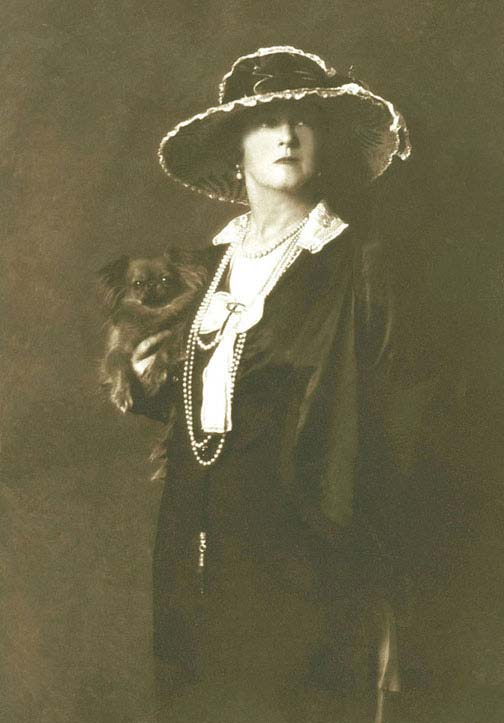 History has unfortunately immortalized Lady Duff-Gordon as the cold, imperious woman who, with her husband, Sir Cosmo, commandeered a lifeboat to themselves during the sinking of the Titanic, completely ignoring her position in history as one of the first couturiers and an indomitable, albeit flawed woman, who began her own business to provide an income for herself and her young daughter after a divorce.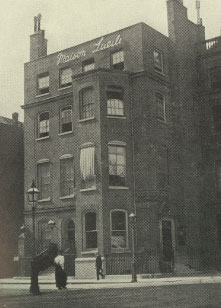 Lady Duff Gordon was born Lucy Christiana Sutherland in 1863. She and her sister, the future romantic novelist Elinor Glyn, were pioneers. After a lackluster childhood in Canada and the Isle of Jersey, Lucy made an even more lackluster match with an alcoholic James Wallace in 1884. In a move that presaged her innate audacity and independence, Lucy separated from and then divorced Wallace nine years later. She took her young daughter Esme and after a stint at dressmaking from her home, Lucy opened the Maison Lucile in Old Burlington Street, in the heart of the West End shopping district. By the turn of the century business at Maison Lucile boomed prompting a relocation in 1897 to 17 Hanover Square, and a further move (circa 1901-04) to 14 George St. In 1903 the business was incorporated as "Lucile, Ltd" and the following year moved premises to 23 Hanover Square. By that time, Lucy had remarried to Sir Cosmo Duff Gordon, a dashing sportsman whose keen business sense helped Lucy expand her horizons even further.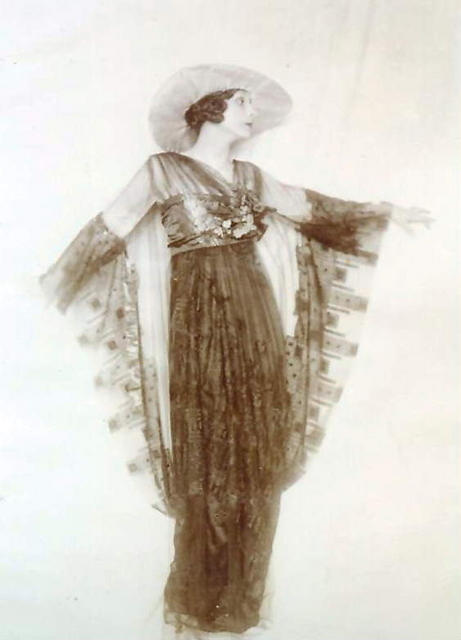 What made the Lucile brand unique was Lady Duff Gordon's insistence upon individuality and innovation. Her designs were not startling and utterly different like Poiret, but she honed in on what women craved in their attire and produced romantic, sensual gowns and lingerie full of the frou-frou, silks and lace so popular during the Edwardian era. Her most enduring and famous designs were for smash-hit operetta, The Merry Widow (1908), whose large picture hat reminiscent of those of the 1780s, swept through fashionable society. Hats blossomed practically overnight in response, and remained that size until 1912. A feature introduced by Lucile, Ltd was the fashion show. Ever since Worth popularized actual showings of gowns on mannequins (models), prospective clients liked to see gowns on the bodies of real women before choosing them, but Lady Duff Gordon whipped this showing into a stage production, complete with stage, curtains, mood-setting lighting, music from a palm court orchestra, little gifts and programs. Invited customers would relax with a cup of tea and a plate of biscuits (cookies) in chairs facing the "catwalk" as a vendeuse called out the names of what Lucy called her "emotional gowns," which were influenced by literature, history, and her interest in the psychology and personality of her clients. The models were statuesque and beautiful, and became as famous and sought-after as Gaiety Girls.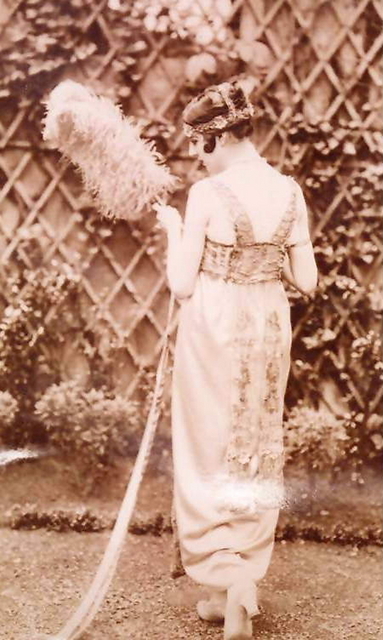 Lady Duff Gordon's influence on the fashion industry didn't end there. She opened branches of Lucile Ltd in New York (1910) and Paris (1911), and Chicago (1915), and licensed her name to Sears, Roebuck & Co for a two-season lower-priced, mail-order fashion line. With such highs, it was inevitable that The House of Lucile would hit a snag. In 1917 she was embroiled in the case Wood v. Lucy, Lady Duff-Gordon, wherein the judge stripped her of the use of her own name after she contracted the sole right to market her name to her advertising agent. Shortly thereafter, the House of Lucile began to collapse. Lucy's connection with her fashion house was cut short after a restructuring, but as with Paul Poiret and other pre-WWI fashion houses, the name Lucile and the inspiration of its namesake designer were considered old-fashioned and demode. Lady Duff Gordon briefly resurrected her design career with a ready-to-wear collection, and remained influential as a fashion columnist, but her former success proved elusive. After penning her florid and discreet memoirs, Discretions and Indiscretions, in 1932, Lady Duff Gordon died three years later at age 71.
Despite living on as a Titanic "villan" and a footnote in legal history, Lucy Duff Gordon is a powerful and unforgettable woman in history. Through her imagination and eye for clothing, she helped lay the foundations for today's couture and ready-to-wear markets, and the impact of fashion on society.
Further Reading:
Lucile Ltd: London, Paris, New York and Chicago by Valerie Mendes and Amy de la Haye
The 'IT' Girls: Lucy, Lady Duff Gordon, the Couturiere "Lucile," and Elinor Glyn, Romantic Novelist by Meredith Etherington-Smith and Jeremy Pilcher
Lady Duff Gordon, a website
Madame Lucile: A Life in Style by Randy Bryan Bingham
Lucile Couture at The Fashion Spot
Ur-Couture: The House of Lucile
Photos of Lucile's clothing