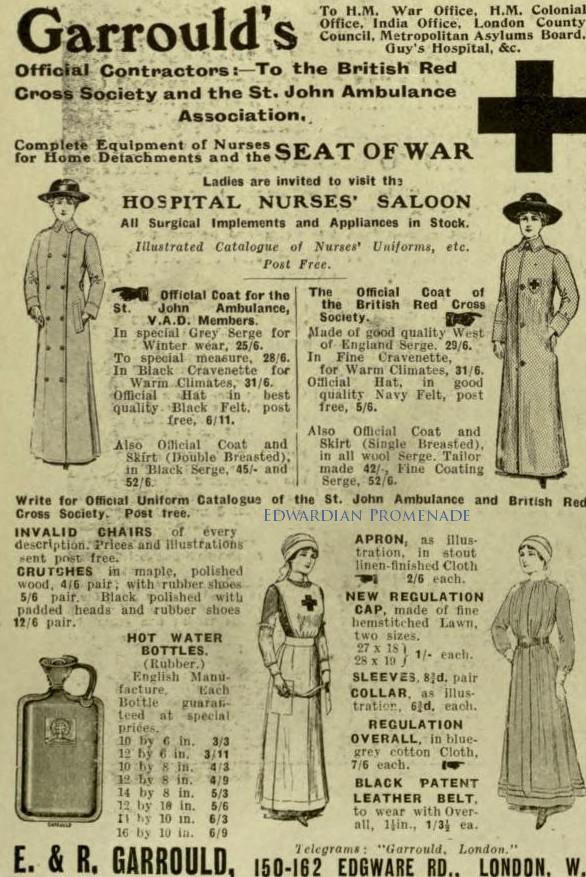 New VADs destined for military hospitals joined a detachment for one month's probation, and if suitable, they signed a contract for a further six months service, receiving £20 per annum and a uniform allowance of £4. There were a variety of places where one could obtain a uniform, including the tailoring departments in posh stores like Harrods, but Garrould's of Edgeware Road were the official contractors to the British Red Cross Society & St. John's Ambulance.
According to "Too Awful for Words…": Nursing Narratives of the Great War by Nancy A. Nygaard:
"Although the original VAD plan did not require a full uniform—only an armband or brassard with the Red Cross insignia—uniforms quickly became de rigeur. In 1913, the BRCS stepped in and mandated uniform dress for VADs. The full women's uniform consisted of a dark blue serge belted overcoat, a dark blue cap with a metal Red Cross badge show the detachment's number and county, an ankle-length Oxford cloth dress in varying colors signifying the ranks of regular VAD commandant, quartermaster, or trained nurse, a white linen collar and cuffs, and a "Sister Dora" cap, a bonnet with a butterfly bow tied under the chin. A white apron with a Red Cross on the bib was worn over the dress along with an armband or brassard also showing the Red Cross insignia."
The £4 didn't go very far, since the VAD was required to purchase 3 dresses, 16 aprons, 1 hat, 1 overcoat, 12 collars, 8 caps, 4 white belts, 6 pairs of sleeves, and 1 Macintosh apron–all at a total cost of £6.12d.8s.–plus the annual upkeep of new dresses, sleeves, et al (a further £2). The cost of leather ward shoes could up the expenses considerably!
So you can see that VAD service was mostly populated by well-to-do women, not because of rigid class lines, but because of the prohibitive costs.
Comments