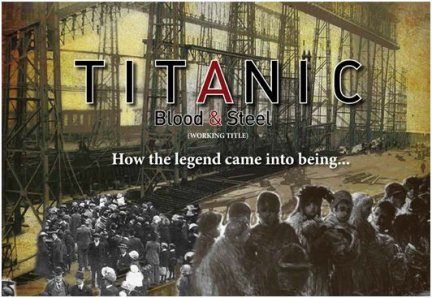 News of Julian Fellowes' Titanic mini-series for ITV was met with much fanfare and discussion, but the BBC had also quietly commissioned its own 12 part mini-series, this time focusing on the actual construction of the R.M.S. Titanic from 1897 to its maiden voyage in 1912. Titanic: Blood & Steel is produced by Guido deAngelis and directed by Ciarán Donnelly (The Tudors, Cold Feet) and co-producer, by Paul Myler of Epos Films. Cast members (both confirmed and unconfirmed) include James Gandolfini as J.P. Morgan, Kevin Zegers as Mark Muir, and Ophelia Lovibond as Kitty Carlton. More information at IMDb and The Irish Film and Television Network.
Update: Chris Noth (Sex and the City, Law & Order) has been cast as J. P. Morgan!
10/4 Update: Rumor is that the BBC won't be airing this mini-series next year.
Kevin Zegers & Neve Campbell: 'Titanic' Photo Call! – Just Jared
'Titanic – Blood and Steel' sails into Dublin, filming in Dublin until December 17th – The Irish Film & Television Network
BBC sets sail for Titanic struggle against Julian Fellowes – The Telegraph
Titanic: Blood and Steel Adds Chris Noth and Neve Campbell – Movieweb
'Titanic: Blood & Steel' Gerard McCarthy Q&A: It's not about a sinking – Digital Spy
Downton Abbey's Maria Doyle Kennedy lands icy role in Titanic: Blood and Steel – Herald.ie
Titanic: Blood and Steel shooting on location in Dublin – Entertainment.ie
'Extra' cash for Bollywood dancers and Titanic dockers – Belfast Telegraph
Lights, camera, action! Movie crews take over the streets of the capital – Independent.ie
Comments