When we look at portraits of doughty Edwardians, read etiquette books from the period, and watch period films, it is easy to believe society of one hundred years ago was more genteel, more moral, and better behaved than today's world. However, high society of the Edwardian era functioned because it presented the outward appearance of propriety and correctness to which the "lower orders" aspired. However, within certain social circles there existed many adages; among them numbered "Thou Shalt Not Tell" and "Never comment on a likeness", as well as Mrs. Patrick Campbell's famous quote, "Does it really matter what these affectionate people do — so long as they don't do it in the streets and frighten the horses!". Seeing that Mrs. Pat carried on an affair with the much younger George Cornwallis-West, the much younger husband of Lady Randolph Churchill (née Jennie Jerome), whilst starring in Lady Randolph's play, His Borrowed Plumes, her advice definitely came from personal experience. This is not to assume all fashionable Edwardians cast all morals to the winds, but they were in a better position socially and financially to indulge in their desires, and woe to anyone who broke the rules of society by exposing their affairs to the public gaze.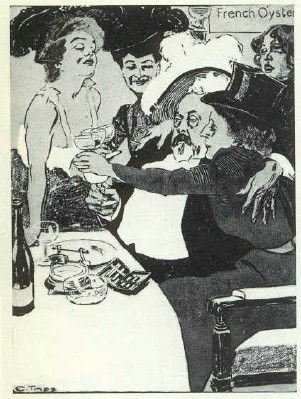 The Marlborough House Set, and to a lesser extent, The Souls, largely set the tone of aristocratic Edwardian society—though sticklers such as the Marquess and Marchioness of Salisbury (who never followed the common practice of inviting Alice Keppel to a house party with the King) did not approve of their hi-jinks. Based on those aforementioned adages, husbands and wives were permitted to take lovers after filling their nursery with legitimate children, and society respected these extramarital bonds just as much, if not more so in some cases, as they did the couples' legitimate marriages. The Prince of Wales (later King Edward VII, known as Bertie to intimates), however, was permitted much more freedom for dalliance than his subjects, and everyone knew just whom a certain lady entertained when a particular carriage dawdled at her front steps during afternoon tea (the prescribed hour for affaires d'amour).
But our Edwardian gentlemen and ladies did not enter into affairs lightly. In fact, casual affairs were quite rare, if only because of their impossibility. Not only because of the cumbersome clothing ladies wore, but because they lived under the constant surveillance of servants. They were awakened and dressed by maids, servants were constantly cleaning or attending to the family, and they played their social roles in public—riding in Rotten Row, attending dinners, dancing at balls, paying calls, etc etc—all under the eye of servants and the general public. As a result, a lady and her erstwhile lover could spend months exchanging sighs, heated glances and brief embraces, and scribbling loving letters to one another, before they could arrange a schedule for their assignations. This all appears so bloodless and correct, but human nature doesn't respect rules, and it wasn't uncommon for even the most circumspect people to lose themselves in a blaze of passion.
And in stepped scandal.
The Mordaunt and Aylesford divorce cases shook the core of the fun-loving Marlborough House Set since they involved the Prince of Wales, but they did nothing to end Bertie and his circle's indulgences. In his pursuit of pleasure, many of his set fell to rack and ruin in their attempts to follow his lead:
Lillie Langtry, royal mistress of the Prince of Wales from 1877 to 1880, fell from grace when she became pregnant with her daughter Jeanne Marie, and definitely could not pass the child off as her husband's. Only her enduring relationship with the Prince of Wales saved her from complete ruin, when in the wake of her divorce from Edward Langtry and their creditors, she became an actress. Though audiences in England and America only purchased tickets because of her notoriety and Bertie's appearance at her first nights, her success did much to rehabilitate her reputation in society.
Charles Chetwynd-Talbot, 20th Earl of Shrewsbury wreaked havoc when he eloped with the very married Ellen Miller-Mundy. She managed to divorce her husband and marry the Earl only months before the birth of their son, Viscount Ingestre, in 1882. Unfortunately, the Earl and Countess separated soon after, and though Lord Shrewsbury could re-enter society, no amount of support from his powerful sisters–which included Theresa, Marchioness of Londonderry–facilitated her re-entrance. Due to this gross breach of etiquette, Lady Shrewsbury spent the remainder of her life plagued with monetary troubles and largely ostracized from society until her death in 1940.
Lady Colin Campbell, née Gertrude Elizabeth Blood, was a delicious Irish beauty who met and married Lord Colin Campbell, fifth son of the 8th Duke of Argyll, quickly after meeting him in 1880. Despite Lord Colin's impeccable background, he was a rake of the first order, and their wedding was actually postponed twice because of health issues. Despite this, Gertrude's social-climbing mother pushed through the obstacles in order to see her daughter become a member of such an illustrious family. Shortly after moving to London, Lady Colin Campbell discovered that her husband had infected her with venereal disease. She filed for and was granted a judicial separation from Lord Colin in 1884 on the grounds of cruelty, that he had knowingly infected her. But that wasn't the end of their marriage, for both sued one another for divorce that same year, with Lord Colin accusing her of adultery with four prominent gentlemen in the trial which finally took place in 1886. Gertrude was denied her divorce, and under the double-standards of the day, her husband was granted a divorce. A scandalous divorcée, Lady Colin Campbell rebuilt her life along her own lines, becoming a respected journalist in her own right and close friends with James McNeill Whistler and George Bernard Shaw.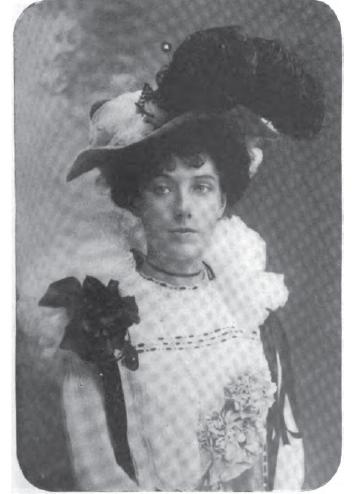 [Photograph of the Marchioness of Downshire, later Mrs. Joe Laycock] Daisy, Countess of Warwick was prone to scandal. When in 1889, Daisy (then Lady Brooke) discovered that Lady Charles Beresford was pregnant with her husband's child when he was having an affair with her, she dashed off a furious letter to Lord Charles, which his wife intercepted. Lady Charles then refused to return the letter, placing it in the care of society's favorite solicitor, George Lewis. The beautiful Daisy pleaded with the Prince of Wales to intercede, and it was no surprise when she became his latest inamorata. In the meantime, Lady Charles continued to write about Daisy's affair with her husband to whomever she could, and her sister wrote an anonymous pamphlet ridiculing Lady Brooke's tantrum over her lover impregnating his own wife, thus spreading the scandal far and wide. Nevertheless, as Bertie's new mistress, Daisy's position in society was now unassailable, and Lady Charles was forced to retreat into seething silence.
After her affair with Bertie cooled in 1898, she fell in love with Joe Laycock, a millionaire who fathered two of her children, Maynard and Mercy (so named when she discovered she was pregnant at age 41). But Laycock was also seeing Kitty Downshire, the wife of an Irish marquess, and when Kitty's husband threatened divorce over her affair, this menage-a-trois set society's pens ablaze with letters deploring, snickering at, and gossiping about such scandalous conduct. Joe and Kitty married after her divorce (a man named as correspondent in a divorce suit was considered a cad if he didn't marry the divorcée), and the heartsick Daisy was forced to attend to other matters, such as her near poverty. Years of lavish entertainment and socialistic pursuits had depleted the immense fortune she'd inherited from her grandfather. Daisy's last scandal was her 1913 attempt to sell Bertie's love letters to her. George V ignored her blackmail, but Arthur do Cros purchased the lot and they were published in the 1960s.
Henry Paget, 5th Marquess of Anglesey, known as the "Dancing Marquess" for his habit of performing "sinuous, sexy, snake-like dances," packed a lot of scandal into his short life. Upon the death of his father in 1898, he inherited his title and the family estates with about 30,000 acres, which provided an annual income of £110,000. He promptly went on a spending spree, buying jewels, outlandish clothes, and bizarre fripperies. His wife, the former Lillian Florence Maud Chetwynd, filed for an annulment in 1900, claiming non-consummation, and rumor had it he forced her to lie naked while he covered her body with jewels, after which he stood and admired his handiwork. Shed of a wife, Lord Anglesey poured more and more of his money in jewels and building an opulent theater in which he and a hired troupe performed lavishly-decorated plays. He also mortgaged his estates to the hilt, bringing in an additional £250,000, and kept spending. Therefore it was no surprise when in 1904, he had racked up hundreds of thousands of pounds in debt. He was forced to sell his precious clothes, jewels, dogs, railway car, horses, cars, carriages and yachts to pay creditors, and left with £3,000 a year, he moved to Monaco, where he died the following year after a long illness at the age of 30.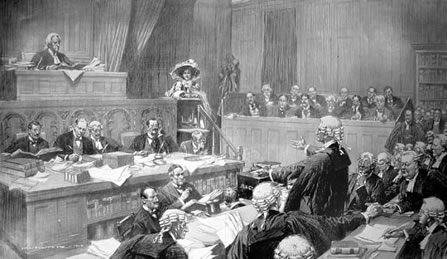 This was just the tip of the iceberg, though it seemed a nice portion of scandal resulted from the alliances of American heiresses with British peers (as well as the European aristocracy). One scandal which comes to mind is that of Katherine McVickar. The daughter of a Commodore in the U.S. Navy, Miss McVickar arrived in England in 1870, where she met the forty-something Major Charles Grantley Norton and accepted his proposal of marriage. Nine years later, her marriage to Norton was dissolved so she could marry his cousin John Richard Brinsley Norton, 5th Baron Grantley, who was twenty years younger and the father of her unborn child. Katherine and Lord Grantley married only five days before she gave birth to the Hon. Joan Mary Conyers Norton. This bit of scandal was covered up by Debrett's, who amended their subsequent editions to make it appear that Katherine hadn't divorced her husband to marry his cousin days before the birth of her daughter. Fortunately for all parties involved, Katherine went on to become a noted society hostess until her death in 1897.
Another noted case was Frances Work, who married James Burke Roche, later 3rd Baron Fermoy, in 1880. Her father was very much against international marriages and as a condition of Frances' marriage to Burke Roche, her twin sons Francis and Maurice were raised in America. Frances divorced Roche for desertion in 1891, but her father remained mistrustful of his daughter's sense, and left a will with fifteen codicils, which mirrored her marital career: one cut her out of his will when she married Hungarian horse trainer Aurel Batonyi in 1905. She was restated in the will by another codicil, which left her a nice sum if she separated from Batonyi.
As you can see, not even the Edwardians were exempt from messy scandals, bitter divorces, and illegitimate children. The difference between us and them was style with which they carried off their breaches of etiquette. Though, as mentioned above, the double-standards frequently resulted in the ostracism of women, but if enough money, power, and position were involved, even the most shocking circumstances could be overcome.
Further Reading:
The Marlborough House Set by Anita Leslie
To Marry an English Lord by Gail MacColl and Carol McD. Wallace
Article on the 5th Marquess of Anglesey from the Daily Mail
American Jennie by Anne Sebba
Daisy: the life and loves of the Countess of Warwick by Sushila Anand
Comments