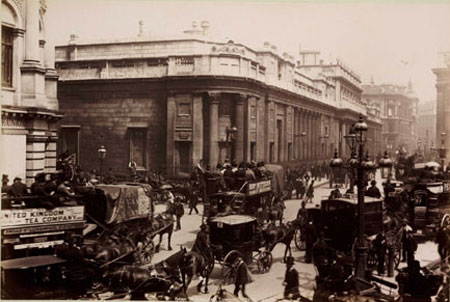 In the 1880s, falling rents, an agricultural depression, and taxation all conspired against the lavish lifestyles of England's aristocracy, and ten years later, articles appeared in leading journals and magazines, detailing the entry of the peerage into Trade!!
The old verse–
Lord Stafford mines for coal and salt,
The Duke of Norfolk deals in malt,
The Douglas in red herrings;
But gartered name and noble brand
Are powerless to the notes of hand
Of Rothschild and the Barings
had lost a bit of its bite by the Edwardian era, for the boundaries of Trade and Aristocracy began to overlap, with self-made men rapidly appearing in Debrett's and longtime denizens of Debrett's rapidly appearing on the Stock Exchange. Granted, many of the great landholders made their fortune from minerals such as coal (the Earl of Derby sold his wholesale, though Lord Londonderry sold it at retail), but others–such as the 3rd Marquess of Bute, who owned the only vineyard in Britain, and the Earl of Harrington, who opened a fruit store in London–were more creative with their money-making schemes. Other inventive peers included Lord Sudeley, who owned a flourishing jam business, Lord Mulgrave, who turned Mulgrave Castle into a boys' school charging 220 guineas a year, and Lord De La Warr, who developed his own property in Sussex to found the seaside resort, Bexhill-on-Sea.
Aristocratic ladies also struck out into business, combining their adherence to philanthropy with the pursuit of profit. The Duchess of Abercorn ran a successful creamery on her Irish estate, Lady Molesworth established a jam factory at Walters Hall, near Minster-on-sea, the Hon. Frances Wolseley founded a school for women gardeners at Glynde, Sussex, Lady Augusta Orr-Ewing owned a hotel with popular golf links in Scotland, and Miss Edith Kerr established a servants' registry in London. The most prominent peeress in Trade was Daisy Warwick, who opened a needlework shop in Bond Street boldly called "Countess of Warwick". The socialist peeress also founded an agricultural school for women at Studley Castle. There, for £80 to £100 for three terms of thirteen weeks' residence in the year, young ladies were equipped with the necessary training to become superintendents of the dairy, the garden, and the conservatories. However, the hardest working aristocrat was Lady Duff Gordon, whose fashion house Lucille set many trends over the course of the Edwardian era, and whose empire stretched across Europe and America.
So influential were businessmen and industry titans of the late Victorian era, many newly-created peers were rumored to have purchased their titles, and those deriving from the brewing industry were so numerous they were dubbed the "Beerage". Bankers like the Baring family and the Rothschilds were also ennobled for their contributions to society, and South African Randlords were, if not elevated to the peerage, at least given baronetcies.
Other ways in which peers and aristocrats could make money were to be appointed directors and presidents of companies and financial firms. This was lucrative in a time where a new trust or firm could raise money from investors and brokers on the prestige of its Board of Directors, which an article in Jerome K. Jerome's To-Day noted acerbically: "There is a peer who is a director of twenty-one companies, a barrister who sits upon the board of eighteen, a half-pay officer, who once observed that he did not come to the City to play marbles, who is on the board of eleven companies. Nor is there any attempt to keep to any particular class of business. All is fish that comes to their net. One man I know is director of four telegraph companies, of eight railway companies, of trusts, insurance companies, land companies. His income from directors' fees alone must be over £4,000 a year."
This all did much to add to aristocratic coffers, and to the relief of many, the Edwardian era did see a recovery from the agricultural depression! Interestingly enough, many critics of the day credited the survival of the British aristocracy to their flexibility, and no doubt their bold move into the "workforce" reflected this.
Comments