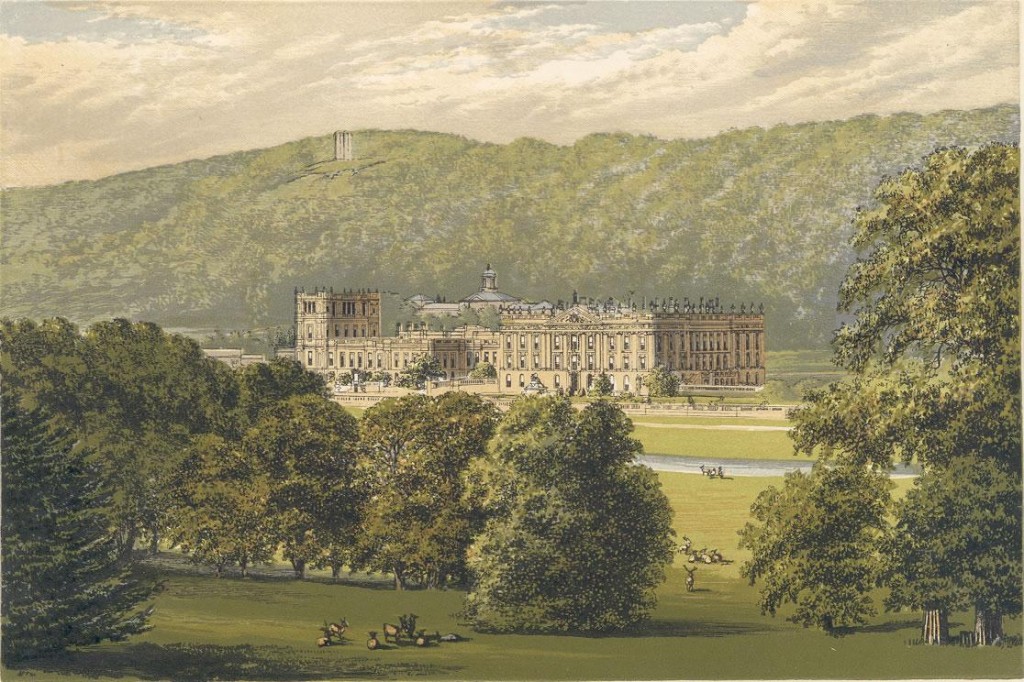 During the Edwardian era, nearly eighty percent of English land, or 77,635,301 acres, was owned by 320,000 persons.
The breakdown of the land owned was thus:
One-quarter by 1,200 persons, whose average holdings were 16,200 acres
One-quarter by 6,200 persons, whose average holdings were 3,150 acres
One-quarter by 50,770 persons, whose average holdings were 380 acres
One-quarter by 261,830 persons, whose average holdings were 70 acres
By this, half of the land was owned by 7,200 persons (first category) and the other half by 312,600 persons (second category), of which the former were 600 peers who, among them, were the holders of one-fifth of the total area of the United Kingdom of England, Wales, Scotland and Ireland.
The majority of these great estates were held under entail, a system devised during the Civil War by two Royalist lawyers, who intended the system of "strict settlement" to protect the estates of the defeated Royalists from fines and forfeiture at the hands of the Parliamentarians. Under this system, the head of the territorial family was made tenant for life, and his descendants were made in tail. Each succeeding head of a family then made a settlement which was binding upon himself and his successor, and then trustees were appointed, provisions were made for younger sons and female members of the family, as well as funds set aside for the management of the estate. Because of this, land was seldom sold, being either leased or let on yearly tenancies, which was why enormous estates were passed down unbroken to a small number of hands.
English landholders enjoyed many privileges, not limited to control over their tenants, parishes, and Members of Parliament, but the vast wealth derived from this land. With an income of £30,000 a year, a man like Pride & Prejudice's Mr. Darcy was most likely placed in the first category of landowners, but by the 1880s,a severe agricultural slump sliced this type of income not just in half, but in thirds, and in quarters, and in some cases–particularly in Ireland–in fifths.
The culprit of this income bandit was the rapid industrialization of Europe, and most particularly, the first signs of globalization. Now, refrigerated steam ships could import beef and dairy products from as far away as Australia and Argentina, and American wheat drove down the prices of British products so much so, there was a dangerous surplus which rotted when farmers could not sell them. Combine this with bad harvests and the refusal of farmers' sons and daughters to work the land (instead migrating to major cities to work in factories, or, for better educated children, to white-collar positions in department stores and banks), and landlords were forced to permit rent rollbacks to keep their tenants and to keep themselves solvent.
To Marry A English Lord by Gail MacColl and Carol McD. Wallace details the average operating expenses of a large estate:
Allowance to Dowager in Dower House: £2000 per annum (to include servants' salaries and household costs)
Allowance to Aunt Agatha, still living upstairs in the Norman Room: £60 p.a.
Repair of church steeple: £600
Teacher's salary, coal, books for village school: £250
Pension to old Briggs, ex-gamekeeper: £10 p.a. Ditto to Wood, Dortry, Nobb, and Jeffries (£40 total), and to old Nanny living in west Wing (£15)
Salary for land agent to collect rents, administer estate: £1000 p.a.
Two carriage horses, and three hunters for His Lordship: £135
Fodder, grooms' salaries, stable repairs, carriage upkeep: £300
Leaving fields uncultivated to provide cover for pheasants, partridges, grouse, winter feed for game; salaries for gamekeepers: £2,250 p.a.
Pruning trees, shrubs, seeding lawn, dreding ornamental pond, clearing thickets, regraveling paths: £600 p.a.
"Pin money" (clothing and charity allowances) for unmarried daughters Lady Agatha, Lady Maude, and Lady Enid: £200 each
Household staples ordered from London (candles, soap, brooms, buckets, etc): £800
Coal for 25 fireplaces (lit only at night in bedrooms): £75
Salaries for carpenters, tilers, brickmakers in building yard: £1,500 p.a.
Household salaries: six housemaids (£18 p.a. each); governess (£25); schoolroom maid (£15); four footmen (£40 each); hall boy (£10); French chef (£100); three kitchen maids (£15 each); scullery maid (£8); housekeeper (£50); His Lordship's valet (£65); butler (£80)
Allowances to Hon. Cedric and Hon. Marmaduke: £1000 p.a. each
His Lordship's personal expenses: £4500 (includes tailor, club dues, debts of honor, entertaining in town)
House party entertaining: meals for 12 guests with their 12 servants five times a day for three days, six house parties: £600. Plus, writing paper in all guests' bedrooms, renewed daily (£15 per house party); bill for claret and champagne (£875) for year; cost for transporting Blue Hungarian Band to play at each house party (£600 total)
Total expenses: £20,216
Income:
On estate: £12, 500 rent from tenants (on 43,000 acres, 35,000 uncultivated)
£1000 sale of timber
£300 dividends from other investments
£55 sale of Lady Agatha, Lady Maude, and Lady Enid's hunters
Total income: £13,855
Shortfall: £6,361
In the late 1870s, the debate over the usefulness of the House of Lords and aristocratic privilege began to simmer, and in reaction to debates in the press and the Commons, a book was published detailing the acreage owned by aristocrats and the landed gentry, and the incomes derived from the land. Here are two examples of great landowners and their incomes:
| | | | |
| --- | --- | --- | --- |
| Aristocrat | Location | Acres | Value |
| Marquis of Anglesey | Stafford | 14,344 | £88,719 |
| | Derby | 1,159 | £8,686 |
| | Anglesea | 8,485 | £9,123 |
| | Dorset | 1,117 | £814 |
| | Total | 25,505 | £107,361 |
| Thomas Leyland | Northumberland | 17,644 | £16,198 |
| | Lancashire | 3,426 | £36,718 |
| | Total | 21,070 | £52,979 |
As you can see, by this period, many peers hurt for income, and owned thousands of acres of land which were basically useless. Small wonder aristocrats took to marrying American heiresses and to entering business in the City, and for younger sons to join the Army or take part in Colonial Administrations!
Comments